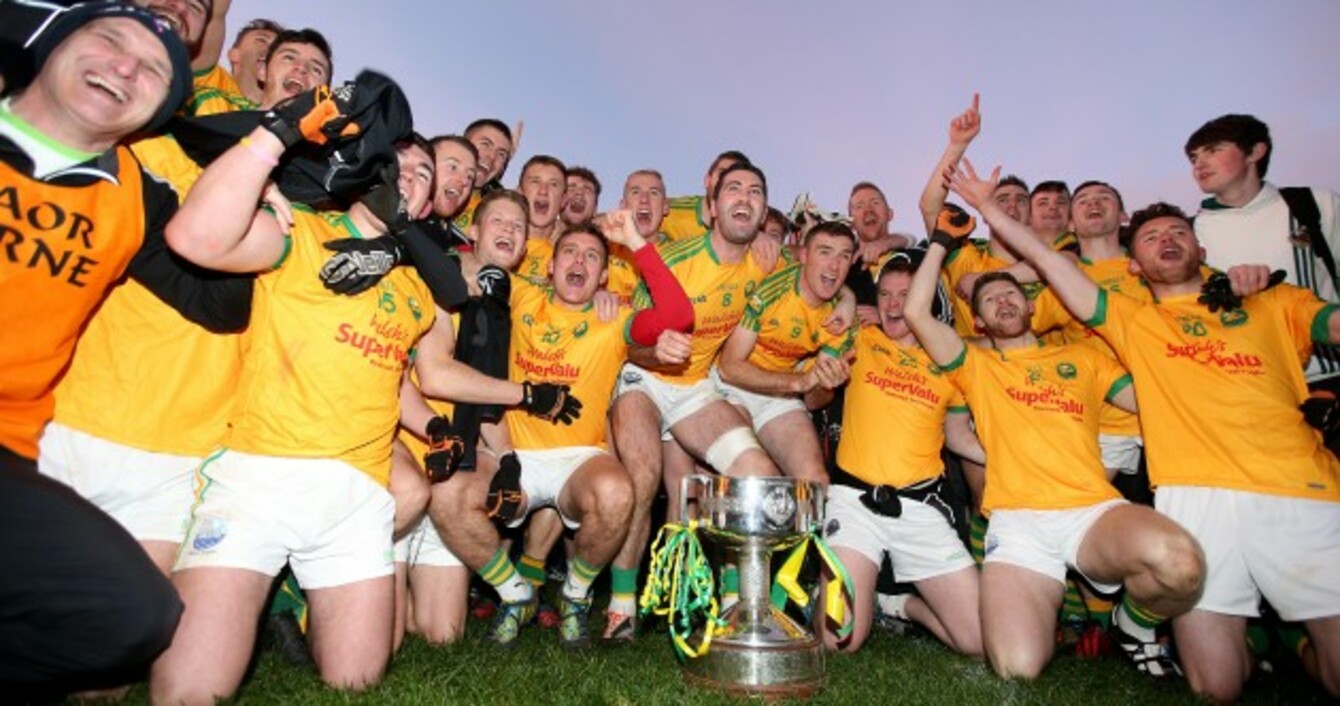 Image: Donall Farmer/INPHO
Image: Donall Farmer/INPHO
South Kerry 1-13
Killarney Legion 1-12
IT DIDN'T QUITE match the controversy that surrounded the drawn match two weeks ago but the replayed Kerry SFC final delivered excitement, quality, extra-time and, at the end of it all, a ninth championship title to South Kerry.
Aidan Walsh became the hero of the day when he fisted the winning point in the 79th minute after South Kerry turned over the ball on Killarney Legion, whose wait for a second Kerry county championship title will extend into a 70th year.
Playing his ninth consecutive weekend of championship football, Bryan Sheehan's prints were all over this final.
From the goal and five points he scored in the regulation 60 minutes, to his black card dismissal right at the start of extra-time, which robbed South Kerry of their playmaker and scorer-in-chief.
In the end, Sheehan lifted the Bishop Moynihan Cup as captain and was, rightly, named man of the match. Before the end of the year he might also be nominated to captain Kerry next year.
For Legion a match in which they delivered so much good football ended in acute disappointment. The Killarney club won its one and only county title back in 1946 and if they are to go one step further next year they will have to do so without their manager Peter Keane who takes over the Kerry minors next year.
After a forgettable opening quarter, after which the teams were tied at 0-2 apiece, Legion midfielder Jamie O'Sullivan got on the end of a great through ball from Conor Keane, and showed great composure to find the net past South Kerry goalkeeper Brian O'Connor.
Points followed from Keane (2), Tom Moriarty and Billy McGuire to propel the club side into a 1-6 to 0-3, but a late rally from South Kerry, driven on by Sheehan, saw Legion lead 1-7 to 0-6 at half time.
Two early second half James O'Donoghue frees and a Padraig O'Connor point pushed Legion into a seven-point lead but Sheehan showed his class and composure to score a superb South Kerry goal and by the three-quarter mark South Kerry were just a point behind.
It took Killian Young's 55th minute point to pull South Kerry level and when neither team could find a winner it was on to extra-time.
Sheehan's black card dismissal in the first minute looked fatal for the divisional team but Legion lost James O'Donoghue to a blood injury for five minutes, during which time Padraig O'Connor managed to fist Legion back in front.
Daniel Daly's free levelled it again with seven minutes left and in the fading light a second replay looked a distinct possibility. But South Kerry forced a turnover for Aidan Walsh to pick and carry and go it alone until he fisted the winner on the cusp of full time to deliver South Kerry's first title since 2009 and extend Legion's famine into a seventh decade.
Scorers for South Kerry: Bryan Sheehan (1-5, 0-1f, 0-1 '45'), Aidan Walsh (0-3), Daniel Daly (0-2, 1f), Paul O'Donoghue (0-1), , Killian Young (0-1), Conor O'Shea (0-1).
Killarney Legion: Conor Keane (0-5, 4f), James O'Donoghue (0-3f), Jamie O'Sullivan (1-0), Padraig O'Connor (0-2), Billy McGuire (0-1), Tom Moriarty (0-1).
South Kerry
Brian O'Connor (Valentia)
Brian Sugrue (Renard)
Killian Young (Renard)
Paul O'Sullivan (Valentia)
Padraig O'Sullivan (Dromid Pearses)
Bernard Walsh (Skellig Rangers)
Denis Daly (St Marys)
Bryan Sheehan (St Marys)
Brendan O'Sullivan (Valentia)
Paul O'Connor (Valentia)
Declan O'Sullivan (Dromid Pearses)
Aidan Walsh (St Marys)
Ian Galvin (Sneem/Derrynane)
Paul O'Donoghue (St Marys)
Conor O'Shea (St Marys)
Subs:
Robert Wharton (Renard) for P O'Connor (35 mins)
Greg Gibson (Waterville) for B O'Sullivan (35 mins)
Daniel Daly (St Marys) for I Galvin (43 mins)
Brendan O'Sullivan (Valentia) for B Sheehan (black card, 61 mins)
Aidan O'Sullivan (Dromid Pearses) for B Sugrue (73 mins)
Oran Clifford (Waterville) for P O'Sullivan (79 mins)
Killarney Legion
Brian Kelly
Padraig O'Connor
Danny Sheehan
Chris Davies
Jonathan Lyne
Damien O'Sullivan
Darragh O'Doherty
Shaun Keane
Jamie O'Sullivan
Billy McGuire
James O'Donoghue
Donal Lyne
Tom Moriarty
Cathal Sheehan
Conor Keane
Subs:
Kevin Breen for D Lyne (50 mins)
Jack O'Neill for B McGuire (56 mins)
Denis Sheahan for T Moriarty (58 mins)
Andy O'Sullivan for C Sheehan (black card, 59 mins)
David O'Sullivan for J O'Donoghue (blood, 67 mins)
James O'Donoghue for D Sheahan (72 mins)
Tom Slattery for S Keane (79 mins)
Kevin Breen (black card 81 mins, not replaced)
Referee: Paul Hayes (Kerins O'Rahillys).