Liveblog
Here's how the teams are named to start. No word yet if the Small brothers have been passed fit.
Ballymun Kickhams
1. Evan Comerford
2. Philly McMahon
3. Eoin Dolan
4. Alan Hubbard
5. Carl Keeley
6. John Small
7. James Burke
8. Aaron Elliot
9. James McCarthy
10. Jason Whelan
11. Dean Rock
12. Kevin Leahy
13. Eoin O'Neill
14. Paddy Small
15. Davy Byrne
St Vincent's
1. Michael Savage
2. Michael Concarr
3. Jarlath Curley
4. Craig Wilson
5. Cameron Diamond
6. Ger Brennan
7. Brendan Egan
8. Lorcan Galvin
9. Nathan Mullins
10. Gavin Burke
11. Diarmuid Connolly
12. Cormac Diamond
13. Enda Varley
14. Shane Carty
15. Tomás Quinn
Paddy and John Small have both taken a full part in the warm-up and will start tonight's final.
Bit of a delay there after a huge shoulder on Nathan Mullins by James McCarthy.
St Vincent's 0-1 Ballymun 0-0
5 mins – Enda Varley gives the VInnies the lead with a free.
St Vincent's 0-1 Ballymun 0-0
7 mins – Tomas Quinn drops 35m free short.
CHANCE! Diarmuid Connolly makes an interception and races through on his own. He slips the pass to Quinn who's shot is deflected and goes out for a 45.
St Vincent's 0-1 Ballymun 0-0
9 mins – Quinn drops the 45 short. That's his second shot that hasn't had the legs.
St Vincent's 0-1 Ballymun 0-1
10 mins – Dean Rock's first shot at goal is a free and he makes no mistake. It was James Burke who gave away that handpass for Connolly to latch onto.
Flag
GOAL! Diarmuid Connolly gives St Vincent's a fine start with a well-taken finish!
St Vincent's 1-1 Ballymun 0-2
11 mins – Good response by Ballymun. James McCarthy finds Paddy Small, who splits the posts.
St Vincent's 1-2 Ballymun 0-2
15 mins – Connolly feeds Gavin Burke, who scores.
Davy Byrne is playing as a seventh defender for Ballymun but St Vincent's are not allowing them get their running game going from deep.
Here's that Connolly goal, it was a great ball into him by Lorcan Galvin.
St Vincent's 1-3 Ballymun 0-2
22 mins – Connolly fists over a score to push his side four in front.
CHANCE! Mossy Quinn hits the post after he sold a Ballymun defender with a neat dummy.
St Vincent's 1-4 Ballymun 0-2
24 mins – Another fine Vincent's move by Connolly and this time Craig Wilson converts. Ballymun are being sliced up here by the champions.
St Vincent's 1-4 Ballymun 0-3
29 mins – Good move by Ballymun sees Carl Keeley pop up with a score. That's better by them.
St Vincent's 1-4 Ballymun 0-4
31 mins – McCarthy is fouled as he powers forward and Rock nails the free.
We'll have three minutes of additional time.
CHANCE! Philly McMahon gets on the end of a move but shoots wide.
Flag
St Vincent's 1-4 Ballymun 0-4 – HT
One half-time change for Vincent's:
27. Daithi Murphy for Galvin (ht)
Ballymun have pushed up now and gone 15-on-15 for the second-half. Good move.
Davy Byrne looks to be operating as a third midfielder now.
St Vincent's 1-4 Ballymun 0-5
36 mins – John Small wins a free which Rock converts.
MISS! Alan Hubbard ran 50m with possession but butchered his shot wide. He should have slipped it to Paddy Small for an easy score.
St Vincent's 1-5 Ballymun 0-5
40 mins – A peach of a pass by Connolly into Varley, who fists over.
St Vincent's 1-5 Ballymun 0-6
41 mins -Brilliant score by Jason Whelan. Ballymun are playing much better now.
St Vincent's 1-6 Ballymun 0-6
43 mins – Excellent score by Mossy Quinn under intense pressure from three defenders. That's his first score of the night.
St Vincent's 1-7 Ballymun 0-6
47 mins – Quinn wins the free and converts it himself. Fine strike.
St Vincent's 1-7 Ballymun 0-7
48 mins – A slow, precise Ballymun move sees them work the ball from the left to the right for Whelan's second score.
St Vincent's 1-8 Ballymun 0-7
49 mins – Carty with the score for the Marino outfit.
St Vincent's 1-7 Ballymun 0-7
50 mins – A brilliant flowing move sees Keeley play a one-two with Rock before his shot was tipped onto the bar and over by Michael Savage.
St Vincent's 1-8 Ballymun 0-8
59 mins – Connolly sees a shot go wide. We'll probably have at least four minutes of added time.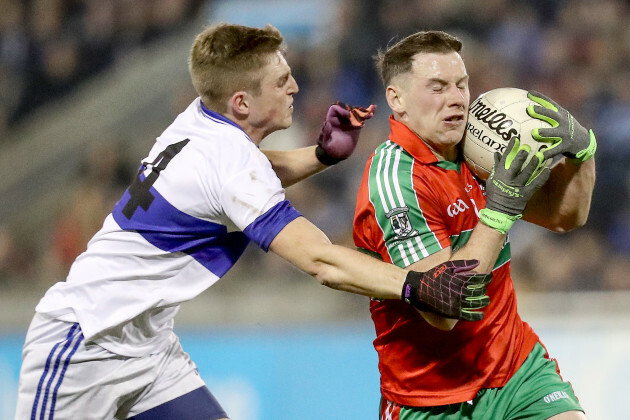 Source: Oisin Keniry/INPHO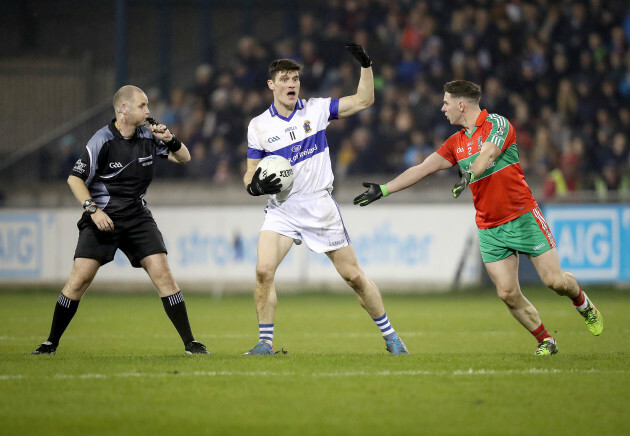 Source: Oisin Keniry/INPHO
Four minutes of injury-time has been confirmed.
Free in for Ballymun from about 37m.
MISS! Bad wide by Dean Rock there, he'll be really disappointed with that.
Fennell with a huge tackle on McCarthy but Connolly hits it wide. It's surely over now….
Flag
St Vincent's 1-8 Ballymun 0-8 – FT
Contribute to this story: