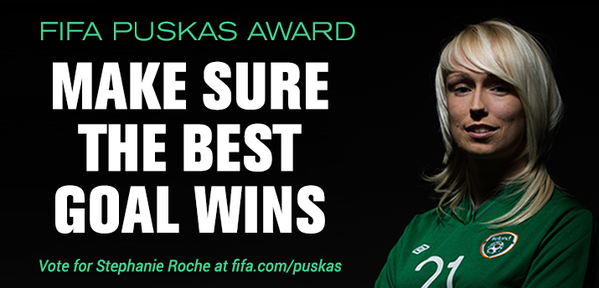 IT SEEMS LIKE an age since Stephanie Roche was named among ten finalists nominated for the 2014 Fifa Puskas Award back in November.
When the shortlist was shortened a month later, the Ireland striker found herself alongside Robin van Persie and James Rodriguez in a trio vying for this year's prize.
Roche has since received huge media coverage, both at home and around the world, but this evening she attends the Ballon d'Or awards ceremony in Zurich where a winner will be announced.
We've been campaigning for the Dubliner from day one and are giving it one last push as voting closes during the live show, which starts at 5.30pm and will be shown live on RTÉ Player and Sky Sports and Eurosport. RTÉ 2 will also have highlights at 11.15pm.
If, like us, you believe Steph's goal for Peamount United is the best and deserves to win on merit, log onto Fifa.com here and make it your selection.
For those who wish to vote multiple times, just use different devices, different browsers and by clear your internet history and cookies.
Still need persuading? Watch the goal in all its brilliance one more time.
eileen gleeson / YouTube