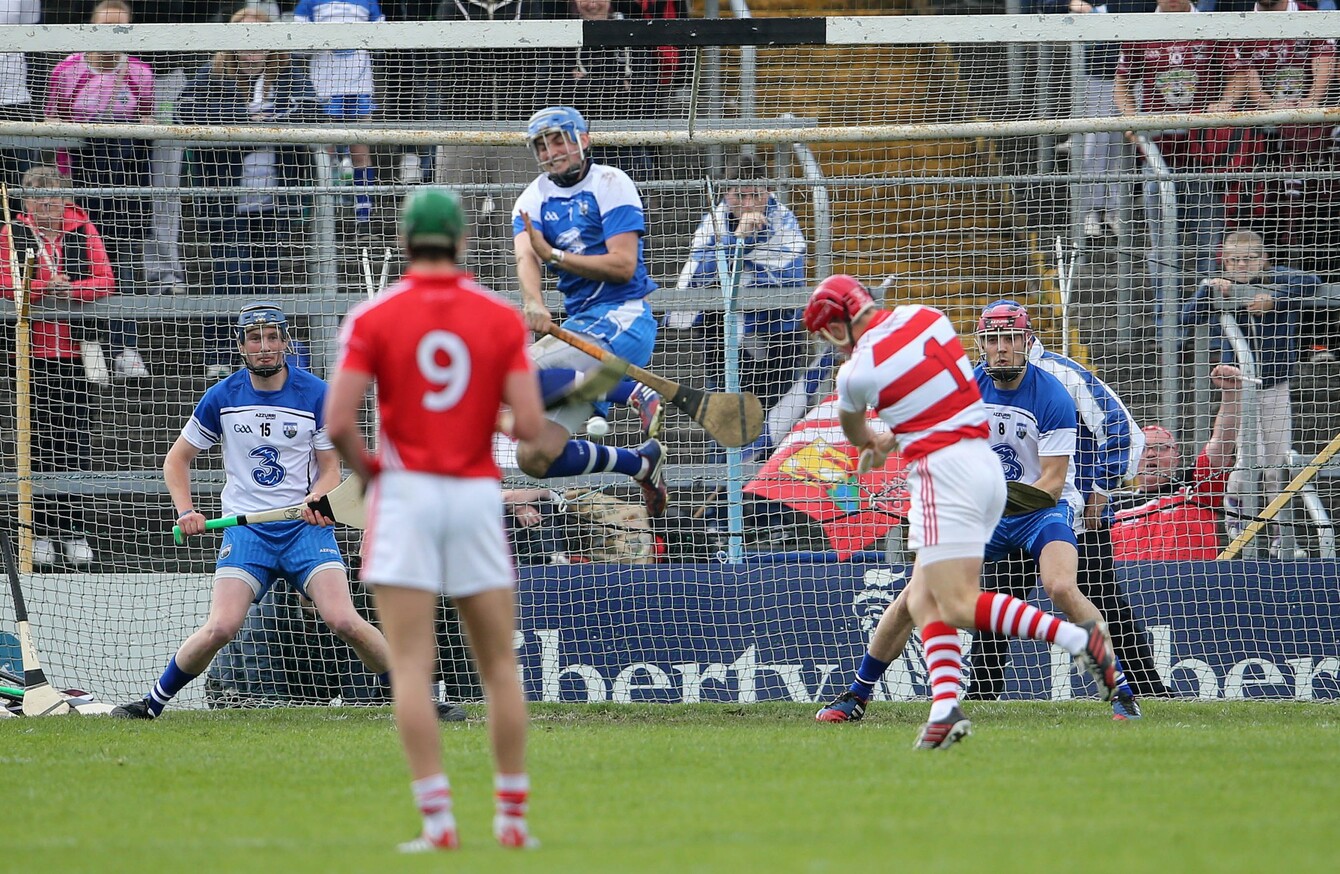 Stephen O'Keeffe blocks Anthony Nash's penalty in the 2014 Munster quarter-final replay.
Image: Cathal Noonan/INPHO
Stephen O'Keeffe blocks Anthony Nash's penalty in the 2014 Munster quarter-final replay.
Image: Cathal Noonan/INPHO
WATERFORD GOALKEEPER STEPHEN O'Keeffe reckons hurling penalties are weighted in favour of those striking the shots under the current one v one format.
The issue of penalties in hurling has been a thorny in recent seasons with the rule amended from the previous one v three procedure.
O'Keeffe, one of the leading net minders in the game, has outlined the challenge facing goalkeepers.
"I know for a fact, we practice them in training and when the striker of the ball is confident, eight out of 10 of those are going in the goals.
"When you stick it right in the corner there is no getting to them. It comes down to the penalty-takers on the big days holding their nerve a bit.
As a goalkeeper you can't react which side it is going to go, the advantage is firmly with the forward."
O'Keeffe has only faced two one v one penalties – once with his club Ballygunner when the shot went over the bar and with Waterford last summer when Cork's Patrick Horgan found the net in the Munster semi-final.
In the championship cauldron, he feels that pressure can affect those striking the ball.
That's the difference. You will always find one or two that will be able to block out that pressure.
"I remember we played Cork at Pat Horgan stepped up in the last minute and he just stuck in the bottom corner. There is no getting to those.
"It comes down to then, do you guess which side it goes. You have to weigh up the percentages, is he going to stick it in the corner or put it somewhere where I have a chance of reaching it.
Mention of Cork taking penalties conjures up memories of O'Keeffe dashing from his line in 2014 in Thurles to bravely block Anthony Nash's piledriver.
Source: HappyPatricksDayIsland/YouTube
"At the time the adrenalin is going," recalls O'Keeffe.
"You are not thinking at that level at all. You are just thinking about stopping the ball and I felt at the time that it was the best way to make it happen.
"To be honest I was wearing a cup for the first time in my career so I'd a bit more confidence."
"It was only a bit of a bruise (after) and it looked a lot worse than it was. It only last a few days or a week."
The42 is on Snapchat! Tap the button below on your phone to add!