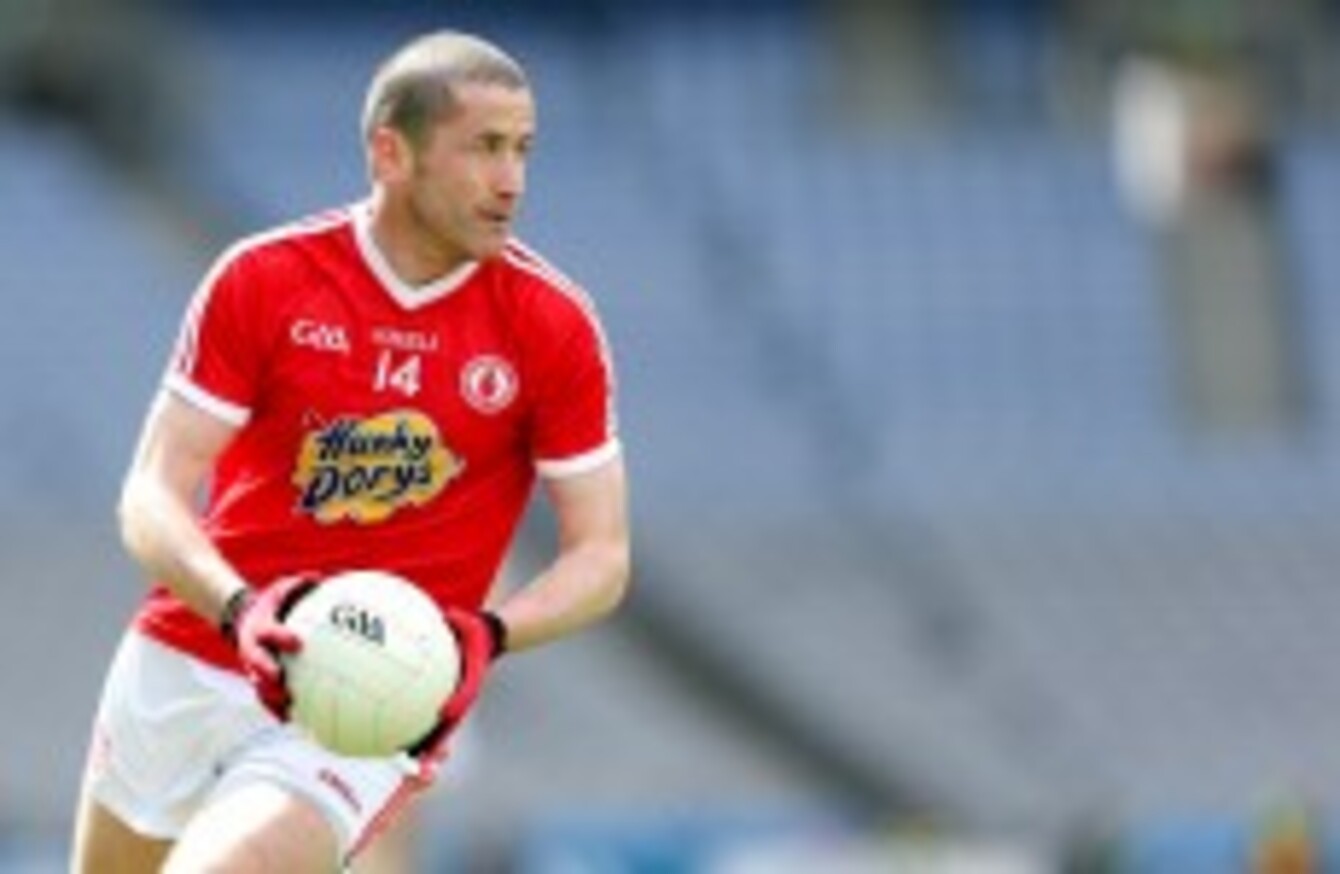 Tyrone's Stephen O'Neill.
Image: INPHO/James Crombie
Tyrone's Stephen O'Neill.
Image: INPHO/James Crombie
MICKEY HARTE RECKONED his recent points against Kildare were worth the admission fee alone.
Sean Cavanagh says he has not seen a better footballer in his career.
And there's not much doubt that Stephen O'Neill is indeed in red-hot form ahead of Sunday's Division 1 league decider in Croke Park.
So how do Dublin go about curbing the threat of the Tyrone attacker?
When the sides clashed in Croke Park on St Patrick's Day weekend, Tyrone were victorious by 0-18 to 1-14 with O'Neill weighing in with four points.
Dublin manager Jim Gavin got a close-up view that night of the capabilities of the Tyrone forward.
"Stephen O'Neill is obviously back to his very best. "He is a player that is going to get scores and we need to accept that.
"We got to get our guys to play within the rules and mark him just as closely as we can. But he is a quality, quality player and not just this year as we all know but for many years."
Ger Brennan will be one of the Dublin defenders tasked with diluting the impact of O'Neill.
"He's playing great, isn't he?" admits the St Vincent's defender. "He's kicked some great scores in all his league performances to date, and the same again against Kildare.
"His conversion rate was quite high, as was the whole of their team. You're just hoping to stop him up, get him to lay the ball off, or get out in front of him with the ball. But once he has it in his hands, it is very difficult to curtail his influence."
O'Neill himself reveals that he has a simple philosophy when it comes to his attacking play. If an opportunity arises to take a shot, he goes for it.
"I just shoot. There's no point trying to run away from two or three defenders – if you have half a yard you may as well take the shot and go with it. Some of the boys give me stick and say I just shoot on sight but I think if you feel you can do it you should just go and give it a rattle.
"A dead ball is sometimes better than dropping it into the keeper's hands. You'd be thinking that if the ball goes dead, we can get ourselves in position again."
Here's a reminder of the Tyrone forward in action with those superb points towards the end of their league semi-final against Kildare.
Go to 7.53

YouTube: 
hjtvsports1