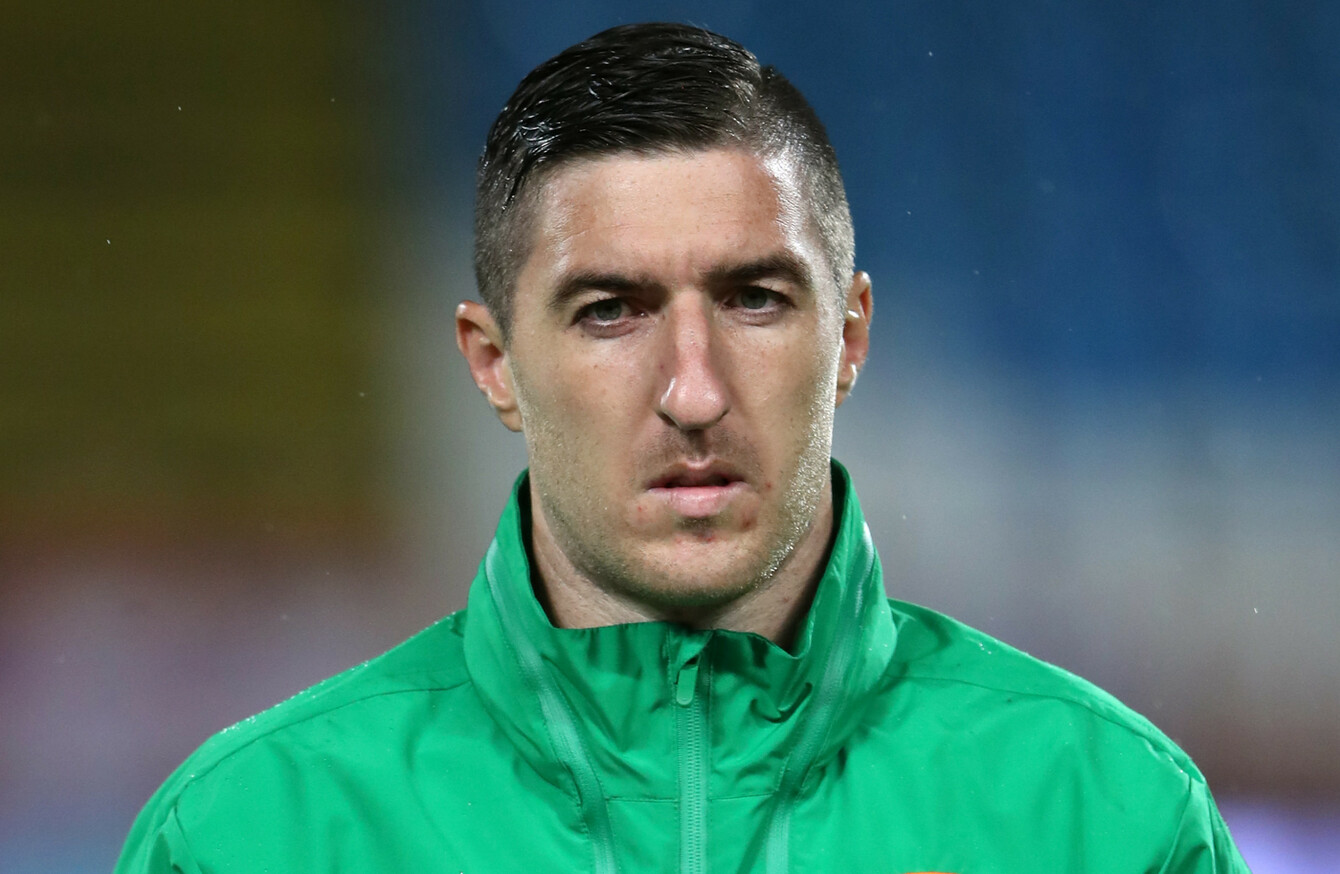 Stephen Ward is feeling confident ahead of Ireland's upcoming World Cup qualifiers against Georgia and Serbia.
Image: PA Archive/PA Images
Stephen Ward is feeling confident ahead of Ireland's upcoming World Cup qualifiers against Georgia and Serbia.
Image: PA Archive/PA Images
Updated at 13.23
IN SPORT, PHRASES such as 'self-belief' and 'winning mentality' have been used so much that to utter them now is to risk being accused of resorting to the kind of hollow clichés that are often synonymous with 'football speak'.
Lauding a coach for his great 'man management' skills feels like damning him with faint praise and it can also be interpreted as an indication that the individual in question is tactically inept beneath the sleek surface.
But with this Ireland side, there is a genuine growing sense of self-belief, which Martin O'Neill and Roy Keane have helped instill into the collective.
To understand the scope of this achievement, some context is needed. The night of 8 October 2015 is key. Before the game, people were literally joking about Ireland beating Germany that night. If you were to go by some critics' assertions, O'Neill's men needed a minor miracle to escape with one point from the game, let alone three.
Not many people expected Ireland to win, while a loss would have further jeopardised their Euro 2016 qualification hopes, following a disappointing tally of one point from two games against rivals Scotland.
Moreover, the selection of Stephen Ward at left-back that night did not exactly instill people with confidence. The Burnley footballer is no flashy crowd-pleaser, notwithstanding his recent stunning goal against Premier League title contenders Chelsea. For the most part, Ward is quiet and unassuming, the type of player whose good work on the pitch often tends to go unnoticed, but whose value remains unquestioned by seasoned football men such as O'Neill and Sean Dyche.
And despite all the negativity in the build-up to the game, Ward and Ireland proved the doubters wrong, with the Dubliner part of a well-organised backline that helped the Boys in Green earn a shock 1-0 victory at the Aviva Stadium over the reigning world champions.
Before then, Ireland had acquired a reputation as flat-track bullies — relatively reliable when it came to beating smaller sides in international football but unable to conquer stronger teams. Before the Germany game, in 14 years since the famous defeat of Holland at Lansdowne Road, the Boys in Green had overcome a team placed above them in the Fifa rankings in a competitive game only once — a 1-0 victory over Slovakia during the Steve Staunton era.
While there were decent draws against sides of the calibre of Italy, three points against the big boys of international football proved elusive. In addition, the Derry native inherited a side desperately short of morale — the disastrous Euro 2012 finals campaign was still relatively fresh in people's minds, as were the respective 6-1 and 3-0 defeats to Germany in their subsequent World Cup qualifying campaign, as the Irish team were patently outclassed by a superior outfit.
Since the O'Neill era, however, the Boys in Green have come to regard wins rather than draws as being achievable against the top international sides. In the past four years, notable victories against some of the best teams in Europe, including Germany, Italy, Bosnia and Austria, have been achieved.
Players will almost always automatically heap praise on their manager when the relevant question is asked, but with Ward — who has thrived at both club and international level since that famous Germany game — there is plenty of evidence to back up what he is saying.
Ireland are currently in a promising position with four group games left in the 2018 World Cup qualifiers. Only goal difference separates them from leaders Serbia, with rivals Wales and Austria a further four points behind.
The upcoming games at the start of next month away to Georgia and versus Serbia at the Aviva will go some way towards deciding the team's fate, but for now, things are looking up.
Ward acknowledges that "if you'd offered us this position at the start of the group, we'd have taken it".
He continues: "The mentality of the manager and of Roy are winners, they want us to win and they want us to qualify top of the group.
It's going to be difficult, but we've got Serbia coming to our home ground and it's a ground we've been successful against teams since Martin and Roy came in. If we can keep up our home form and nick some points away, I think we'll have a fantastic chance of winning the group and if it does come down to a play-off (if we finish second), there are not many teams that will want to be drawn against ourselves."
Out of the two upcoming games, Georgia away is regarded by most people as Ireland's best chance of securing three points, with Vladimir Weiss' side currently fifth in Group D, having picked up just three points from six games.
Source: Luca Fiorino/YouTube
However, Ward emphasises that there is no room for complacency, particularly given that O'Neill's side required a last-gasp Aiden McGeady wonder-goal to get them out of jail and secure what turned out to be a vital 2-1 win in their opening Euro 2016 qualifier the last time they travelled to Tbilisi.
"It's Georgia away next and it's going to be tough. The last time we played there, Aiden scored an unbelievable goal in the last minute," he recalls.
I don't think people realised how big a result that was. When a group starts, you don't realise the magnitude of some games until you look at the end of the group, and teams struggled over there.
"It's a long journey, a different climate and time difference. We're under no illusions, it's not going to be an easy game, it's going to be as tough as it was last time, but we always have confidence in our ability to go there and get a result."
Since O'Neill took over, Ireland have shed some of the stark conservatism of the Giovanni Trapattoni era, as reflected by the more positive results and performances since.
Ward credits O'Neill with cultivating "a good environment to come and work in".
He adds: "I just think there was always that thing with different cultures coming together and maybe getting messages across wasn't easy (with Trap) in terms of getting that winning mentality, whereas with Martin and Roy, they've had unbelievable careers at the highest level and their attitude every day is just: 'Win, qualify, do your job and everyone's in it together.'
"And it's a bit like an underdog mentality, but one where we believe we're good enough to beat anyone. I think we've proved that in a lot of big games, we've put it up to a lot of big teams.
But when you have a manager and an assistant manager as passionate as them and who have that winning mentality, it rubs off on the players and it feels like over the last two years or so, the last qualifying campaign, people are seeing that in the squad and in the team as well, not only with the results but with the performances, which I feel have been very strong."
Subscribe to The42 podcasts here: