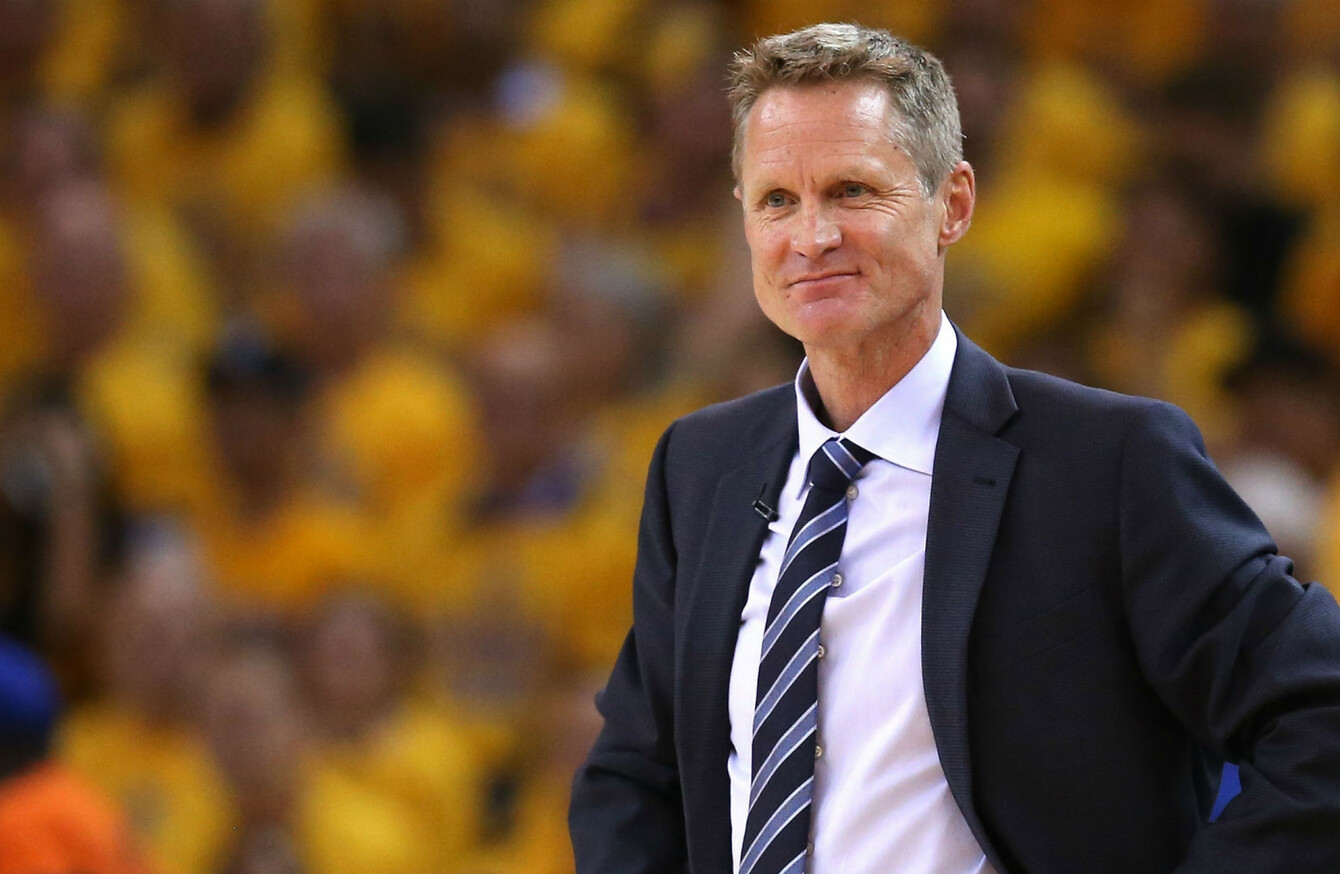 Steve Kerr was critical of Ball's comments in relation to the LA Lakers.
Steve Kerr was critical of Ball's comments in relation to the LA Lakers.
ADD STEVE KERR to the list of coaches upset with LaVar Ball and the publicity surrounding the "Kardashian of the NBA", as the Golden State Warriors coach called him.
Speaking to reporters ahead of last night's game against the Denver Nuggets, Kerr did not hold back when asked about Ball and comments made to ESPN in which he said coach Luke Walton is "losing control" of the Los Angeles Lakers.
Kerr said he was not condemning ESPN, which laid off several reporters last year, but was speaking to a larger societal issue.
"This is not an ESPN judgment, it's a societal thing more than anything, but where we're going is we're going away from covering the game and we're getting closer to just sensationalised news," he said.
It's not even news, really, it's just complete nonsense but if you package that irrational nonsense with some glitter and some ribbon, people are going to watch.
"I talked to people in the media this year. I said, 'why do you guys have to cover that guy?' They said, 'we don't want to, nobody wants to but our bosses tell us we have to because of the ratings, because of the readership'.
"Somewhere, I guess in Lithuania, LaVar Ball is laughing, people are laughing, people are eating out of his hands for no apparent reason, other than he's become the Kardashian of the NBA and that sells and that's what's true in politics, in entertainment and now in sports.
"It doesn't matter if there's any substance involved with an issue. It's just can we make it really interesting for no apparent reason."
The full transcript of Kerr's comments reveal a sentiment similar to Dallas Mavericks coach Rick Carlisle's words on Sunday when he called Ball and the ESPN coverage "a disgrace".
Ball made the comments to ESPN from Lithuania, where he is helping his two younger sons settle in playing for BC Vytautas.
The42 has just published its first book, Behind The Lines, a collection of some of the year's best sports stories. Pick up your copy in Eason's, or order it here today (€10):