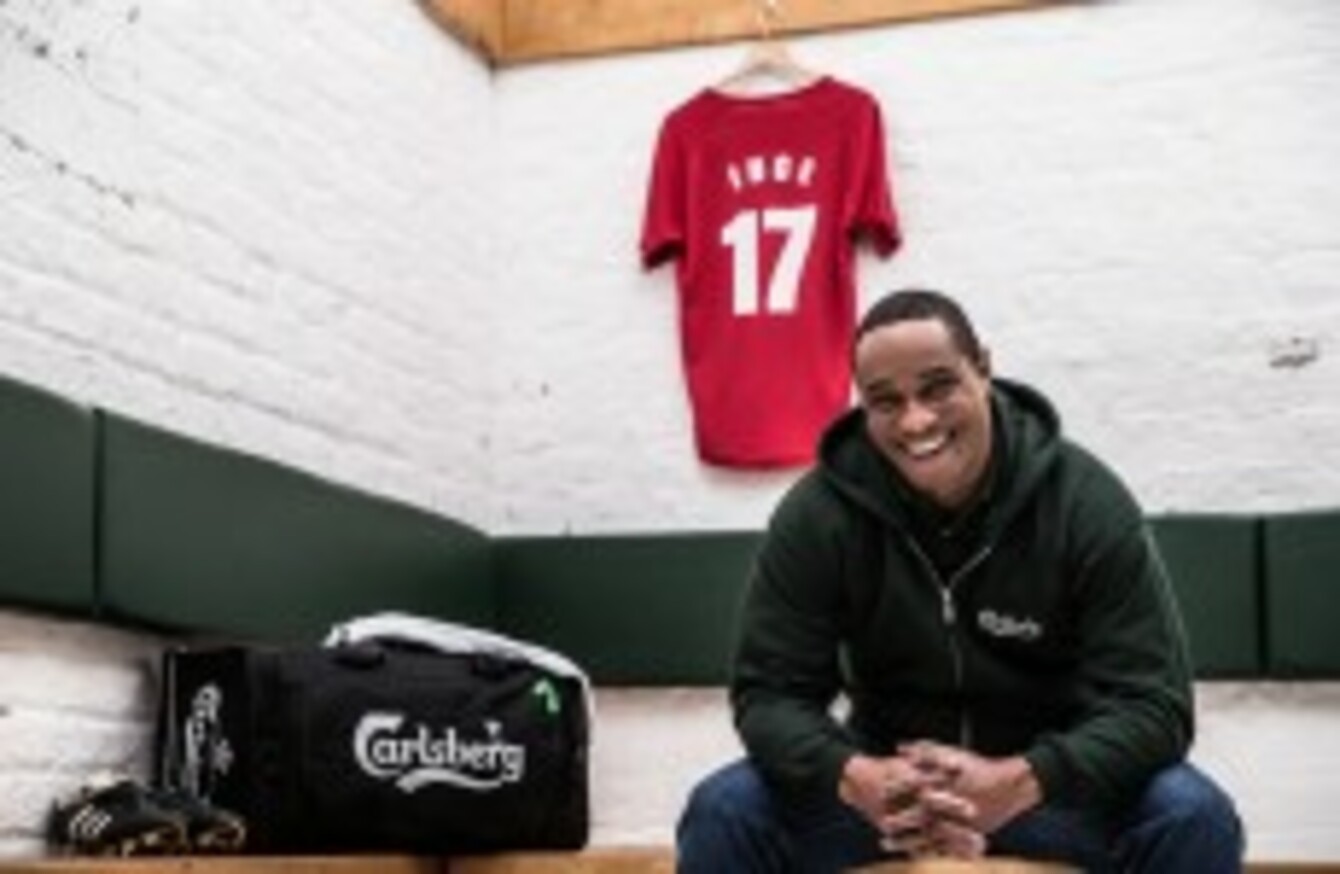 Ince launched Carlsberg's #JoinTheGreats competition in Dublin on Thursday.
Image: Dan Sheridan/INPHO
Ince launched Carlsberg's #JoinTheGreats competition in Dublin on Thursday.
Image: Dan Sheridan/INPHO
STEVEN GERRARD SHOULD return to the Liverpool midfield for Sunday's top four showdown against Manchester United, Paul Ince said.
With the two rivals going head-to-head in the race for the Champions League places, Ince believes the game is made for warriors like Gerrard whose presence is like a "comfort blanket" to the Anfield men.
There are question marks over the Liverpool captain's fitness following six weeks out with a hamstring injury, but he returned as a sub in the win against Swansea.
Without him the Reds have won six of their last eight in all competitions, including four straight games in the league, and Ince admits that Brendan Rodgers faces a tough call.
"I think any Liverpool team with Stevie G is going to be better, not just from a footballing point of view but a leadership point of view," he said in Dublin on Thursday as he launched Carlsberg's #JoinTheGreats competition.
Stevie G is like a comfort blanket. When he is in your team you feel comfortable. You think, 'Oh good, Stevie G is there.'
"At West Ham it was Trevor Brooking and Liam Brady, you were glad they were there. When Stevie G is not in the Liverpool team, players worry, but when they see him leading them out, they feel alright, feel 'We've got our leader here.'
"They've won without him, managed to do well, but you need him in your side, especially on Sunday. It's one of those games where you need your men, your warriors, and that's what Stevie G is."
Sunday will be Gerrard's final game against United before he leaves for the LA Galaxy at the end of the season.
And while Ince says sentiment shouldn't cloud Rodgers' decisions, he would definitely have Gerrard in the team himself.
"I think Brendan understands there is life after Stevie G, just as United had life after Bryan Robson. Stevie G is moving on to pastures new and he has to understand that.
Whether Brendan picks him, I'm not so sure as they've been playing well. I'd play him without a doubt.
"You can't let emotions get in the way of selections. If he feels the team is going to beat Man Utd without Stevie G, I'm sure he'll do that."
If Gerrard is left on the bench Liverpool's vice-captain Jordan Henderson will keep the armband, but Ince says it's unfair to compare the two players in terms of leadership.
"Leaders are different. The people I played with, the Robsons, the Keanes, it's not about their football. It's about their backgrounds, what they have come through, adversity.
"Nowadays it's not about that stuff. They've got silver spoons in their mouths, not had hard upbringings. Society has changed.
"[Henderson] is a different kind of leader to Stevie G. It's unfair to compare him to Stevie G. Like comparing Messi to Maradona, who's the best? Different eras, different times.
"He's still a young lad, and Brendan has given him the armband, he must have leadership qualities."
Carlsberg have officially launched their 2015 #JOINTHEGREATS campaign, giving 20 Irish football fans a once in a lifetime opportunity to play on Liverpool FC's hallowed Anfield turf with their mate. Enter via Carlsberg Football's Facebook page