ALL OF THE Irish clubs have been really excellent in Europe over the past couple of weeks.
Derry City may have let themselves down with a silly mistake to lose 1-0 but I felt that even they had the measure of Shakhtyor Soligorsk. They shot themselves in the foot with the goal they gave away but I wouldn't be surprised if they went and got a result in the return leg.
The performance from St Patrick's Athletic was as good as I have seen from an Irish club in Europe. I thought they were excellent. They went about their business professionally and should really have deserved to win.
They have proved to themselves and to everyone else that they can take this team on so shouldn't be too downhearted about the draw. I would have total confidence in them if they can emulate that performance. That is the key.
The Saints may even have to go up another notch which I think they are capable of doing. It is something that League of Ireland teams don't get the chance to do very often — up their performances against European opposition and see just how good they can get.
I've no doubt that they would have preferred to play the second leg at Richmond Park instead of Tallaght Stadium. It certainly would have been an advantage as you get that sense of pride when you play at your home ground in front of your own home crowd.
It's unfortunate that they have had to move the game but the players have got to deal with that. If you look at the game they played in Warsaw, it was a very hostile atmosphere and a difficult situation to play in.
They came away with a 10/10 performance but their fans need to produce a similar atmosphere this week because it can be a huge advantage for you.
The results of all the sides have been encouraging but I still get a feeling of frustration as I've seen it all before. The downside is that in a couple of weeks, it will be back to the bread and butter of the LOI and we'll have no real vision to where the league is going.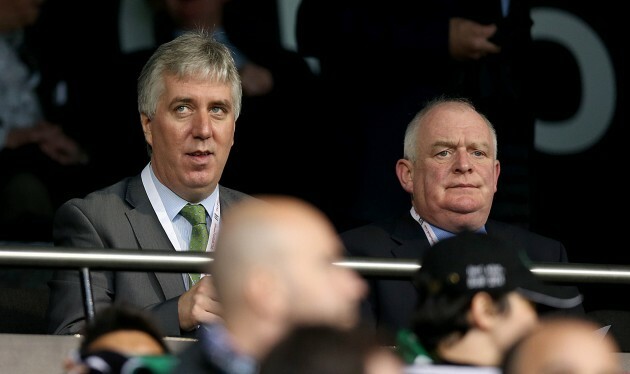 Donall Farmer / INPHO John Delaney must do more. Donall Farmer / INPHO / INPHO
FAI chief executive John Delaney has just signed a new five-year deal for what is reportedly a staggering amount of money. We need to see more from the FAI in regard to the domestic league because there simply isn't enough being done by them.
Delaney is a Waterford man and a League of Ireland man, so he keeps saying, but we don't see enough of him when it comes to developing the league. It is always left up to the football clubs to promote themselves or the television stations who are covering the games.
I've no issue with people being on big money if they can produce big results but they need to start justifying some of the extortionate salaries. They are falling short in the promotion of the league and establishing the direction it is going.
I just don't think there is a connection between the players, the football clubs and the association. We need a united ambition but it's not there at the moment. It's the same as it was ten years ago. It's the status quo.
I've seen it all before and I know what comes next — nothing. In two or three weeks we will all be sitting around saying 'wasn't that a great game'. The ambition needs to come from the top. From Delaney and from the FAI.
Now is the perfect time to do it off the back of these high profile results. Hopefully all the clubs, and especially Pat's, get through because if they do there will be a massive opportunity to really profile the league.
It is only a small window of opportunity to do so and if Pat's progress and Celtic come to town, you won't get a better opportunity.