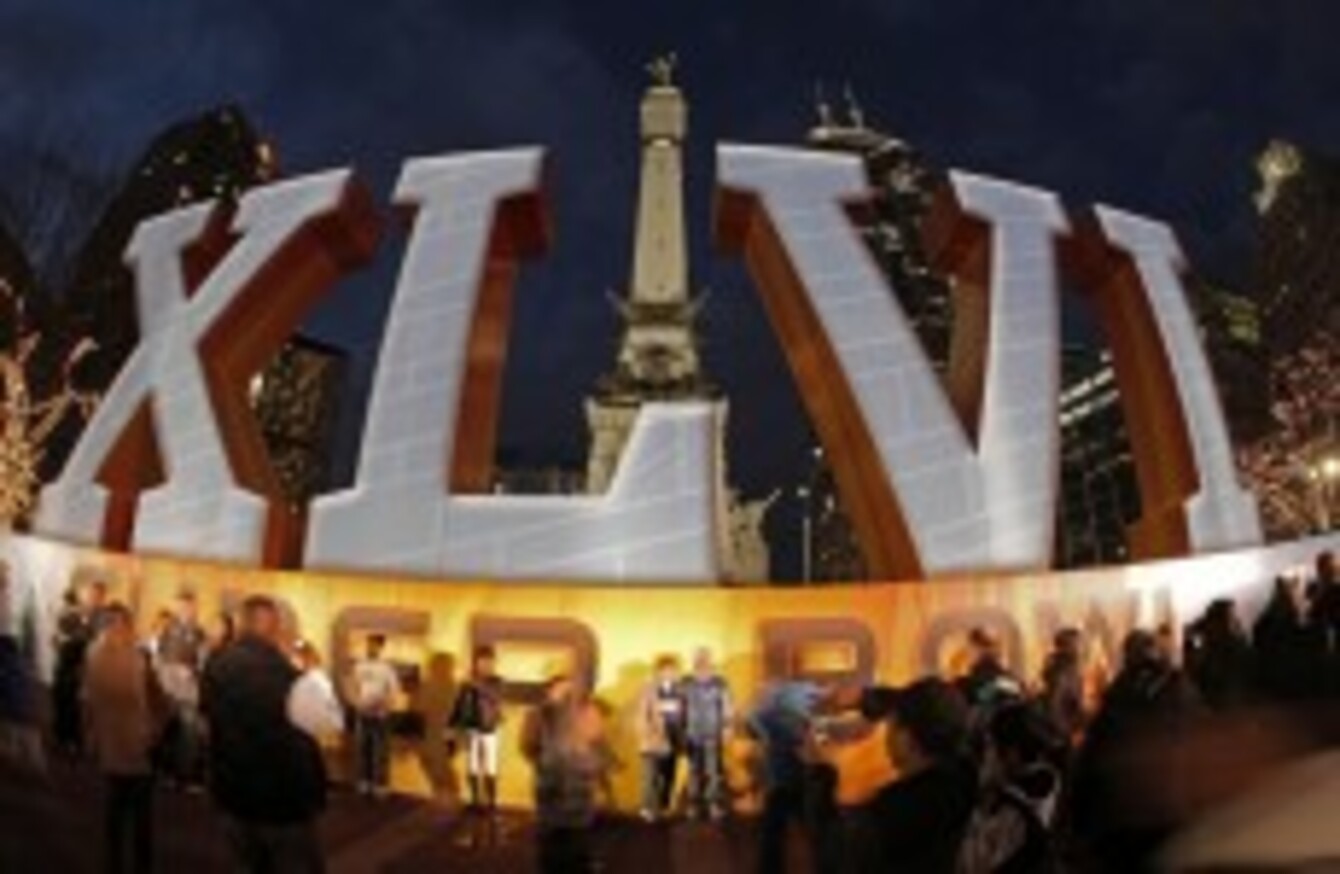 Image: Charlie Riedel/AP/Press Association Images
Image: Charlie Riedel/AP/Press Association Images
IF YOU'VE MISSED the hype and build-up all week, you may have forgotten that today is the biggest day of the American sporting calendar — Super Bowl Sunday.
Tonight in Indianapolis, the New England Patriots and the New York Giants will do battle for the Vince Lombardi trophy at Super Bowl XLVI.
For those of us on the wrong side of the Atlantic, the Super Bowl will be shown live on BBC from 22:55 (kick-off 23:30) . If you don't really understand the game, but still want to plonk yourself down on the couch with some beer, nachos and dip tonight, here's a guide to the basics.
What do I need to know to understand tonight's game?
An American football pitch is 120 yards long and 53.3 yards wide.
While a game is supposed to last for one hour, broken down into four 15-minute quarters, timeouts, halftime and breaks in play mean that most games take three hours to complete.
Each team has specialists on offense, defence and special teams but never have more than 11 players on the field at one time. In the NFL, there are 45 active players allowed on every team which is why you see so many people standing along the sidelines during a game.
Possession in American football is similar to rugby league, with each offense having four 'downs' to advance the ball 10 yards. When the offense succeeds in moving the ball at least ten yards, they are awarded with a fresh set of downs, meaning they have four more attempts.
In most cases, if a team has failed to move the ball forward 10 yards they 'punt' the ball away (like kicking for position in rugby) or kick a 'field goal' (worth 3 points) if within range.
A 'touchdown' is scored by getting the ball into the end zone and is worth six points, with the 'point after' (think conversion in rugby) worth one.
To move the ball, a team can choose to run or throw, but only one forward pass is allowed in each play.
The quarter back is perhaps the most well-known position in American football and, like an on-field general, he decides whether a play will involve a run, a pass or, in some cases, both.
Trick plays, known as 'play action' are also used to fool defence.
How do teams get to the Super Bowl?
The NFL contains 32 teams split into two conferences: the American Football Conference (AFC) and the National Football Conference (NFC). Each conference is separated into four divisions, North, South, East and West with four teams in each.
Each team plays 16 regular season games over a period of 17 weeks.  When the regular season ends in early January, the winner of each division is ranked from one to four within their conference, based on their win/loss ratio. On top of that, the two divisional runners up with the best records are ranked five and six.
After three weeks of playoffs, both conferences are whittled down to a single winner. The winners of each conference, the AFC and NFC, then play each other in the Super Bowl, which is the most watched sporting event in a non-FIFA World Cup year — like this one.
Steven O'Rourke is the offensive co-ordinator of Tullamore PhoenixAmerican Football Club, winners of the IAFL DV8s national title in 2010 and 2011. Tullamore are always recruiting new players so, if you'd like to play football and not just read about it, Steven would love to hear from you.