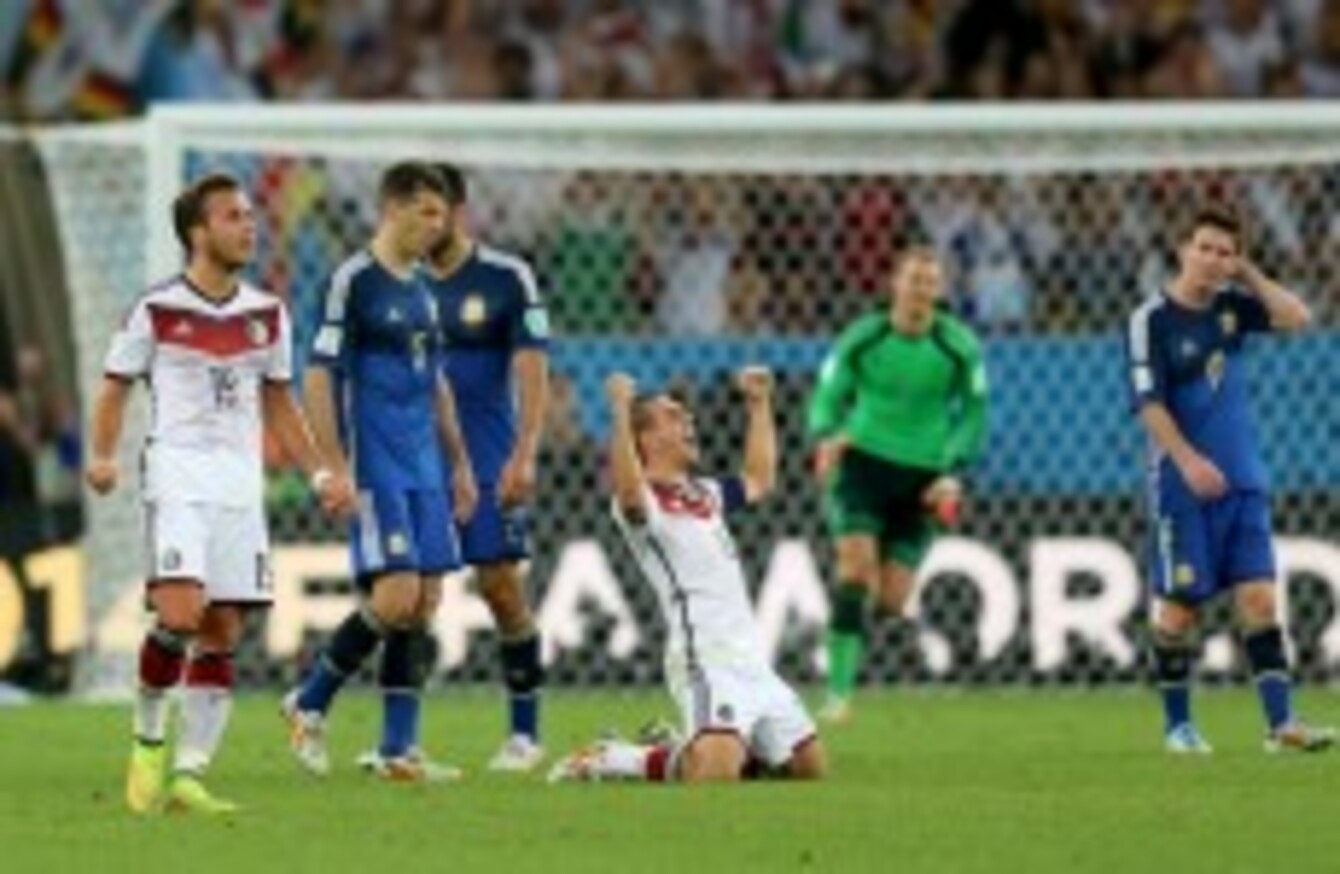 Germany's Philipp Lahm (centre) and Mario Gotze celebrate the win after the final whistle.
Germany's Philipp Lahm (centre) and Mario Gotze celebrate the win after the final whistle.
GERMANY WERE GOING into the World Cup final on the back of one of their greatest victories ever – the 7-1 destruction of tournament hosts Brazil in the semis.
Joachim Löw's side were consequently considered favourites, though Argentina's notoriously conservative coach and defensive set-up meant that a much tighter game was anticipated than the Brazil semi.
Much of the pre-match discussion focused on whether Lionel Messi could produce something special to overcome Germany, who were widely perceived to have greater ability throughout the team than their opponents.
Manager Alejandro Sabella talked about the importance of denying Germany space in the pre-match press conference, while admitting that they would need to have the "perfect game" to prevail.
Meanwhile, Joachim Löw spoke in an ostensibly more confident manner than Sabella ahead of the big game, saying:
"I believe we, as a team, are mature. In the last few years we have been marching forward. Even if we are defeated, which I don't think will happen, nothing will crumble. This team, and German football, does have a future."
Formations
Germany unsurprisingly had the more attacking line-up from the outset. They only had one change from their game with Brazil, as Sami Khedira, who picked up an injury in the build-up, made way for Christoph Kramer (who was then replaced by Andre Schürrle after half an hour when he failed to recover sufficiently from a blow to the head). This was a straight swap, so Germany retained their archetypal 4-3-3 lineup, though as was the case against Brazil at times too, Philipp Lahm got forward ad nauseam and resembled more of a right winger than a right-back at times, aided by Argentina's lack of threat down the left wing.
Meanwhile, Argentina were just a cautious as they were in the semi-final with Holland, though offered a greater threat on the counter-attack compared with their previous game, largely owing to their opponents' greater interest in attacking. They played a 4-4-1-1, with Gonzalo Higuain the lone frontman and Messi and Ezequiel Lavezzi Lavezzi just behind him. Of the latter two, Lavezzi had more defensive responsibility, and indeed, usually whenever Germany were in possession in the first half, Argentina made sure to have at least eight men behind the ball.
(Argentina generally had at least eight players behind the ball when Germany were in possession)
A pattern is established
The beginning of the match was predictable enough. Germany dominated possession, while Argentina sat back and attempted to counter attack whenever they broke up German moves.
The Argentinians' gameplan was relatively successful throughout the first half. They continually frustrated Germany, flooding the midfield with bodies, thereby allowing Lucas Biglia and in particular, Javier Mascherano to frequently break up promising attacks.
It was an interesting contrast in styles. Germany pressed from the front — a policy that they have worked on substantially since the last World Cup and paid off handsomely in the Brazil semi. By contrast, Argentina's forwards seldom put pressure on the German defence and allowed them to play the ball around the back at will.
Knowing that Mats Hummels and Jerome Boateng are weak in possession, they instead focused on keeping tight to the likes of Toni Kroos and Bastian Schweinsteiger and thus trying to prevent them from establishing any real rhythm in the Germans' play.
(Knowing they were uncomfortable in possession, the Argentinians generally allowed German defenders such as Boateng time on the ball while sticking more closely to their midfield players)
The sheer work-rate and concentration of Argentina for much of the game was admirable — particularly given that they had a day's less rest than Germany, and whereas the latter's match with Brazil was effectively over well before half-time, Sabella's side had to endure a gruelling 120 minutes of football with the Dutch.
Understandably, Argentina's forward play was less impressive than their defensive work. Initially, they did well to get bodies forward on the rare opportunities they had to counter-attack, though as the game developed, Messi and Higuain in particular increasingly resembled isolated figures, as the gap between defence and attack increased significantly.
The Argentinians accordingly appeared to be hoping to score from one of two situations – a moment of magic from Messi, or a German mistake. The latter occurred midway through the first-half, as an uncharacteristically sloppy header back from Kroos played Higuain through on goal, but the Napoli striker's finish was poor, as he all too anxiously dragged his shot wide.
German joy down the right
Argentina had no real width throughout the match, so it was no surprise that much of Germany's best play emanated from good work out wide, especially on the right flank.
(In the first half, Germany were given ample space down the flanks and consequently caused numerous problems down the right-hand side)
Philipp Lahm, probably the tournament's most impressive full-back, despite starting the first few games in midfield, was Germany's most influential attacking player in the first half.
As he did so often against Brazil as well, the Bayern Munich man linked up intelligently with Thomas Müller and Mesut Özil to create a couple of half-chances.
Yet through a combination of bad fortune and good Argentinian defending, the Germans never quite found a breakthrough from this area, for all Lahm's incisive play.
Down the other side, they were decidedly less threatening. Designated left-sided attacker Özil rarely stuck to his position, preferring instead to float, while Benedikt Höwedes is the opposite to Lahm in that he seldom looks comfortable coming forward from the full-back position, and it's therefore no surprise that centre-back is his customary position at club level. It also didn't help that Argentina right-back Pablo Zabaleta produced his best display all tournament, showing the type of commitment and defensive solidity that frequently characterises his play in the Premier League.
It was consequently ironic that the only goal of the game ultimately stemmed from Germany's left-flank, given how inept they looked in that area in comparison with the opposite wing.
(In the second half, Philipp Lahm was afforded less space as Argentina focused more on defending down their left-hand side)
Yet it was perhaps understandable to a degree, as in the second half, Argentina appeared more cognisant of the threat posed by Lahm et al, and they were afforded much less space in that area thereafter as a consequence, with extra defenders appearing to gravitate towards that side of the field.
Messi fails to have the desired effect
Though Lionel Messi's influence has declined in the knockout stages, it's difficult not to feel sympathy for the Barcelona star.
The 27-year-old looked jaded throughout the tournament — he has run less than any outfield player in more than one match, and his father warned last Friday that the star was "exhausted".
And while his final game was ultimately unsuccessful, it was not totally devoid of bright play. Despite giving the ball away too cheaply once or twice in the first half, he also had some encouraging moments. He got in behind the German defence twice in the first period — on the first occasion, his cross was cut out, and on the second near half-time, the German defenders recovered well to prevent him getting a clear shot at goal. Though he will inevitably feel he should have done better, both chances were extremely difficult ones that most footballers would fail to avail of.
Source: S4A/YouTube
The same cannot be said of the opportunity afforded to him early in the second half, however. Again, he got in behind the German defence following a swift counter-attack, and this time, his shot narrowly eluded the corner of the net. It was then that everyone began to sense that it wouldn't be the striker's day.
Thereafter, Messi showed occasional nice touches and produced a few clever passes without ever dominating the game in the way many hoped he would. To be fair to Messi, this was never likely to happen through no fault of his own. His lack of defensive responsibility enabled him to spend much of the game waiting for the ball to arrive, yet he rarely got adequate service, and when he did, his options were severely limited (at best, only the half-fit Aguero and Higuain were in his vicinity) given Argentina's defensive priorities, as German players invariably outnumbered him to the point where it would require a near-superhuman effort to produce a goal or even an attempt on target.
(Messi was frequently outnumbered by German defenders during the game)
Yet history will cruelly remember the Argentinian superstar as a failure, with that one glorious chance at the start of the second half being the abiding image that sticks in most people's memories. Moreover, his frustrating evening was summed when he haplessly blazed a free-kick in a good position well over with virtually the last kick of the game.
Two substitutions change the game
There were two key substitutions in the match. The obvious one that springs to mind is Mario Götze replacing Miroslav Klose in attack. Despite the latter having been a terrific servant to Germany, he is undoubtedly their primary attacking weakness. He played on the periphery of the game in the final, rarely threatening and showing a distinct lack of energy as the game wore on. Replacing the World Cup's all-time record goalscorer with the young pretender Götze was therefore the logical call to make.
The Bayern Munich youngster came on at the end of normal time. He showed some nice touches and linked up well with his teammates on occasion, but was generally quiet enough until his fantastic link-up with fellow substitute Schürrle seven minutes from time.
He controlled the Chelsea man's cross and finished superbly for the only goal of the game, securing the ultimate redemption, after an underwhelming start to the tournament led to him being benched for the majority of it.
The goal was probably just about deserved — Germany had shown the greater attacking ambition throughout and were increasingly on top because of their patently superior fitness in extra-time (perhaps largely owing to their easy semi-final game), as illustrated by the loss of concentration that meant Martin Demichelis failed to properly track Götze's run in the build-up to the winner
And for all their well-organised set-up and immense effort, as epitomised by Javier Mascherano and his tireless work rate, some journalists suggested Argentina contributed to their own downfall to a degree, which leads us nicely to the other substitution that partially changed the course of the game.
Replacing Lavezzi with the seemingly half-fit Aguero was considered at best strange and at worst, ill advised. The PSG man has been disappointing at this World Cup, but he arguably enjoyed his best 45 minutes in an Argentinian shirt in the final. He always looked lively and was one of Argentina's most threatening players. With Messi ostensibly not fully fit, he was key in carrying the ball forward and linking up the defence and attack.
(A controversial half-time substitution meant Argentina were effectively playing with three up front for all of the second half, two of whom were only half fit)
Yet following Lavezzi's departure at half-time, Argentina seemed to regress to an extent. The introduction of the more attack-minded Aguero meant they were less solid defensively, while with the Man City star much further forward than Lavezzi had been, they were also less efficient at counter attacking and linking up the play, prompting the defence and the attack to become more isolated from one another as a result.
Consequently, Argentina were forced to defend more and were also less adept at taking pressure off their already over-worked backline. They were therefore increasingly reduced to hitting hopeful long balls towards their ailing, diminutive attackers, and chances predictably became even rarer as a result.
Of course, everyone is wise after the event, but in replacing Aguero with Lavezzi, there is no doubt that Sabella took a considerable gamble, which ultimately failed to pay off.
Conclusion
Source: WorldWideMusicNo1/YouTube
While no one can accuse Argentina of a lack of hunger or commitment to the cause, the most deserving team ultimately triumphed on this occasion.
There was more than a hint of Jose Mourinho-style defensive tactics in Argentina's approach. Instead of taking risks, they waited for the opposition to make mistakes, and to be fair, this might well have worked if Messi, Higuain or Rodrigo Palacio (in extra-time) had been more clinical with their finishing.
Yet ultimately, it was Argentina who committed the decisive error in refraining from tracking Götze (among other glaring inadequacies), which was no real surprise, given how exhausted they looked throughout extra time.
On top of enduring a tougher semi-final, the game was in fact not dissimilar to the 2010 final, as like Holland in that instance, the Argentians' limitations eventually cost them and they were made to suffer a slow death by passing. Possession isn't always integral in football, yet on this occasion, it undoubtedly made a big difference, with the Germans enjoying 60% of the ball over the course of the 120 minutes.
Accordingly, despite heroic efforts from the players such as Mascherano, Zabaleta and Ezequiel Garay, it was their fitter, stronger and frankly more talented opponents who ended up narrowly prevailing.