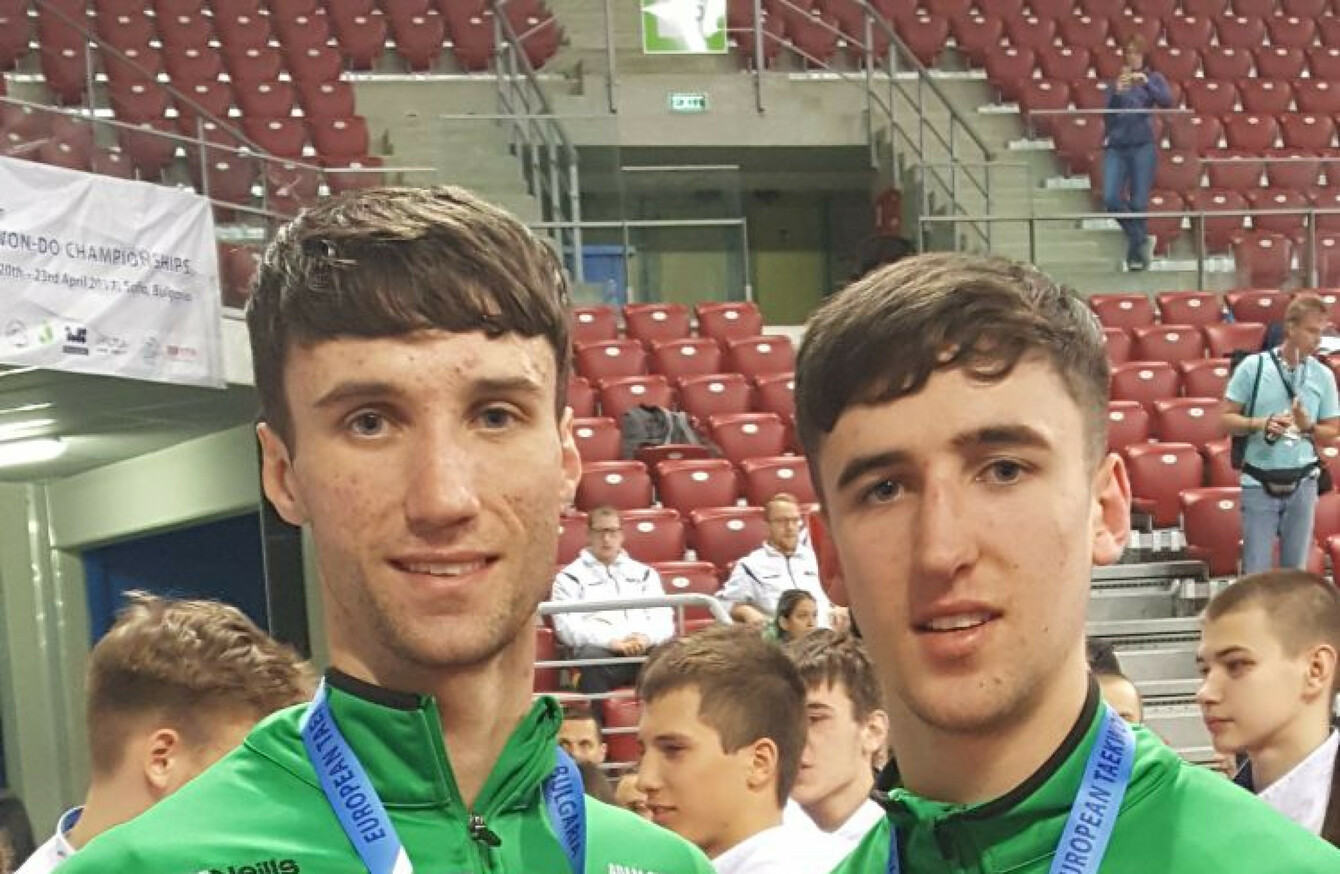 Adam (left) and Ryan Shelley (right).
Adam (left) and Ryan Shelley (right).
Updated at 15.15
IT'S A BIG week in Irish sport.
While many people in the country will have their eyes on Cardiff for Ireland's crucial World Cup qualifier against Wales this Monday, it is not the only momentous occasion involving Irish athletes.
A less popular sport, but one in which Ireland has enjoyed much more success at international level, is set for a big few days.
The Taekwondo World Championships get underway in the Citywest Hotel in Dublin this week, taking place from 10-15 October.
The competition features over 60 Irish athletes and more than 1,000 in total, all of whom compete in the North Korean-originated ITF version of taekwondo, not to be confused with its South Korean and Olympics-affiliated WTF equivalent (a more general piece going into more detail on the differences between the two can be read here).
The Irish competitors facing a big week include brothers Ryan and Adam Shelley. Along with their elder brother Alex, they grew up competing in taekwondo.
Having been raised in Dublin initially, the family spent a year in Australia, before returning to live in Whitehall.
It was around then that they took up taekwondo — Adam was seven at the time, while Ryan was four and Alex was nine.
They were reluctant to take him because he was so young," Adam says of Ryan.
"Me and Alex were starting and my dad really wanted Ryan to be involved as well, so the instructor at the time took him in.
At that age, the attention span isn't really there. So whereas myself and Alex were at the perfect age to start, Ryan was probably just running around when we were learning the techniques."
Ryan also played football with St Kevin's Boys up until the age of 13, but gave it up once his other passion "started getting more serious".
The brothers grew up idolising Tomaž Barada, the legendary Slovenian taekwondo and kickboxing star.
Me and Adam would have been watching a lot of his stuff since we were very young, imitating his style," Ryan recalls.
Yet it was a love of a certain iconic movie star and not necessarily taekwondo per se that originally caught their attention.
With three boys growing up in a house, there was a lot of fighting and wrestling at home. We used to watch

Bruce Lee

movies — at the time we were talking a lot about karate. So my dad started looking at local clubs and he found a taekwondo club then.
"Even to this day, our dad and mam are the most supportive people to us. We'd be nowhere without them. In teenage years, the temptation might be to drop off or to socialise a bit more. They kept us on the straight and narrow.
We were always known as 'the three brothers'. We just went everywhere together and competed in all the same competitions. After training, we spent two hours practising the stuff we learned. And not even with a view to getting better, it was just because we loved it so much. We'd be training together and doing all the drills."
Unlike the other two brothers, Alex has had to put his taekwondo career on hold as it stands.
Now, he has quite a busy job, he's a manager with Marks and Spencer, so he hasn't got the time to train," Adam says. "But he still helps us out with our training and is very supportive of us. He's a black belt, but he's just not currently competing."
In addition to their dreams of representing Ireland on the world stage, the brothers also took up taekwondo for more practical reasons.
My dad would have had a bit of a boxing background," Adam explains. "Coming from Dublin, he would know the dangers out there. Not that Dublin is an overly dangerous city, but there are dangers everywhere, and we often see that with a lot of parents that want their kids to be taught martial arts.
"The main aim to get out of it is discipline and our dad did want discipline. He's in quite a good job, he's disciplined enough himself. So one of his main focuses would have been (protecting us on) the street."
The brothers have since gone on to achieve countless accolades in the sport, to the extent where people mistakenly sometimes believe Ryan is already a world champion in the sport.
I'm not a world champion in taekwondo as of yet," he explains. "I got a silver medal at the World Championships, so you could call me vice world champion and I have four European titles.
"As you can imagine, that's frustrated me over the years. This time in Ireland, I want to capture my first taekwondo world title. I do have a world title in kickboxing. I've a WAKO (World Association of Kickboxing Organisations) world title, but I don't have one in taekwondo, so that's why this one (next week) probably means so much to me."
Adam, on the other hand, is already a world champion at -70kg and is hoping to successfully defend that title in the coming days. He is also a five-time European champion and a three-time Irish Open winner. On the latter competition, he adds: "It's often referred to as a kickboxing competition. I prefer to refer to it as a martial arts competition, because you have guys from all martial arts competing at it.
It's the biggest martial arts competition in the whole world. There were over 4,000 competitors at it this year."
The pair, meanwhile, identify the same event as their favourite memory of competing in the sport.
The one that stands out the most is winning my first European title in 2011," Adam recalls. "It was in Slovakia and my reason for that is Ryan also won, and it was our first time winning together and also, my mam was there for the first time ever.
"She hadn't been to any international competitions and it was my first one to win, so it was great for her to witness that.
At the time, we were both juniors, so (celebrating with) alcohol would have been out of the question.
"I remember having a few mates around the house that night to watch a few movies."
In general, the duo abstain from alcohol, except for a few weeks at Christmas and summer during the off-season, and even then their intake would be moderate.
My favourite thing is not the drinking, it's just to catch up with family and friends, who you don't get to see a lot when you're in season preparing for competitions," Adam adds.
The upcoming World Championships in Dublin are "everything we've been dreaming of ever since we started taekwondo" and they are likely to further boost a sport that has grown considerably in recent years, with an estimated 8,000 participants in Ireland alone currently. Twice over the course of the interview, they express their gratitude to the Irish Taekwondo Association for the tireless effort they have put in towards making their dreams a reality.
It's going to be amazing for the family and friends, because they never get to see these competitions," Adam says.
"We've sold a good few tickets for people to come and watch, so it's just going to be great to do our thing.
Even the phone calls the last couple of weeks, the text messages, everybody is asking about it.
"I could be sitting in college and they might say 'you've got a competition coming up, but because they're all aware it's in Ireland, so many people are asking: 'What day are you on? What time are you on? I'm going to be able to pop over on Saturday morning.'
So the more we're talking about it, the more awareness it's creating.
"I can't speak for the rest of the team, I hope they're in the same position, but myself and Ryan are experienced enough that the pressure won't get to us and we'll be able to perform to our best on the day."
Their achievements are all the more impressive given that they also have college to think about. Both are students at Dublin City University – Adam is in his third year studying Sports Science and Health and is on a scholarship there, while Ryan is in his first year studying Education and Training.
They also own a taekwondo club, Whitehall Martial Arts, so it is hardly a surprise to hear their hectic schedule encompasses regular early starts.
It would maybe be two or three mornings in a week, where our college schedule, if we're starting at nine o'clock, we've got to be up for half five in the morning to get to the gym at a quarter to six.
"We'd have an hour and a half strength and conditioning and an hour and a half of something to eat before college. That usually takes place on a Monday, Wednesday and sometimes on a Thursday.
Myself and Ryan, we share a room. When the alarm goes off, if there's ever one of us that's not up for it, we just turn and say, get up, it's time to do it… Neither of us would be where we are today without each other.
"If one of us is having a bad day, the other person just (provides encouragement)."
Despite their current intense focus on MMA, the brothers are interested in a broad range of sports. Both have been involved in kickboxing since 2011, while Adam has been doing some boxing training over the last "two or three years".
MMA is also a sport that is very much on their radar. Asked if they have any aspirations towards one day competing in the Ultimate Fighting Championship (UFC), the answer is unequivocal.
That would be both of our dreams," Ryan says. "And we actually started a bit of MMA training in the summer just to get a head-start on things. We've knocked that on the head purely because we want to focus on the taekwondo aspect in the coming weeks.
"But in our off-season, when the (taekwondo) training dips a little bit, we will go back to the MMA training and see where it goes from there."
But would a full-time switch to MMA cause considerable disappointment and frustration within the Irish taekwondo community?
One thing I've always noticed with the ITA (Irish Taekwondo Association), they've always been supportive of any decisions and different types of training," Adam says. "I'm sure a lot of people would love to be able to say that somebody at the top of MMA comes from their discipline.
"If one or both of us were to be in professional MMA, it's the ultimate test against other martial arts, so if I ever heard of a taekwondo fighter who's successful (in MMA), I'd be very proud."
Unsurprisingly therefore, both brothers are also big Conor McGregor fans.
I see a little bit of hate sometimes, but how can you not like Conor?" Ryan asks. "He's a guy from Dublin who's on a very similar path at the end of the day to what we're on — it's martial arts, it's all under the same roof.
"And he's after putting not only martial arts but Ireland on the map, so we'd be a big fan of Conor."
However, while McGregor has turned himself into a character with a habit of making outrageous, sensational statements for the sake of publicity, Ryan says he would not be willing to emulate his fellow Dubliner in this regard.
If it was me, that's just not my personality. I would rather adopt the humble approach — that's what taekwondo has (instilled in) us. I really wouldn't be worried about marketing myself in that way. I'd rather just focus on the skills and the martial arts.
"I'd be more interested in becoming successful than making money. If I want to make money, I'll do my degree and become a teacher."
For more information on the upcoming World Championships, visit the Irish Taekwondo Association's official website here.
Subscribe to The42 podcasts here: