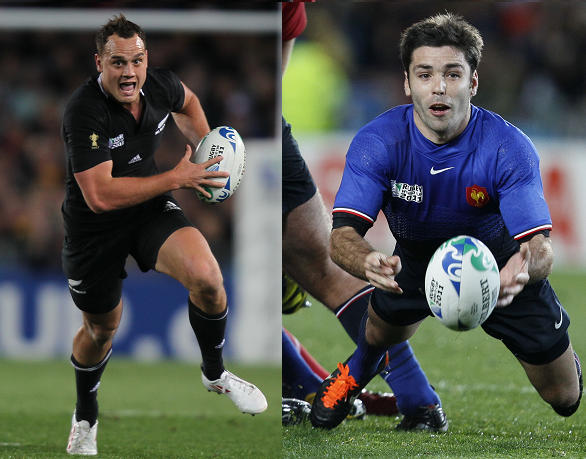 Israel Dagg and Dimitri Yachvili have both had excellent World Cups so far – but who'll be smiling on Sunday?
(David Davies/PA Wire/Press Association Images & Alastair Grant/AP/Press Association Images)
AS THE COUNTDOWN continues ahead of tomorrow's Rugby World Cup final, we take a closer look at the key figures on both sides.
The Silverware
New Zealand: The All Blacks won the very first Rugby World Cup on home soil in 1987 and they won't let you forget it, don't worry. Since then, they've been runners-up once (to South Africa in 1995) and beaten semi-finalists on three occasions (1991, 1999 and 2003).
France: France are yet to lift the coveted Webb Ellis Cup, though they have been pipped at the final hurdle on two occasions — by New Zealand in 1987 and by Australia in 1999.
The Boss
Graham Henry (New Zealand): A notorious grump, this is Henry's second bite at the World Cup cherry with the All Blacks, though many consider him fortunate not to have been dumped following the calamitous quarter-final exit against France in 2007. All has since been forgiven though and his place in the New Zealand sporting pantheon will be guaranteed with a win tomorrow. His astute man-management has helped his players keep focus while the rest of the country loses its collective mind and that could be key in the final shake-up.
Marc Lièvremont (France): Trying to sum up Marc Lièvremont in two or three sentences is an impossible task. Is he a misunderstood genius? A maverick? Or simply a nutcase who has managed to find himself in the biggest job in French rugby? The tide of public opinion seems to be tipping towards the latter, particularly if you believe the speculation that he has been barred from the dressing room by his own players. Cultivating a ridiculous moustache and picking a scrum-half at 10 has done nothing to help his reputation (even if the latter appears to have worked), but Lièvremont could be a World Cup winning coach tomorrow. Can you imagine?
The Star
Richie McCaw (New Zealand): McCaw is practically a deity in New Zealand — and that's not just in the sporting sense. He has probably just been edged by Australia's David Pocock as the tournament's best openside, but a foot injury has meant that he hasn't quite been at his best over the past six weeks. Even still, he is an invaluable asset at the breakdown and can single-handedly change the flow of a game by disrupting opposition forays or securing possession for his backs. A legend.
Vincent Clerc (France): Imanol Harinordoquy won't like being overlooked, but Clerc has been simply superb for a desperately average French side. His ability to pick his way through defensive lines and his quality over the final five yards has seen him rack up six tries, none more important than the one which sparked France into life in their quarter-final win over England.
The Kicker
Piri Weepu (New Zealand): The phrase "Hamlet without the prince" has been bandied about a lot over the last three weeks. Nobody was happy to see Dan Carter's premature exit, but if there has been one saving grace for the All Blacks, its Weepu's consistency off the kicking tee. He was seven from seven with his penalties against Argentina and although his kicks against Australia in the semis were slightly trickier, he still chipped in with 12 of New Zealand's 20 points.
Dimitri Yachvili (France): By the standards of this year's tournament, Yachvili's kicking has been quite consistent, landing 15 (71%) of his 21 kicks at goal to date. Usually quite composed under pressure, if he does start to falter tomorrow, Lièvremont knows that Morgan Parra is there as an excellent alternative.
The Wild Card
Sonny Bill Williams (New Zealand): If you're looking to the bench for a man who could come on and change the game, there are few better people to have in reserve than Sonny Bill Williams. Despite his showboating tendencies and his rather nonchalant attitude towards defense, he is capable of unlocking even the tightest defence with a moment of magic. Tired legs will find him very hard to catch.
Damien Traille (France): Nobody apart from Damien Traille was really that upset when the utility back fell out of favour with Lièvremont during the pool stages. He said yesterday that he didn't even expect to be named on the bench but if he gets on, he will have more incentive than ever before to prove his critics wrong. A "wild card" in the truest sense, Traille could just easily turn out to be a joker as an ace.