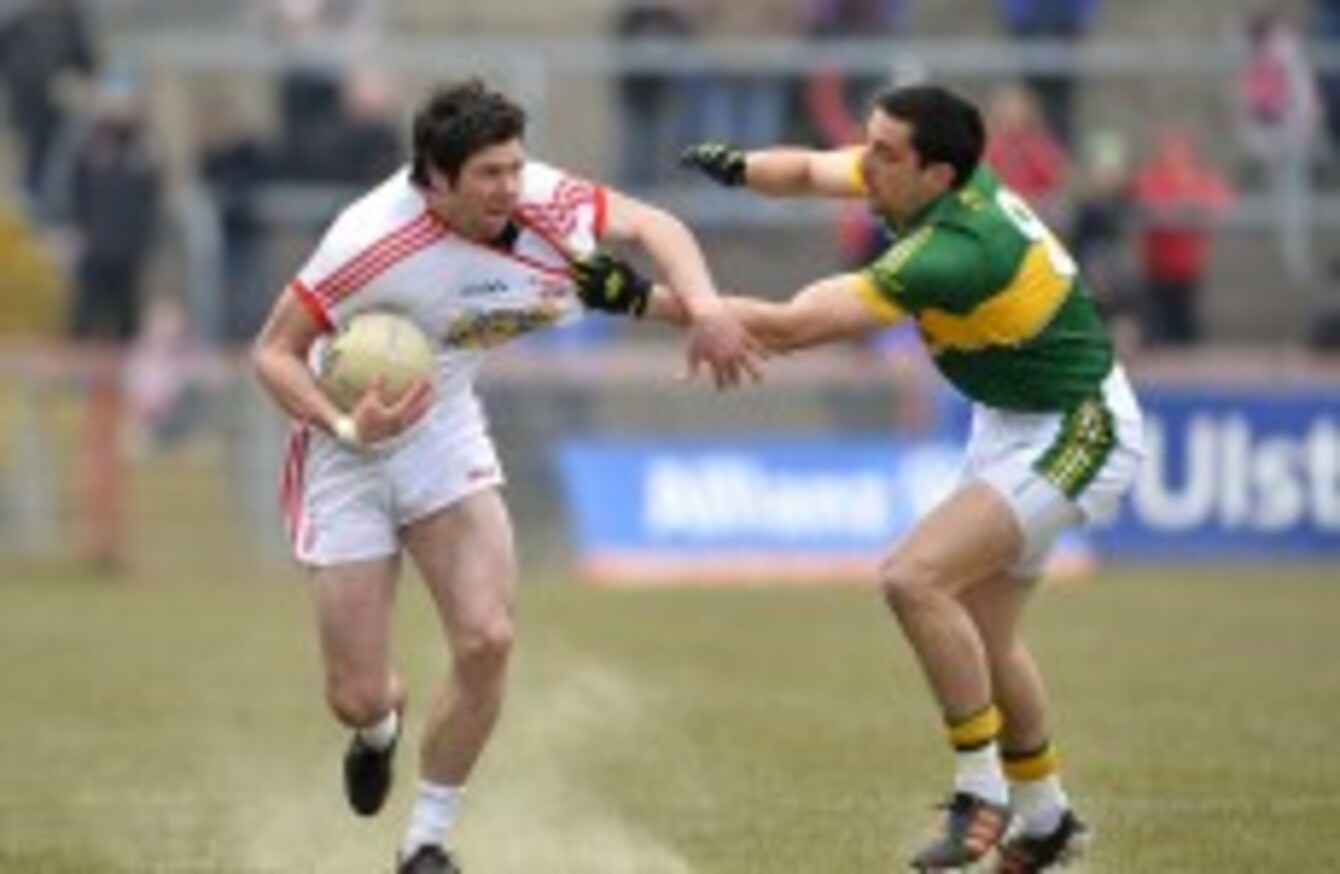 Image: ©Russell Pritchard/Presseye
Image: ©Russell Pritchard/Presseye
TYRONE MANAGER MICKEY Harte has made five changes to his Tyrone team as he prepares them to take on Kerry in Killarney this Sunday.
Patrick McNeice comes in at corner forward in place of Connor McAliskey and behind him Shay McGuigan is named in the half forward line with  Conan Grugan dropping to the bench.
The remaining three changes all come in the back division with PJ Quinn, Danny McBride, Ronan McNabb come into the starting line-up in place of Aidan McCrory, Ciaran McGinley and Ryan McKenna.
Meanwhile, Derry have named just one change in their side as they also point the team bus south this weekend, Patsy Bradley coming in in place of Benny Heron for the clash with Cork in Páirc Uí Rinn.
Tyrone (v Kerry): Niall Morgan  (Éadan na dTorc); PJ Quinn (Baile na Móna),  Conor Clarke, Barry Tierney (both An Omaigh), Danny McBride (An Srath Ban), Peter Harte (Aireagal Chiaráin),  Ronan McNabb (An Droim Mhór), Colm Cavanagh,  Sean Cavanagh  (both An Mhaigh); Emmett McKenna (Eaglais), Ronan O'Neill (An Omaigh), Shay McGuigan (Ard Bó); Darren McCurry  (Éadán na dTorc), Mattie Donnelly (Trí Leac), Patrick McNeice (Oileán a'Ghuail).

 

Derry (v Cork): Thomas Mallon (An Lúb); Mark Craig (Dún Geimhin), Chrissy McKaigue (Leacht Néill), Dermot McBride (Baile na Scrine), Kevin Johnston (Dún Geimhin), Aidan McAlynn (An Lúb), Sean Leo McGoldrick (Eoghan Rua), Fergal Doherty (Baile Eachaidh), Patsy Bradley (Leacht Néill), Ciaran McFaul (Gleann), Mark Lynch (Beannchar) (C), Enda Lynn (Grainlocha), James Kielt (Cill Ria), Emmett McGuckin (Machaire Fíolta), Cailean O'Boyle (Leamhaigh),