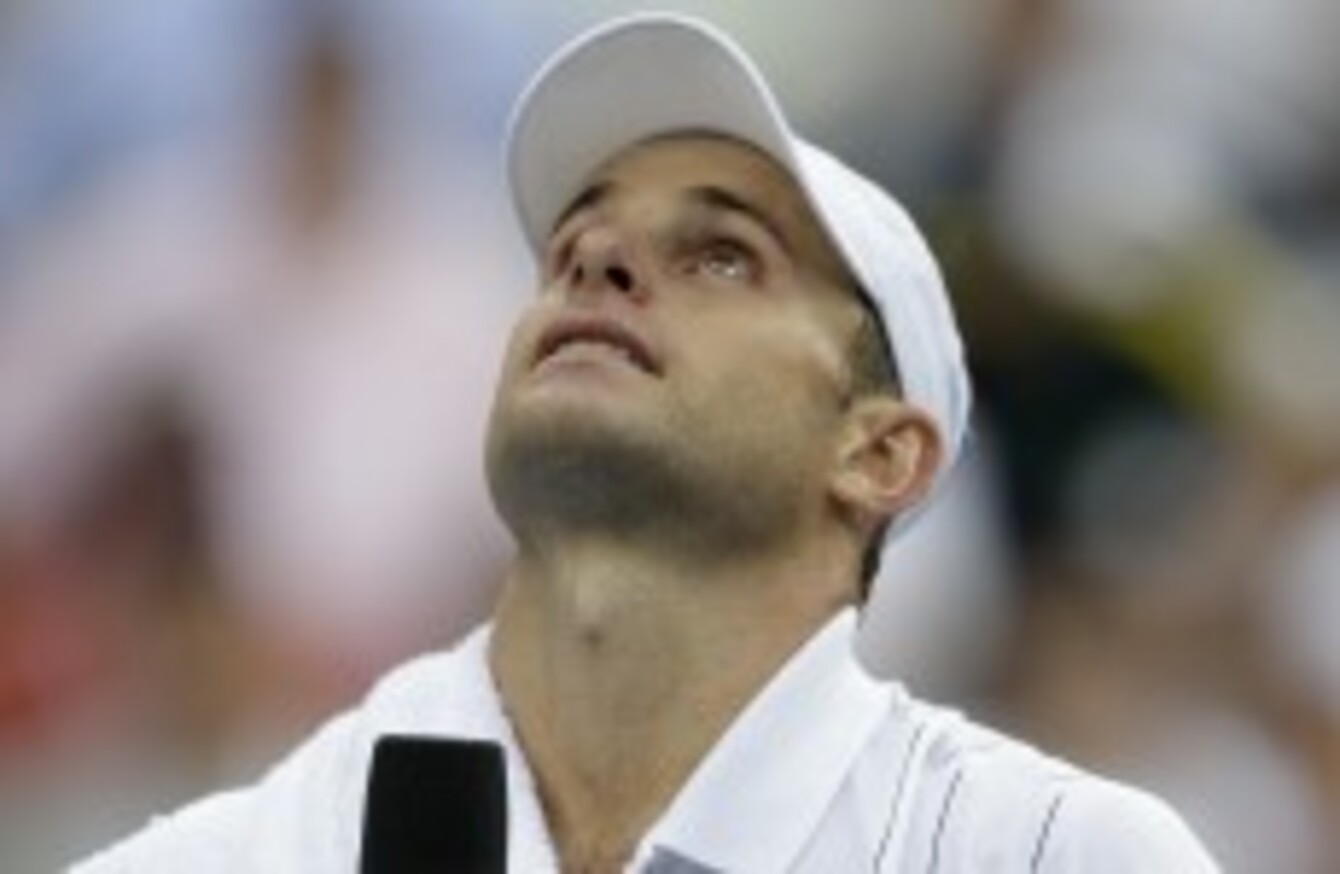 Andy Roddick looks up after loosing to Argentina's Juan Martin Del Potro in the fourth round the 2012 US Open tennis tournament.
Andy Roddick looks up after loosing to Argentina's Juan Martin Del Potro in the fourth round the 2012 US Open tennis tournament.
WHEN THE EMOTIONAL end came to Andy Roddick's tennis career, it happened with tears in his eyes, childhood memories in his thoughts and a crowd chanting his name at the site of his greatest triumph.
A week past his 30th birthday and his announcement he would retire after the US Open, Roddick's career concluded on Wednesday when Argentina's Juan Martin Del Potro defeated the US 20th seed 6-7 (1/7), 7-6 (7/4), 6-2, 6-4 in the fourth round.
"I'm a little overwhelmed," Roddick said. "I normally feel like I can grasp things pretty quickly and clearly. I certainly don't feel that way right now."
Roddick saved a match and career point on his serve in the penultimate game, wiping away tears before firing a service winner.
"You kind of have to wrestle your thoughts and the task at hand because it's not done until you're actually done, so it was challenging," Roddick said.
"You start thinking about how real it is and a lot of thoughts go through your head. You're thinking about matches you played when you were 12. I was thinking about my mom driving me to practices all over the place.

"You just think about a million things. Then all of a sudden you have to play a point against one of the best players in the world. It certainly was a mixed bag there at the end."
The crowd at Arthur Ashe Stadium, where Roddick won his only Grand Slam title at the 2003 US Open, screamed its support, trying to lift him past Del Potro on sheer will.
Chants of "Let's Go Andy" mixed with the odd yells of "New York loves you Andy," "Come on Andy," and "All the way".
Roddick confessed how deeply he will miss such support now that he has walked away from the game that has dominated his life.
"I'm not ignorant to the fact that it's a huge part of me and that I won't miss it. Of course I will," Roddick said.
"I'm not pretending like there aren't going to be hard days. But I feel pretty settled in the decision and I feel content and happy with it."
His parents and wife, actress-model Brooklyn Decker, were in tears as the end came after three hours, 15 minutes when Roddick sent a forehand long.
"Playing the last five games was pretty hard," Roddick said. "Once I got down a break I could barely look at my box."
After exchanging a hug with 2009 champion Del Potro, Roddick waited as the winner spoke to the crowd briefly, saying, "It's a very special moment for Andy so everybody enjoy his last moment."
"That was a really tough moment for him and for me, the last point of his life," said Del Potro, who also had sent one of his idols, Marat Safin, into retirement in 2009.

"For the first time in my career I'm not sure what to say," Roddick told the crowd. "I have loved every minute of it."
His voice cracking, Roddick paused to collect himself.
"Lot of ups, lot of downs, lot of great moments," Roddick said. "I have appreciated your support along the way. I know I haven't made it easy for you at times.
"Hopefully I will come back to this place someday and see all of you again."
Roddick said the match, which had started Tuesday and been suspended by rain, was a fitting farewell even if not during a famed raucous night session.
"It was perfect," Roddick said. "Rain-delayed match, come back the next day. It's like typical US Open. Played with me in the end, so I guess it was right."
Asked how he wanted to be remembered, Roddick smiled and said, "I want everyone to look back and think that I was awesome" and said he was proudest of how he handled his success.
"I didn't take any of it for granted. I went about things the right way," he said. "The umpires might disagree with me. I was consistent and I don't feel I left a lot on the table. When I look back, that's probably what I'm proud of."
Roddick said his final event was fun because "I felt like I was 12 years old playing in a park" and that when it came to his decision to retire, "saying it out loud was the hardest part for me."

YouTube credit  
AssociatedPress