THE RESIDENTS OF Ballinaboola, County Wexford will have the names and personal bests of each one of Grainne Murphy's competitors in the 800-metre freestyle heats this July – these people know their swimming.
The level of interest in the small town has risen, alongside the fortunes of the local hero, as Murphy has gone from provincial and national competitions to European and World events. The early stage of her career culminates with a first appearance at the Olympics in London this summer.
Murphy told TheScore that London 2012 was always the goal, even as she set off from home, and parents Brendan and Mary, more than five years ago.
"I moved (from Wexford) to Limerick when I was 13-years-old so I have been away from home from an early age. I love what I do so I wouldn't really call it a sacrifice," she said.
"I have been doing a lot of my preparations at the University of Limerick and get to do a bit of training alongside the Munster players. The advice and support that I get from the players, especially someone like Paul O'Connell, has been a great help."
Three gold medals at the European Junior Swimming Championships in 2009, at the age of 16, confirmed the suspicions, by her trainers and mentors, of great future achievements. The year before had seen the young swimmer, and Steeplechase runner Noel Collins, invited to a youth camp the Olympics in China.
"Lifestyle Sports and the Olympic Council of Ireland brought over two young Irish athletes," she recalled. "I got to experience some of the games and see around Beijing. I got to go along to one of the pool sessions during the heat stages."
International recognition came when Murpghy captured a silver medal at the 1500m freestyle event at the European Championships in 2010. Murphy insists she is not fazed by talk of her being a serious medal hopeful for her country this summer.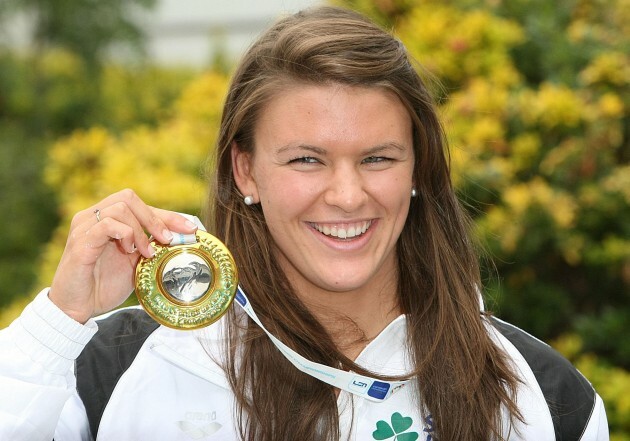 Murphy clinched silver in the 1500m freestyle at the European Championships in 2010. Julien Behal/PA Archive/Press Association Images
She will be in training camp in France for 10 days in mid-April and will look to get up to competitive speed at race meets in June. Her qualification for the 800m freestyle late last year has given the 19-year-old plenty of time to prepare for her debut at the games.
Murphy said, "Qualifying in December meant that I could come into January and just focus on my goals for the summer and set small goals as I work towards the long-term.
"I was in London, in early March, at the British trials and it was really exciting to swim in the Olympic pool and see the set-up and surroundings. There is going to be some fast swimming in that pool this summer."
Murphy believes that the advantages of the games being held across the Irish Sea will be the lack of a time difference, for Irish competitors and supporters, no acclimatisation period and familiar foods.
Exclusive Six
Nations Analysis
Get Murray Kinsella's exclusive analysis of Ireland's Six Nations campaign this spring
Become a Member
In late March, Murphy was in Denmark, for a week and a half, training alongside world champion Lotte Friis. The 24-year-old Dane won bronze in the 800m freestyle event at the Beijing Olympics and is a serious medal threat in the 800 and 1,500 metre disciplines in London. Grainne said:
"It was good fun. Training with a world champion is always going to be good and training with her team, and seeing what they do, is interesting. We were coming up to a competition (Danish swimming trials) so the training wasn't too intense but watching how they prepare, rest, pacing sets and do gym work was great."
Murphy, Friis and the rest of the Olympic swimmers will not be sporting the full body swimsuit, which covered all from ankles to wrists, after it was banned by the International Olympic Committee in 2010. The streamline material of the suits coincided with the collapse of several world records.
"Now we have knee suits that have to be provided by our (gear manufacturers). When they brought out the big, fancy suits everyone was wearing them. That was when all the world records were done. Now they are back to plain textile suits so it is fair and square – there is none better than the other."
The suits may have changed but the drive to set record times remains and Murphy is determined to join the party. She said, "Some world records are getting close to being broken so there may not be as many set as there was in Beijing but there will be a few hopefully."
Records do not need to be broken to give reason for a party in the Horse and Hound, the pub owned by her parents, but Grainne Murphy is setting her sights high.