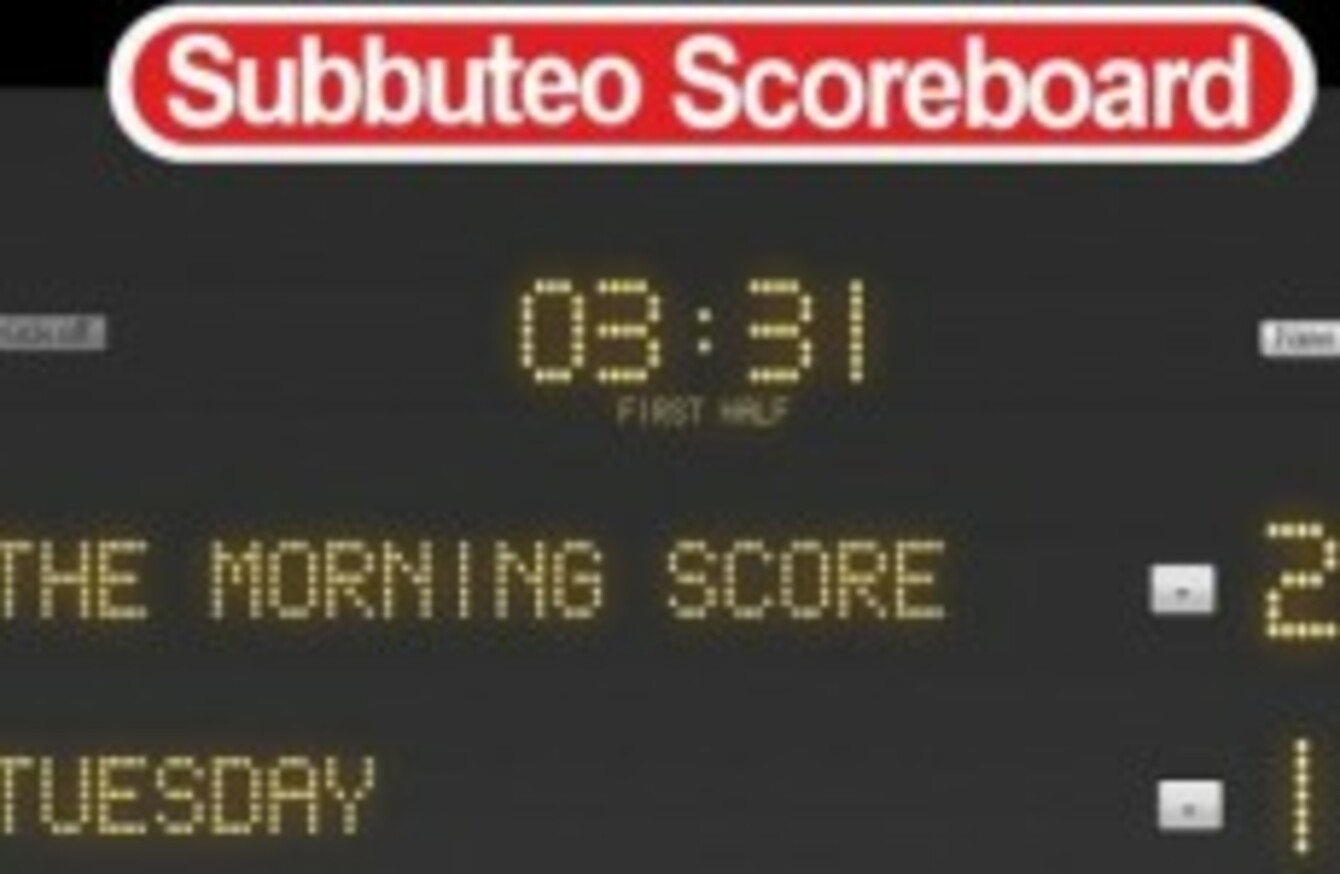 1. #CASH Details of the recognition deal between the GAA and the Gaelic Players Association have been revealed this morning.
The GPA say the first five-year agreement is worth €8.75 million.
Of One Belief chief Mark Conway continues to rail against the historic agreement.
2. #TRANSFER WINDOW Robbie Keane is likely to step up his efforts to move from White Hart Lane after Giovanni Trapattoni yesterday has warned the skipper that he could lose his place in the national if he doesn't find a new club soon.
3. #PREMIER LEAGUE Last night Chelsea hammered Bolton 4-0 with Didier Drogba hitting an absolute screamer.
Carlo Ancelotti says the Blues are now back in the title race.
4. #SKY SEXISM Richard Keys has reportedly apologised for his remarks about assistant referee Sian Massey. But the row could rumble on as yet more damaging audio footage has emerged.
Andy Gray is reported to mock the official in a conversation with a Sky sideline reporter Andy 'Two Phones' Burton.
5. #SIX NATIONS The bad news keeps on coming for Declan Kidney ahead of the championship kick-off next month.
Andrew Trimble is the latest casualty for the Ireland manager. The Ulster centre broke a bone in his right hand in the province's Heineken Cup victory over Aironi last Saturday and is ruled out of the tournament opener with Italy.
6. #AUSTRALIAN OPEN Roger Federer cruised through to the semi-finals in Melbourne earlier, at last showing some real form and putting Rafa Nadal on notice.
Fed beat his Swiss compatriot Stanislas Wawrinka 6-1 6-3 6-3.
7. #WARDROBE MALFUNCTION Paul Galvin will probably miss Kerry's NFL opener with the Rebels on Sunday week due to an injury set-back.
Colm Keys reports that the Finuge forward is yet to recover fully from a hip/groin injury.
8. #NO FAIR! After Pádraig Harrington's ridiculous disqualification in Abu Dhabi last week, the  Royal Ancient (RA) is taking a fresh look at its rulebook.
Harrington was disqualified from last week's Abu Dhabi Championship when he signed for an incorrect score after a television viewer noticed he had accidentally moved his ball on the green.
9. #REF JUSTICE I missed this yesterday, but it's still good, it's still good, right?

H/T Balls.ie