LAST MONTH, IRELAND'S cricketers travelled to the United Arab Emirates for the World T20 Qualifying Tournament, hoping to win one of the two places on offer at this autumn's World Cup in Sri Lanka.
In their own words, five of the Irish players and coach Phil Simmons tell the story of the latest glorious chapter in the history of Irish cricket.
The first hurdle
After a successful warm-up tour in Kenya and South Africa, Phil Simmons and the Irish team landed in Dubai for their opening Group B game against Namibia. Set a target of 161 to win, Ireland just ran out of balls at the end of nailbiting encounter, losing by four runs. From that point on, they knew that they could not afford to lose another game.
Alex Cusack: In the first game, there's generally a bit of nerves which can happen when there's high expectations.
Nigel Jones: Losing to Namibia in game one was actually a blessing in disguise. We were confident going into that tournament that we would win, although we knew that there was going to be quite a process involved to ensure that we got there. I think losing first up helped us to focus very quickly on the task at hand. We knew that we needed to go out there and not lose again. It's just good to give you a wee shake and we had to make sure we had our heads on.
Ireland bounced back the next day with a ten-wicket win inside nine overs against Kenya. Wins against Italy and the USA followed before a make-0r-break match against the other fancied side in Group B, Scotland. Ireland won, but at a cost, losing John Mooney and Alex Cusack to injuries which ruled them out of the rest of the tournament.
John Mooney: It's massively frustrating because people in Ireland only really saw the tournament, but we'd been away on tour for six weeks before that. All the preparation, all the build-up, all the talk from the first day we met up in the airport was about the tournament in Dubai. To get right into the business end of the tournament and then be ruled out was very frustrating. But that's sport, you've got to deal with these things.
Cusack: You put all the hard work in for five or six weeks and then you get injured. It's not ideal, but there's nothing you can do. It's going to happen on such a lengthy tour. Playing so many Twenty20 games back-to-back, somebody's going to get injured. Unfortunately it was us.
Settling down
Mooney returned home; Cusack stayed on in the team camp. Simmons called up Andrew Poynter and Tim Murtagh as replacements for the rest of the tournament. Routine wins against Uganda and Oman followed to seal second place in Group B and see Ireland through to the longer, "elimination" qualification route.
Jones: We all sensed that we were heading in the right direction and we got better and better as it went on. You could see the confidence within us and how relaxed we were as a squad.
Max Sorensen: We gathered momentum at the right time. From the Scotland match, we knew that we were going to have the long road to the final and we just prepared for that. We just gathered momentum at the right time, prepared at the right time and hit form at the right time.
In the knockout stages, Ireland were three wins from a place at the T20 World Cup, and a further one away from winning the qualifying tournament itself. With no room for error, they shifted their performances up a gear.
Phil Simmons: It's just how tournaments are sometimes. Sometimes you start quick and you end up fading away; sometimes you start slow and you build up and the momentum is with you at the end.
Jones: Come the knockout phase when it really mattered, we were going in there confident. We had been there before. All of the teams we were playing, you could see already in the warm-ups and in their general feel, they didn't look half as relaxed. I think that helps — us being relaxed, us being there before, knowing what we had to do.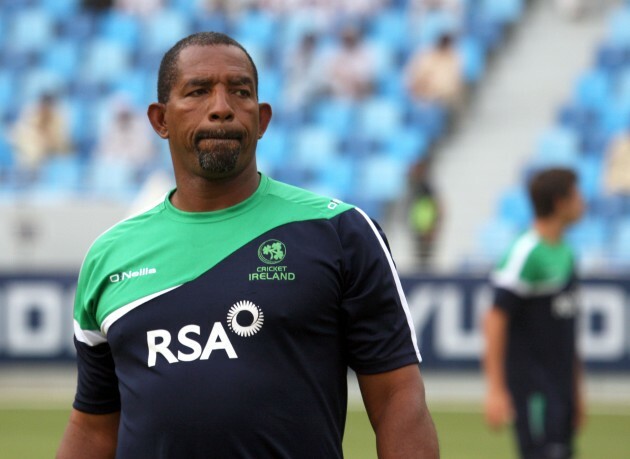 Redemption
Ireland beat Canada and then the Netherlands in the elimination play-off and elimination semi-final. The final obstacle to qualification was the only team to beat them thus far: Namibia.
Mooney: For the few days before that, we had very early starts [6am Irish time] and I'm not an early person so I got up when my little baby got up. That generally happened to be around the first half of the game, then I watched the second half. But on the Saturday, I was up first thing to watch the two games.
Kevin O'Brien: There was a little bit of tension, a little bit of nerves. They were two finals, we had to win the last two games to win the tournament. Up to that point, I think we'd won eight or nine in a row. Obviously, we were full of confidence but still a little bit nervous and there was a little bit of tension in the group.
Cusack: I think we knew we could beat them, so the guys were pretty relaxed and fairly focused. We were going well and confidence was high.
Mooney:  We knew that having to play Namibia again was a good thing. In my opinion, and this is no disrespect to Namibia, they'll beat us every now and again and that's when they have a great day. For them to beat us twice in two games would be very difficult to do. Sitting at home, I wasn't at all nervous. I thought we were going to beat Namibia and I thought we were going to beat them well.
As Mooney predicted, they did beat them well with an absolutely stunning performance to limit Namibia to 94/6 and then chase down the total within 10 overs. After losing their opening game, Ireland qualified for the T20 World Cup in style.
Jones: I thought we were going to go all the way from early enough on, but on that last day, to beat Namibia in the way we did and go through to the World Cup, it was an awesome achievement. You could see it in everyone's face.
O'Brien: The way we played against Namibia, we just blew them out of the water.
History
There was no time for partying though. That same afternoon, Ireland would play the other qualifier, Afghanistan, in a re-match of the 2010 tournament final which they lost by eight wickets.
Cusack: It was a bit easier this time. Last time, I think we had a turnaround of about an hour or so; this time, we got to go back to the hotel for a couple of hours. The guys were focused and that was the main aim: to win the tournament, and we wanted to get one back on Afghanistan as well.
Jones: We knew that it was only half the job. It was kind of weird, we all relaxed for a few hours and then we came back for the final. That was our big one, we wanted to win the final. After being there two years ago and losing to Afghanistan, and with them up there with us at Associate level, it was just really good to get out there and beat them.
Mooney: I was worried that our guys might have just got a bit too caught up in the qualifying. They reached a level where they were content and they were happy, but the professionalism of the squad and Phil Simmons was unbelievable. The lads were just so focused on winning the tournament that qualifying didn't matter.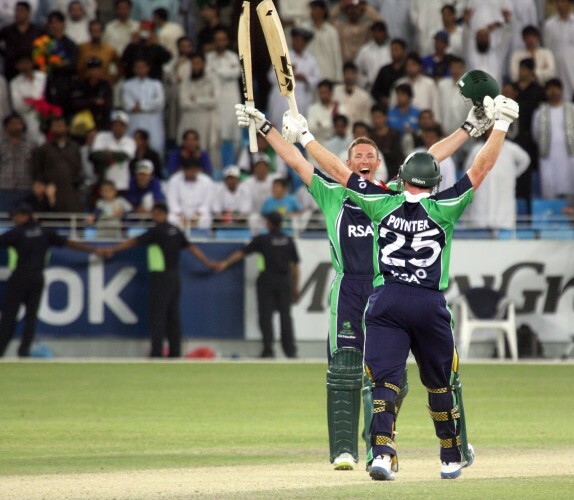 If the performance against Namibia on the Saturday morning had been good, the performance against a dogged Afghanistan side was even better.
Jones: Afghanistan play with the same intensity that we do, especially in the bigger games. It's really in their culture as well. They're sort of a hardened nation, and obviously when they come out and play us, we're both going for each other's throat, more so than any other Associate. When we play Holland and Scotland, it's a different atmosphere; we still want to beat each other, but it's different. There's only one thing that Afghanistan want to do, and that's to make sure that we're going down.
Afghanistan won the toss and chose to bat, setting a tough target of 152 for Ireland. Then came a moment of Irish magic as 21-year-old Paul Stirling scored 78 off 38 balls, including the second-fastest half-century by any player in Twenty20 history.
Jones: We knew it was coming; you could just sense it. With Stirlo, he just bats at his own pace. He's not going to worry about nudging a few runs just to get to 50, he's obviously just going to keep going. He's not one to think "I need four more runs to get there" — next ball's there, six, it's out of the park, raise the bat. It's great to watch and for his team-mates watching it, you're looking at each other at times and thinking "Where does that come from?"
Mooney: I wasn't a bit surprised, because I know and I rate Paul Stirling as one of the best players in the world. He's certainly one of my favourite players in the world to watch. I wouldn't say it was a dream come true but it was a joy to watch and see him bat like that. He has so much potential, and if he realises 80% of that potential, he'll go a seriously long way in the game. He has talent that a lot of people in the world don't have.
O'Brien: He's a fantastic talent. He's still only 21-years-old and he's playing innings like that. It's great for him and it's great for the game.
Cusack: He's probably the most talented player I've ever seen. He's such a clean hitter. The sky's the limit for him really in the future.
Jones: That day, with Stirlo playing like that for us, you could literally put your feet up. That's the way I felt. You don't often get to see innings like that anywhere, from any player. The way he hits the ball out of the park, it's pretty special to watch. I guess as players we're fortunate to have him on our team.
Sorensen: I think everyone feeds off everyone's confidence. That's what makes our team so unique and strong, and that's why we can beat top-ranked test playing nations. It just takes little special performances like that. Everyone's got it in them and everyone feeds off that.
Onwards and upwards
Stirling's knock laid the foundations for a five-wicket win. Before flying home the next day, there was time to celebrate another international success for Irish cricket and the cementing of their place as the world's best non-Test playing nation.
Jones: I don't think anybody went to bed. From asking the boys and looking at the boys, there was no real evidence of people having any sleep. It was justified after the work that had gone in. All of the hard work had been done, so letting our hair down was certainly high on the list. It was a great night.
Sorensen: We did winning the tournament justice. It was just a great feeling.
The two weeks since returning home have been a whirlwind of interviews, including a return to RTÉ's Late Late Show.
Sorensen: Coming home afterwards, I was still on a buzz — I'm still on a buzz now. There were a few people in the airport, which was great. It's great to come home and see the support.
Mooney: We've been on the Late Late a couple of times before, when we were brought on and given a bit of a welcome and then headed off. This time, we sat down and got comfortable. It's the biggest television show in Ireland and to be on that was great. It shows the progress that the cricket is making that three cricketers can get on to the Late Late.
Sorensen: Even seeing the lads on the TV has lifted the profile of the game automatically. After coming home, walking around my local town of Skerries, people were coming up to me and congratulating me. Some people I didn't even know were saying, "Well done, congratulations, we watched you on TV". It's awesome. It's a surreal feeling to be a part of it.
Mooney: People now know about the Cricket Ireland team, they know our names, they might even know us to see when we walk down the road. That's massive for the profile of the game. The kids who play cricket now can actually see themselves and visualise themselves playing cricket for Ireland in a World Cup, playing on Sky Sports, doing the interviews, whatever it is. The dreams that they have now of playing for Ireland can become a big reality and they can be big moments in Irish sport.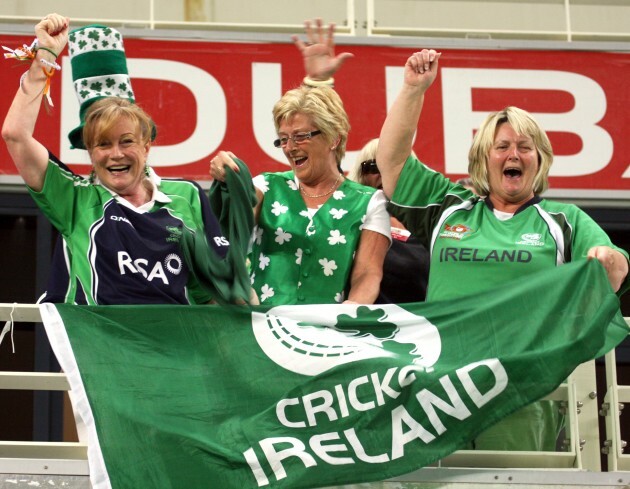 The next international action for most players will come in the summer with tests against Australia and Afghanistan in Belfast and Dublin. Then, it will be on to Sri Lanka in September to reap the fruits of their success with a place at the T20 World Cup. Ireland are in Group B alongside Australia and the West Indies.
Cusack: To win one of the two games is realistic, but we're going to aim as high as we can and try to win two. If we can win one of the two and get through to the next phase, that would be the expectation.
Mooney: We can't look any shorter than a semi-final place. We've been to World Cups and got to the last eight, so if the team is to be showing some kind of progression, the last eight would be on a par. Getting to the semi-finals would be a realistic and achievable goal. It's a matter of us playing good cricket. If we bring our A game, anything can happen.
Jones: I think we've set ourselves a target now whenever we're at World Cups to make the quarter-eight stage. It's a realistic goal, no problem; we win one game and we'll have a chance to get through. When we get there, on our day, there's no reason why we can't turn over a big team and all of a sudden, we're in the semi-final. Once again, you're only talking about another one game and you're in the final. The Super Eight is a must and then from there, on our day if we can hit our straps, we now have the quality and the type of players that if we perform to what we're capable of, we can beat anyone.
Simmons: We want to win the tournament; that's what you go to tournaments for. There's nothing else. If you only want to achieve a place in the second round or something like that, you're wasting your time. What we want to achieve is to win the World T20 in September. That's why we're going out there and that's the way we go out thinking.