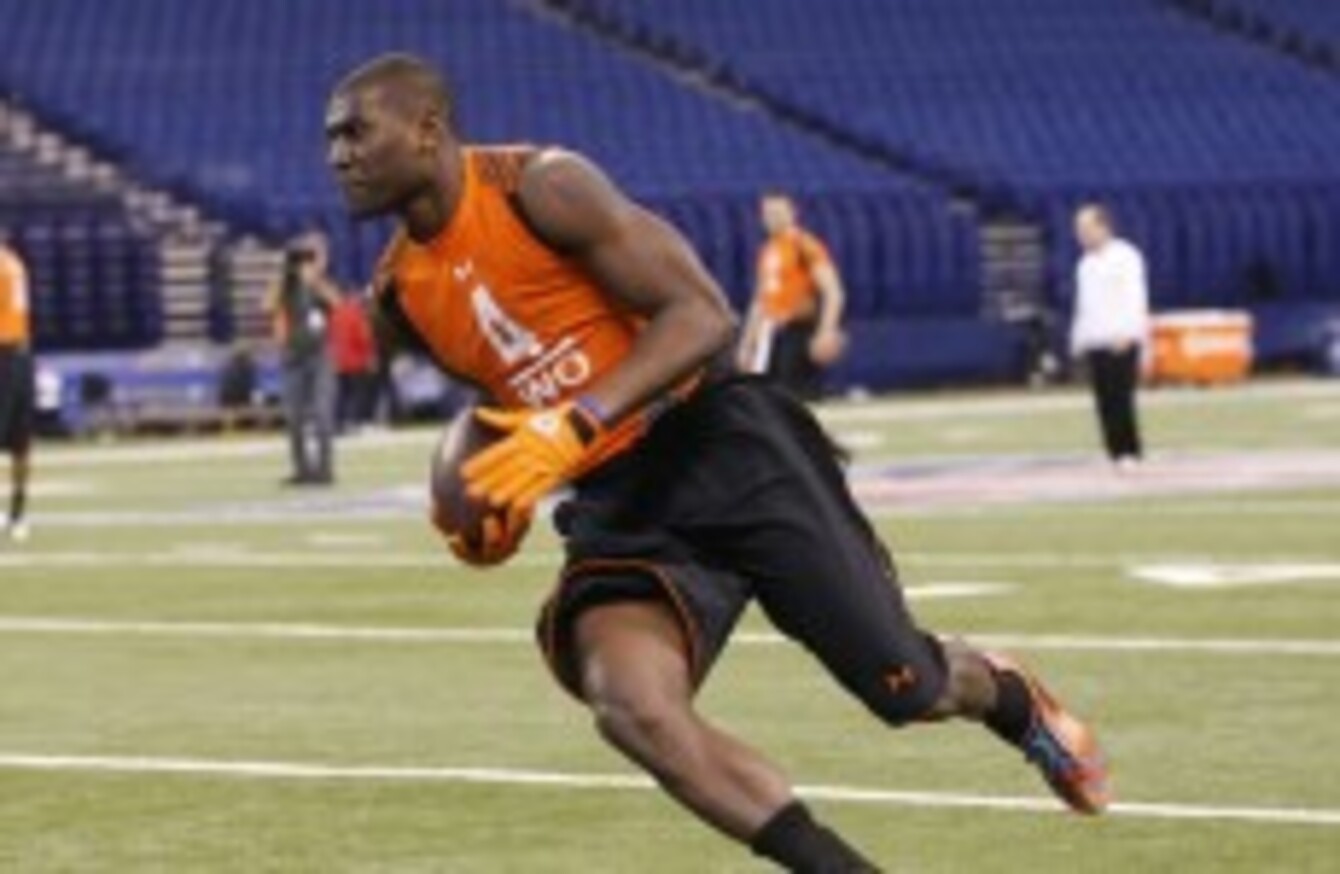 Blackmon is one of the most promising players in the draft.
Blackmon is one of the most promising players in the draft.
Receivers (inc. tight ends)
AS THE NFL continues its seemingly inexorable descent towards becoming a passing-only league, you just have to look at all the receivers who moved in free agency and Calvin Johnson's mega deal for proof – the draft stock of receivers will continue to rise.
Tight ends too are becoming more and more valuable and, in two/three years time, watch how many players in the mould of Rob Gronkowski begin to emerge from the draft.

Top three
1. Justin Blackmon – Oklahoma State
Though talk has emerged that Blackmon is no longer a top priority for the St. Louis Rams, he is still the best receiver in the draft. Though not particularly fast – his 40-yard-dash is about 4.55 seconds – Blackmon uses his strength to gain separation from defensive backs. His lack of speed makes him less effective on short routes but, on home run shots, he's your go-to-guy.

2. Alshon Jeffery – South Carolina
Guaranteed production; that's the phrase that comes to mind when you think of Jeffery who averaged more than a touchdown per game in his sophomore and junior college years. He's a good fit for the San Francisco 49ers at 30 to take some of the workload from Vernon Davis. However, the 49ers will need to ensure he works on his route running to become a real threat in the NFL.

3. Coby Fleener – Stanford
Fleener is the one tight end in the 2012 draft that really fits the Gronkowski mould and will be a safety valve for whatever quarterback he lines up with. My bet is that he goes to Denver to complement Peyton Manning but the Broncos management may be a little concerned with his blocking, which is poor compared to his receiving talents.
Sleeper pick
Mohamed Sanu – Rutgers
His draft stock fell considerably when he ran just a 4.67 40-yard-dash at the combine but NFL management would be wise to remember this is the same player who broke Larry Fitzgerald's single season reception record in 2012 with 115 catches. Likely to be picked up by the Jets in rounds five-seven; Sanu will give whatever quarterback he plays for – as long as it's not Tebow – a nice outlet for years to come.
Biggest risk
Michael Floyd – Notre Dame
If pro-footballers had no personalities and were just autonomous machines who could be shutdown once the game was over, Floyd would be the top receiver in the draft. However, in 2009 and 2010, Floyd was cited for underage drinking and in 2011 was arrested for drink-driving. It's difficult, therefore, to see how suddenly being exposed to more money than he's ever dreamed of is going to make the undoubtedly talented receiver concentrate only on football. His baggage represents a huge risk for either the Bills or the Bears, the teams most likely to draft him.

Defensive backs
As NFL offences load up on receivers, so too must defences arm themselves with corner backs and safeties to counter the aerial threat. While there are some lockdown corners on the board, the safety class of 2012 is noticeably weak.
Top three
1. Morris Claiborne – LSU
(Morris Claiborne runs a drill at the NFL football scouting combine in Indianapolis – Dave Martin/AP/Press Association Images)
Claiborne might not be the prospect his former team mate Patrick Peterson was but he has the height, speed and leap to match up with the best receivers in the business. As a former wide receiver himself, he has to potential to turn any game with one perfectly timed interception. Should become a key player for the Tampa Bay Buccaneers when they pick him up as the fifth overall pick.

2. Mark Barron – Alabama
Barron is the best of a poor safety class, but that shouldn't affect his stock as a probable top-15 pick. He reads passing routes well but is top notch against the run. Should become an immediate starter for the Cowboys but his propensity to commit everything to the big hit – with the prospect of missing – needs to be coached out of him.

3. Stephon Gilmore – South Carolina
Speed kills and in this case the victims are NFL offences. With a 4.4 40-yard-dash and an ability to seemingly read plays before they're called, Gilmore has all the talent required to be a rookie starter. He is, however, far less effective in zone coverage and that could be a problem when forced into a scheme that doesn't accommodate him the way South Carolina's did.
Sleeper pick
Duke Ihenacho – San Jose State
A strong safety who can also play linebacker, Ihenacho's sleeper value lies in his willingness to make plays at the line of scrimmage. While this means he has a tendency to be beaten by play action, his overall consistency makes him worthy of a fourth/fifth round pick by a team looking for a versatile playmaker. Ihenacho has indicated he would like to land with the 49ers.
Biggest risk
Janoris Jenkins – Florida
The term risk is relative when it comes to safeties and corners as they are not amongst the league's elite earners. However, while Jenkins is probably a top five corner back on paper – and an absolute need for the New England Patriots – his rap sheet is almost as long as his scouting report. He has the potential to be the next Ty Law for the Patriots but the risk may be too high for Belichick.