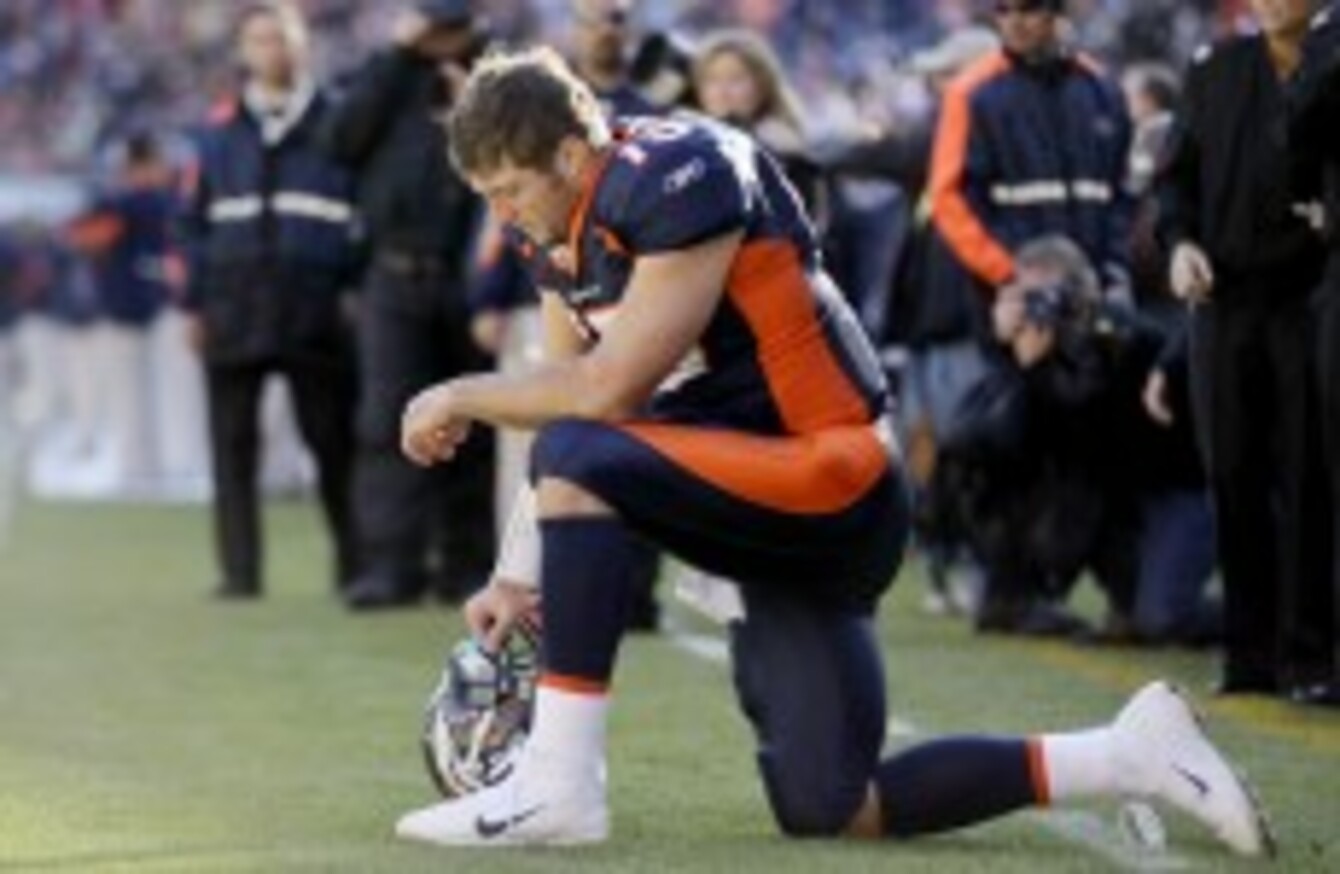 Tim Tebow: divine intervention.
Image: Julie Jacobson/AP/Press Association Images
Tim Tebow: divine intervention.
Image: Julie Jacobson/AP/Press Association Images
With games on Thursday, Saturday, Sunday and Monday, the NFL is serving up a feast of juicy fixtures this weekend. Steven O'Rourke will be your Maítre d'.
New England Patriots (10-3) @ Denver Broncos (8-5)
Back in October, I suggested that some teams were struggling because the new collective bargaining agreement limits them to just 14 padded practises all season, 11 of which must come in the first 11 weeks of the season.
I understand why the NFL brought this rule in; player safety has to at least appear to be a priority. However, with teams investing time and money into developing defensive players to hit the opposition as hard and as fast as possible, player safety will always come second to winning.
Far from hurting Denver, this lack of padded practise has actually been instrumental in the success of Tim Tebow and the Broncos offence.
The only way to beat the option offence, is to repeatedly hit the quarterback, whether he has the football in his hand or not. Do that over and over again and, even if he is Tebow's size, he'll soon want to stand in the pocket and throw the football.
However, how do you practise that type of defence if you can only put your pads on once a week? The answer is you can't and so we don't see teams getting to Tebow as often as you'd expect.
Despite this, there are many who feel that the New England Patriots will enjoy quite a comfortable victory this weekend.
I just don't see it.
Firstly, Tom Brady has a terrible record against the Broncos, winning only one of seven games against Denver. Then there's the Patriots woeful secondary – where it seems as if you get a starting place just by turning up in Foxborough with a pair of boots – that have given up more than 430 yards in each of their last three games.
Their rush defence isn't much better and, with the Bronco's 156.2 rushing yards a game the best in the  NFL, it's really difficult to see Brady having enough time of possession to win this game.
However, if any quarterback has the playbook to pull off a win with limited possession, it's Brady. Along with Drew Brees and Aaron Rodgers, Brady is on course to beat Dan Marino's long-standing record of 5,084 passing yards in a season.
Can he get significantly closer to it in this game? Only time, quite fittingly, will tell.
Verdict: Only a fool would bet against the Broncos the way their defence is playing. Denver by 3
Detroit Lions (8-5) @ Oakland Raiders (7-6)
It's the battle of the NFL bad boys as the two most penalised teams in the league come face to face in a potential playoff eliminator.  After promising starts to the season, both teams have stuttered in recent weeks. While the return of Ndamukong Suh should assist the Lions it must be noted that the second year defensive end has been nowhere near as productive as he was last year.
For the Raiders, whose hopes of winning the AFC West fade more with each Tebow comeback, victory would at least keep them in the hunt for a wildcard place.
Oakland should have the explosive Darren McFadden in the backfield for the first time in over a month and, with Carson Palmer a turnover machine, will need to keep the ball in his hands to have any chance of winning.
See Sport
Differently
Get closer to the stories that matter with exclusive analysis, insight and debate in The42 Membership
Become a Member
Verdict: At the risk of sounding like a Liverpool fan, there's always next year for the Raiders. Lions by 10+
Pittsburgh Steelers (10-3) @ San Francisco 49ers (10-3)
While I doubt many stayed awake to watch the Seahawks beat the Rams last Monday, this potential Super Bowl preview should ensure a significant increase in the use of matchsticks in offices around the country next Tuesday morning.
The Steelers are still very much in contention for the number one seeding in the AFC but come into this game without veteran linebacker James Harrison who is rightly suspended for a helmet to helmet hit on Browns QB Colt McCoy last Thursday.
They face a 49ers team who have done a lot to reshape the image of the NFC West – though, clearly, not enough for me not to insult it above – and appear intent on winning all their games exclusively by scoring field goals (David Akers leads the league with 36 successful kicks).
Verdict: Even at 10-3 I remain unconvinced by a Steelers team seemingly held together by plasters. 49ers by a field goal.
All fixtures and predictions
Jacksonville Jaguars @ Atlanta Falcons – Falcons
Dallas Cowboys @ Tampa Bay Buccaneers – Cowboys
Miami Dolphins @ Buffalo Bills – Dolphins
Seattle Seahawks @ Chicago Bears – Seahawks
Carolina Panthers @ Houston Texans – Texans
Tennessee Titans @ Indianapolis Colts – Titans
Green Bay Packers @ Kansas City Chiefs – Packers
New Orleans Saints @ Minnesota Vikings – Saints
Washington Redskins @ New York Giants – Redskins
Cincinnati Bengals @ St. Louis Rams – Bengals
Detroit Lions @ Oakland Raiders – Lions
Cleveland Browns @ Arizona Cardinals – Cardinals
New England Patriots @ Denver Broncos – Broncos
New York Jets @ Philadelphia Eagles – Eagles
Baltimore Ravens @ San Diego Chargers – Ravens
Pittsburgh Steelers @ San Francisco 49ers – 49ers
Steven O'Rourke is the Offensive Co-ordinator of Tullamore Phoenix American Football Club, winners of the IAFL DV8s national title in 2010 and 2011. Tullamore are always recruiting new players so, if you'd like to play football and not just read about it, Steven would love to hear from you.