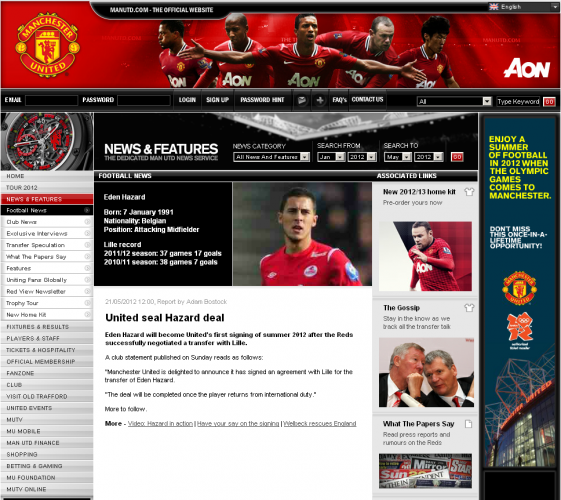 WELCOME TO SILLY season — and the first ingenious transfer hoax of the summer, starring Lille midfielder Eden Hazard.
Speculation about the Belgian's next move has intensified over the past 48 hours, stoked by the fact that Hazard himself promised a LeBron-esque revalation after the final game of the Ligue 1 season last night and then came up with, em, nothing.
The two Manchester clubs are still thought to be the front-runners for his signature, though Chelsea have become a slightly more attractive proposition since their Champions League win.
With the football world ready to pounce on any concrete tip, Manchester United's official website appeared to confirm the transfer with a statement this afternoon:
Eden Hazard will become United's first signing of summer 2012 after the Reds successfully negotiated a transfer with Lille.

A club statement published on Sunday reads as follows:

"Manchester United is delighted to announce it has signed an agreement with Lille for the transfer of Eden Hazard.

"The deal will be completed once the player returns from international duty."

More to follow.
On closer inspection of the site's url, the website was found to be a very cleverly designed fake — using the address rnanutd.com (with an r and n at the beginning, rather than an m) to hoodwink the unsuspecting public. The rest of the page was an exact duplicate of the official club site with links back to the real pages. It's the little details.
Unfortunately, somebody was always going to be suckered in before the prank was uncovered. ESPN Soccernet were one of the high-profile casualties — but they had the good grace to hold their hands up and take the mistake on the chin.
Let that be a lesson to everybody else for the rest of the summer.