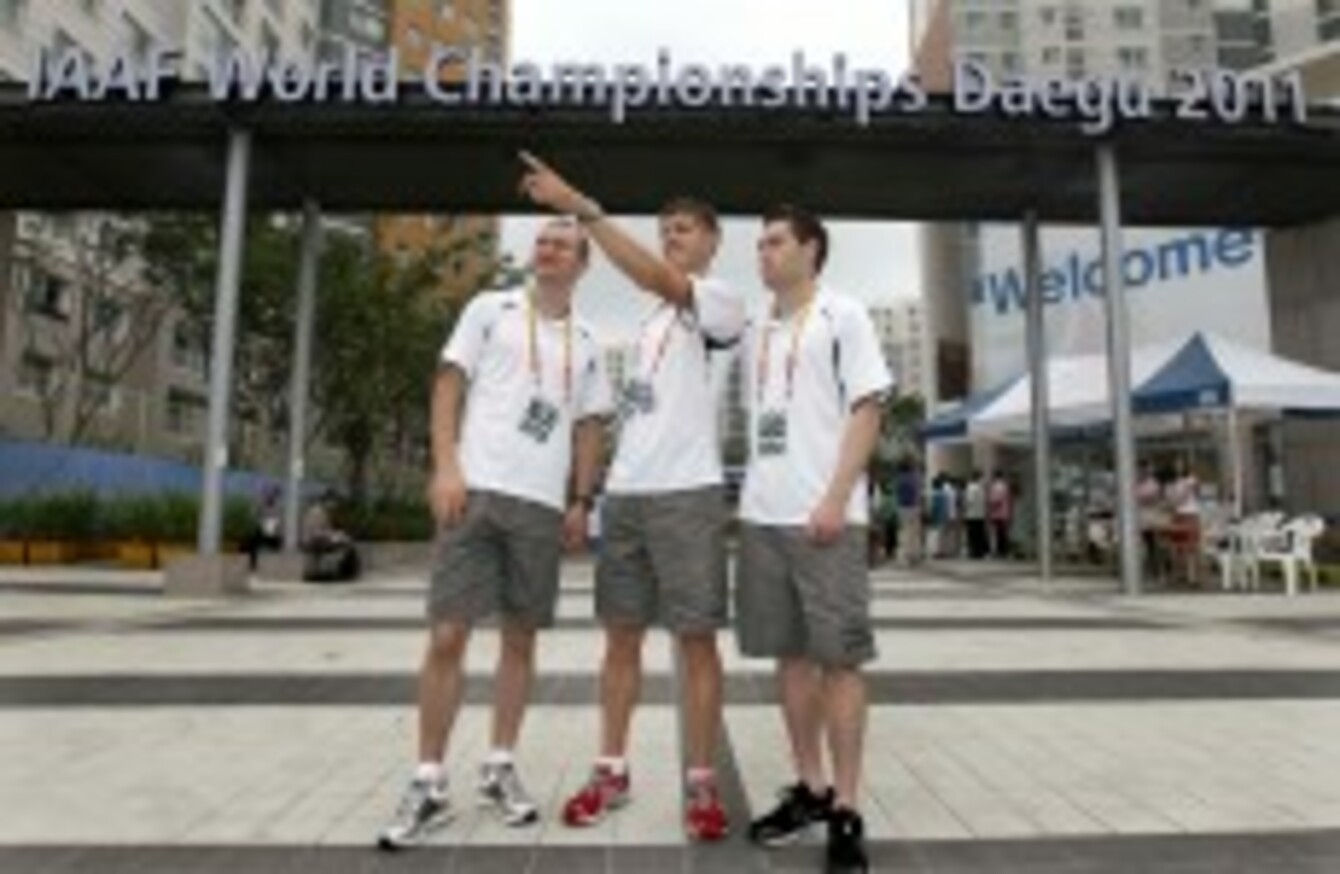 rish athletes Paul Hession (200m), Colin Griffin (50k Walk) and Jason Smyth (100m) relax outside the athletes village in Daegu this week.
Image: INPHO/Morgan Treacy
rish athletes Paul Hession (200m), Colin Griffin (50k Walk) and Jason Smyth (100m) relax outside the athletes village in Daegu this week.
Image: INPHO/Morgan Treacy
1. "The Boston Red Sox signed their first black player in 1959, a utility infielder named "Pumpsie" Green. This was 12 years after the Brooklyn Dodgers broke the color line with Jackie Robinson. No other team in baseball dragged its feet on integration like the Red Sox. It wasn't until 1965, in fact — 18 years after Robinson started at second base for the Dodgers — that Boston had its first full-time black player. Why? The simple answer — that the Red Sox owner at the time, Tom Yawkey, was a racist — is not terribly satisfying."
The New Yorker's Malcolm Gladwell is part of Grantland's impressive staff: this week he explains why owning a basketball franchise has always been a bad business — and ought to stay that way.
2. "Sport has a nasty way of reminding us we are getting old. Recently a Swedish friend told me how her father had slipped gradually into senility. 'To be honest,' she said, 'he was never the same once the government revoked his elk-hunting licence.'"
Harry Pearson in the Guardian on how sport refuses to allow us to grow old gracefully – including cartwheeling in the MLS.
3. "Teammates in pro sports today are talking more than ever, just not as much to each other. Ask many coaches, general managers and older players and you'll hear a common gripe: chemistry on teams has been altered because of modern technology, and not for the better. The rise of smartphones, with all their instant-communication and entertainment options, have created insular worlds into which distracted players too often retreat instead of bonding with teammates."
Sport Illustrated's Adrian Dater says that technology is killing team camaraderie. Gooch, if you're reading this, you can now download our app from the iStore.
4. "At every PGA tournament, tucked away in a parking lot among the beverage trucks and television satellites, there's a white trailer with "ShotLink" emblazoned on the side. When I climb up the stairs and open the door, it's like stepping into a Dell computer—everything is gray and black. Five guys are looking at their laptop screens and making polite requests on two-way radios. They are talking to volunteers out on the course. The volunteers, about 200 of them, are using lasers to track every shot taken by every player."
You've heard of Moneyball? Welcome to Moneygolf. The Slate's Michael Agger asks will new statistics unlock the secrets of golf?
5.
"At a ground that sits amongst the Pennine hills, I'm watching the rebel team formed by fans of Manchester United. It's the first FC United of Manchester home game of their 7th season, and it's like I've fallen through a time portal. My ticket was only £8, I'm standing on a terrace, surrounded by supporters determined to sing for the full 90 minutes, and we're all watching players who give a shit.
The excellent Sabotage times have a piece on FC United by Simon Buckley which is worth a read.
6. "I have a few more days at home before I head off. I've got an ipad so I've been trying to get loads of books and films for it. It is a serious amount of travel to Daegu which means I need to keep myself entertained. If you have any good book or film recommendations just put them in the comments below and I'll check them out pretty please. Nothing sad though because I'm a serious softy and having an emotional breakdown whilst watching a sad film on a plane is not a cool look!!!"
I'm proud to say I love Derval O'Rourke's blog – and this post before she packed her bag for Korea (there's another after she did) is an insight into preparations.