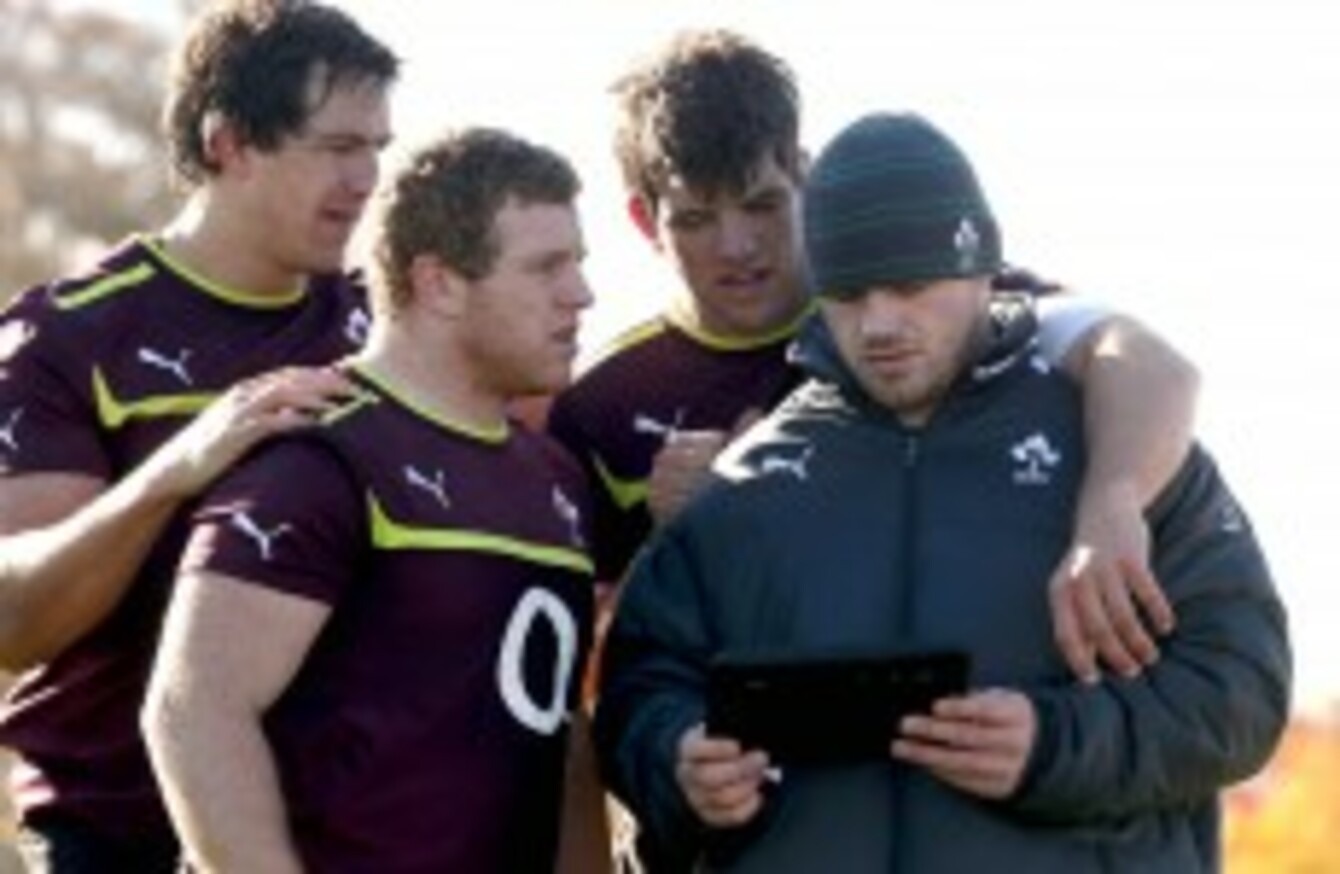 Mike McCarthy, Sean Cronin, Donncha O'Callaghan and Cian Healy enjoying that Lance Armstrong article.
Image: INPHO/Dan Sheridan
Mike McCarthy, Sean Cronin, Donncha O'Callaghan and Cian Healy enjoying that Lance Armstrong article.
Image: INPHO/Dan Sheridan
1. "Now that Lance Armstrong has been exposed as perhaps the most doped athlete in history, the mainstream media and the public at large can't stop talking about how 'dirty' the sport of cycling is. Lance Armstrong proves it: "They're all on drugs." The Onion nicely summed up the global disdain last week by publishing 'The Last Article Ever Written About Cycling.'"
Bill Gifford on The New Republic writes about cycling's dirty little secret. Whisper it: bike riding may be the cleanest game in town right now.
2. "Jews are known for many things, but strength, swiftness, and agility are not among them. There is one trait, as controversial as it is familiar, for which Jews are above all known, and that is shrewdness in business. And in the history of sports, there was none shrewder than Arnold "Red" Auerbach, mastermind of the Boston Celtics when they won 16 NBA championships between 1957 and 1986. Auerbach grew up in Brooklyn, the son of an immigrant from Minsk who owned a delicatessen and a dry cleaning store. He won a basketball scholarship to George Washington University, but soon found his calling as a coach, working in high schools, the wartime Navy, and, for a few summers, a Catskills resort (where he coached a waiter named Wilt Chamberlain). In the late 1940s he was named coach of the Washington Capitols and then the Tri-Cities Blackhawks before taking over the Celtics bench in 1950. He became the team's general manager in 1966 and its president in 1984, holding that position until his death in 2006."
Stephen Pinker, on Slate, writes about one of big characters in the history of NBA.
3. "Two days before Logan Thompson appeared in his first varsity football game, he knelt on the tiled floor in the master bathroom of his parents' house picking up the fragments of the door he'd just beaten down with a baseball bat. His father, Paul, had been on the opposite side, unconscious after suffering a stroke the morning of Oct. 3 as Logan and his younger brothers — Landen, 13, and Lancen, 8 — got ready for school.
The flashing lights took away his father. His younger brothers went to the homes of neighbours. His mother, Daniele, had left for the hospital. The house was eerily silent, and Thompson found himself alone."
This one's tough. Chantel Jennnings writes on ESPN about one high-school football team's efforts to get their buddy into the end zone for an unlikely tribute to his deceased dad.  Read this one.
4. "They have also achieved the seemingly impossible task in football of combining victories on the pitch with financial success, though it is equally true that sporting success has helped lead to improved economic results. In 2011/12 Dortmund's revenue rose by an imposing 42% to a record €215 million (€189 million excluding player sales), while pre-tax profits surged to a hefty €37 million. Despite higher bonus payments, the wage bill of less than €80 million can still be described as 'merely average' for the Bundesliga."
The ever-readable Swiss Ramble profiles Borussia Dortmund and the club's remarkable turnaround in recent years. Take note, everyone else.
5. "[W]hen mainstream Irish media look for comment from one of our current cyclists, they usually look to the same one every time. Although Matt Brammeier is the current Irish road race champion and Dan Martin has proven he is the best we've currently got in the professional ranks, it is Nicolas Roche who shoulders the burden of providing the view from the peloton in the Irish media. Some of the reason for this is because of his famous name; even when heard by the non-cycling fan, the name 'Roche' will resonate. Nicolas Roche has also been nominated for this position as spokesperson because he has previously volunteered to take part in the media by writing his own race diary in the Irish Independent during his Grand Tour exploits. As such, Roche regularly provides comment on the Off the Ball show on Newstalk.
"He knows he will be appearing on this show and yet his answers to awkward but predictable questions are regularly scattered, ill-conceived and unsatisfactory. He approaches interviews in a similar fashion to how he approaches Grand Tours – under-prepared and with a lack of clarity."
Cillian Kelly of the excellent Irishpeleton picks apart statements from Nico Roche in the wake of USADA's report about Lance Armstrong. Strong stuff.
6. "They will presumably have known how the stigma of any such charge would hang over the official. They would have been aware of the implications for the man and his career. But they did it anyway, two hours after losing a heated, bad-tempered match.
Only it now seems their case is based on the flimsiest claims. We are told there is no television  footage. No audio recording. No corroborating testimony from the officials on the touchline wearing communication devices. And no witness who is likely to stand up to genuine scrutiny. In short, there is little proof that anything of the sort happened.
On advice from lawyers, Chelsea have already withdrawn the Mata accusation, which is embarrassing in itself. Yet the Mikel charge still hangs in the air."
The Daily Mail's Des Kelly takes a cynical view of Chelsea's sudden ability to hear insults flung on football pitch.