1. "One of his collaborators describes him as 'seductive'. It is difficult to do justice to just what he represents for the club. There was a kind of collective holding of breath as the wait to find out his future went on, almost as if the whole of Catalonia was anxiously pacing up and down outside a hospital ward, chewing their nails, waiting for news, watching the hand on the clock stubbornly refuse to move. Few men have represented Barcelona like Guardiola."
In a top-flight managerial career that spanned four short seasons, Josep "Pep" Guardiola fashioned the pampered, profligate FC Barcelona of the Rijkaard era into a ruthless, hyper-efficient winning machine. The Guardian's Spanish football correspondent, Sid Lowe, ponders the essence of his genius.
2.

"Once more, then, for absolute clarity. Titleist is a brand of dimpled sphere, with a minimum diameter of 1.68 inches and weighing no more than 45.93 grams, beloved of golfers in the west.

The Taliban is the Islamist terrorist movement in the east which, under the aegis of Mullah Omar, gave sanctuary to Osama bin Laden. And never the twain shall meet, we hope, in print again."
After an alliterative misstep in a column tackling the outdated membership policies of Augusta National Golf Club, Matthew Norman of the Telegraph returns to issue a mea culpa.
3. "For all that enthusiasm, however, the sport has had a weak spot: It can be surprisingly difficult to say with any specificity what makes a mixed martial artist great, or what makes one fighter better than another. In baseball, there are home run tallies and RBIs and countless more obscure measures of a player's skills. In MMA, fans find it easy to call someone a force of nature, but historically, it's been impossible to back it up with data. In some cases, it is frustratingly hard to tell who is even winning a match."
Detailed statistical analysis can pay massive dividends when applied to rigidly structured sports like baseball, but does it hold the key to unravelling MMA's often brutal chaos? The Boston Globe's Leon Neyfakh meets the man on a quest to solve the most frenetic and random of sporting riddles.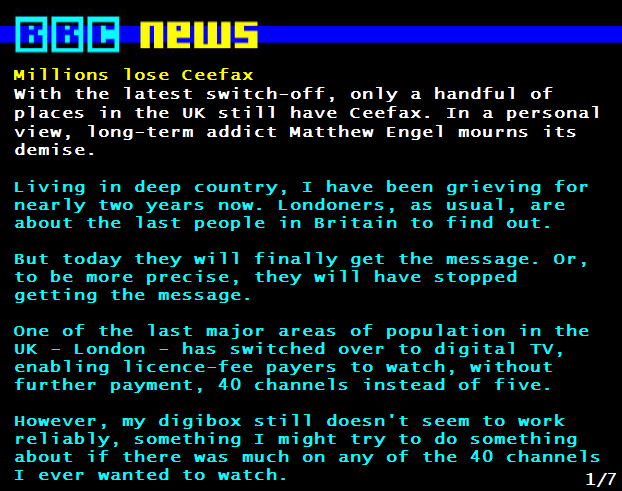 4. Matthew Engel, cricket writer and unabashed lover of text-based news updates, laments the loss of BBC's Ceefax service. His account of a career spent waiting for pages to reload comes wrapped in its own day-glo, 8-bit graphics. Meta.
5. "But 16 years later, on a recent evening in Newport Beach, Calif., the world's most famous sports agent shuffles into a drab Urgent Care center, and there is only silence. At age 63, Steinberg — for years hailed as the real-life Maguire — now finds himself a bankrupt, recovering alcoholic, plotting a comeback from the bottom. And before 10 p.m. tonight, as mandated by the California Bar Association, he must show that his urine is clean."
Once the representative of 86 NFL athletes, Leigh Steinberg was the NFL's original "superagent". Today, with his health and finances in ruin, the fast-talking inspiration behind Jerry Maguire dreams of revisiting the big-time.
6. "In recent years, however, the situation has changed. Andrew Luck and Robert Griffin III are harbingers of an approaching age of quarterbacks who are both better athletes and better trained at a young age than ever before. In a decade or so, the debates about a player like Tim Tebow — that NFL teams must choose between quarterbacks who are passers and quarterbacks who are athletes — will seem quaint and ridiculous. Nowadays, coaches at the lower levels put their best, smartest, most charismatic kids at quarterback and develop them."
Though always fodder for media-driven hype and speculation, this year's NFL Draft marks a genuinely significant departure from established precedent. This, argues Chris Brown of Grantland, will be remembered as the moment a generational shift in perspective hit the mainstream.