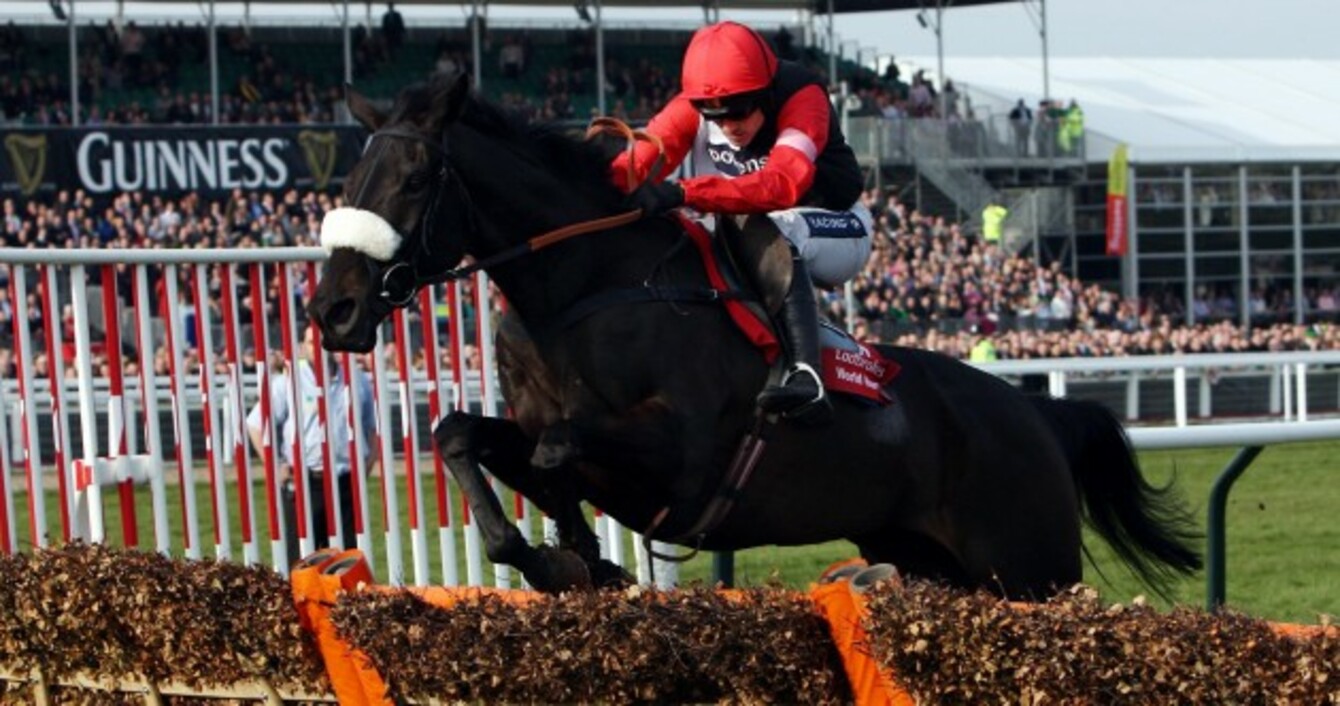 Image: David Jones/PA Wire/Press Association Images
Image: David Jones/PA Wire/Press Association Images
"IF YOU TAKE a shot at the king, you best not miss."
Day three of the 2011 Cheltenham Festival was only ever going to be about one story. For weeks, the racing press had built up the World Hurdle showdown between two-time champion Big Buck's and up-and-comer Grands Crus as the race of the festival, if not of the whole year. When it finally arrived, shortly after 3.20pm this afternoon, it didn't disappoint.
For Paul Nicholls' horse, a third successive victory in Thursday's feature confirmed his place as one of the finest staying hurdlers of all time. Already racing off an official rating of 174, it is now up to the handicapper to officially decide how good the eight-year-old is in the grand scheme of things.
Not that the handicapper's opinion is of any real relevance. Once again today, Big Buck's put in the perfect performance in front of those who really matter: his public.
On the back of Wednesday's unprecedented near-sweep, only a fool would have envisaged a similar level of success for those who had travelled over from these shores. The luck of the Irish did threaten to continue as day three got underway, Paul Nolan's Noble Prince putting in a superb performance to take the Jewson Novices' Chase and finally get AP McCoy off the mark for 2011. AP wasn't finished there either, putting on a jumping masterclass with Albertas Run as Jonjo O'Neill's ten-year-old made it back-to-back wins in the Ryanair Chase.
As Ireland chased a record-breaking eleventh festival success, every race was laced with the promise of an ultra-special moment. In the end, Mourad could only muster third in the World Hurdle while Gordon Elliot's Beautiful Sound and Dessie Hughes' Done Deal both threatened to write themselves into the record books before falling by the wayside in the day's final races.
In a way, it was fitting that the raiding party should have to wait until tomorrow for their historic moment. Today was all about Big Buck's.
What we learned today
1. If in doubt, back last year's winner: For a while this afternoon, it felt like Groundhog Day at Cheltenham as a series of last year's champions returned to reassert their dominance over a bevy of fresh contenders. Buena Vista, Albertas Run and Big Buck's all showed that they were still on top of their game a year later. Looking ahead to tomorrow, the prospects of Imperial Commander (3:20), Baby Run (4:00) and Pigeon Island (5:15) all just got a little bit brighter.
2.When Mark Hobbs says "nap," you pay attention: That's back-to-back winners for TheScore.ie's racing columnist who followed up yesterday's win on Sizing Europe with 5-1 shot Noble Prince in the first today. Add them together and you've a very tasty 60-1 double. Mark will be back again in the morning with his daily column. We won't be arguing with whatever he picks, that's for sure.
3. Ruby Walsh is the consummate professional: You'd think that a historic win in the day's feature race would be enough to bring a smile to any jockey's face. Ruby however was furious with himself after dropping his whip as Big Buck's approached the final hurdle. "Schoolboy," he fumed in his post-race interview. "Certainly not my finest hour in the saddle. I owe him [Big Buck's] big time there." I can't even begin to imagine his reaction had Tom Scudamore got Grands Crus up to pip him on the line.
Thursday's big winner
On the day that was in it, there could only be one winner. Big Buck's was every inch a champion in this afternoon's World Hurdle, running an almost-perfect race under the stewardship of Ruby Walsh. With a surprisingly strong early pace set by Cross Kennon, Ruby manouevred the champion into position just off the lead and held him there until it was time to strike. When the challenge came, it came in a big way from Grands Crus and Mourad as predicted, but Big Buck's wasn't to be denied as he took victory by a length and three quarters. Is he now the finest staying hurdler of all time?
Thursday's big loser
This guy – whatever his name is. He's obviously been over-indulging in the collected works of Emily Davison of late, deciding that standing in front of an onslaught of charging horses was the best way to promote his political message – Michael O'Leary is the devil or something like that. I just can't get over the fact that he wanted to risk death to tell us something which we all know already. Madness.
Quote of the Day
"I absolutely love Cheltenham. It'd be a fine place to drop dead in."
There are only two certainties in life – death and an absolute doozy of a quote from Ted Walsh. His musings are shaping up to be the highlight of tomorrow already.
Tweet of the Day
'Tis the season to put the boot in, or so it would seem …
Looking forward …
Although Ireland have only won the Triumph Hurdle (1:30) once in the last thirteen runnings, we appear to have a very good chance tomorrow. Paul Townend is aboard Dermot Weld's Unaccompanied. Weld is a trainer who doesn't normally send a massive amount of horses over to the festival so we're keen to see if this is the horse who can break the Irish duck.
Want more? Catch up with the minutiae of today's action in TheScore.ie'sliveblog >