1. Which manager has done a better job this season – Eamon O'Shea bouncing back from a horrific championship record or or Brian Cody reaching a 13th final in 16 years?
Will Slattery
Eamon O'Shea. Cody has done a great job after last year's disappointment, but Tipp looked in disarray after their loss to Limerick. Easy to forget after how Limerick did, but Tipp were huge favourites.
Fintan O'Toole
Cody's achievements with Kilkenny continue to be exceptional but for what he has done in his first senior management job, Eamon O'Shea deserves huge praise. He's been under enormous pressure in his own county and suffered plenty criticism after defeats last year and the loss to Limerick in June. Put his faith in his players and their system have been rewarded this summer.
Niall Kelly
Eamon O'Shea for me. Take nothing away from Cody who will go down as the best ever but after one win and three defeats in their first four league games, it was impossible to conceive of Tipp as possible All-Ireland finalists. Even the run to the league final looked like a false dawn when they lost to Limerick in the Munster semis for a second straight year.
Eamon Donoghue
Eamonn O'Shea has had to contend with awful criticism over the past two years, as his team have often found themselves on the wrong end of a number of tight big games, including this year's Munster championship defeat to Limerick. But for the manner in which Brian Cody has once more rejuvenated this Kilkenny squad to reach yet another final, as always making the big calls throughout, is truly remarkable.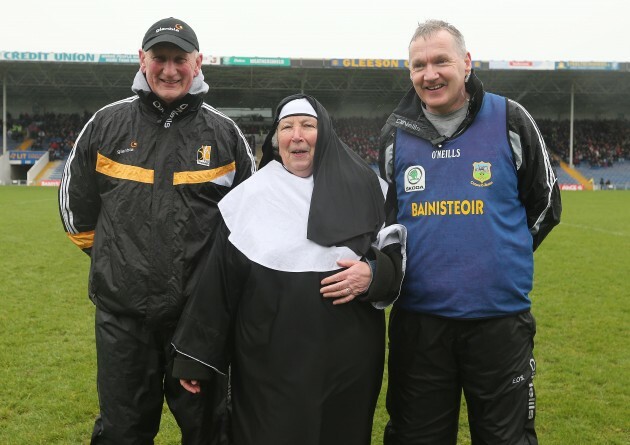 Lorraine O'Sullivan / INPHO Lorraine O'Sullivan / INPHO / INPHO
Kevin O'Brien
Eamon O'Shea. Cody's greatness is undisputed, but O'Shea deserves enormous credit for the way he has steered Tipperary back into the All-Ireland final. Their defeat to Limerick brought with it some stinging criticism from within the county, but his unrelenting faith in his players has eventually paid off.
Sean Farrell
Eamon O'Shea. The summer has had its rough points, but when push came to shove he sent his side out brimming with attacking intent.
Adrian Russell
Obviously the job Cody's done over the years is beyond a joke but this year Eamon O'Shea gets the nod. To bring the Premier from the base of last year — O'Shea's first in charge — to the brink of another title is great going. And he's been as cool throughout all of it.
Paul Fennessy
Brian Cody. It's not easy for top teams to bounce back after disappointing seasons – just ask Manchester United. Cody's success at this stage tends to be taken for granted but he deserves enormous credit for silencing the doubters for the umpteenth time.
2. Who is the key player for Tipperary?
Will Slattery
Patrick "Bonner" Maher. Maher was arguably the best player on the pitch against Cork and he didn't even score. Callanan's finishing has been lethal, but Maher is both a great provider and usually a great scorer too.
Fintan O'Toole
Seamus Callanan. The go-to guy in attack this year, Callanan has spearheaded the Tipperary forward line as he's chalked up 7-38. His form has been superb but if Kilkenny quell his threat on Sunday, it'll be a damaging blow to Tipperary.
Niall Kelly
Patrick 'Bonner' Maher. There were a few questions over his fitness after the Cork win but it seems that he is 100% and raring to go. A big day by the centre-forward is guaranteed to carve out plenty of opportunities inside for Seamus Callanan and Bubbles O'Dwyer.
Eamon Donoghue
Kilkenny love nothing more than highlighting an opposition  weakness in an All-Ireland final, and punishing their opposition dearly for it-so whoever Tipp deploy at full-back will certainly have to have their wits about them.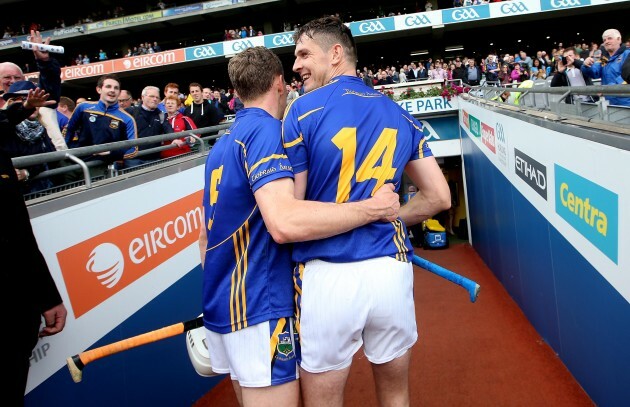 James Crombie / INPHO James Crombie / INPHO / INPHO
Kevin O'Brien
Seamus Callanan. His pace and finishing ability have lit up the 2014 championship. Callanan's battle with JJ Delaney will be a big factor in deciding the outcome of this game and if he can hit the heights he has done so far, Tipperary stand an excellent chance.
Sean Farrell
Every team needs its bell weather. And while Callanan is the star, the cult figure of Lar Corbett has the knack of popping up with an inspirational point at a crucial time.
Adrian Russell
Lar Corbett — he's coming in under the radar unusually — but still has the class to light up another game. He knows his way around Croke Park and the way to the net.
Paul Fennessy
Seamus Callanan – registering 7-38 this campaign tells its own story. If he's anywhere near as influential as he was against Cork, then Kilkenny are in big trouble.
3. Who is the key player for Kilkenny?
Will Slattery
TJ Reid. He is such a skilled distributor that he sucks in extra defenders, which creates space for the other Kilkenny forwards.
Fintan O'Toole
Richie Hogan. The primary candidate to land the Hurler of the Year award along with Callanan, Hogan has fitted seamlessly into his new midfield role this year and helped Kilkenny dictate games.
Niall Kelly
Richie Hogan, the Hurler of the Year in waiting. Watching him this year you would never suspect that midfield was not his default position. An absolute giant.
Eamon Donoghue
Richie Hogan for me has been the country's best hurler  this year, and he'll once more be Kilkenny's go-to man if things get difficult on Sunday.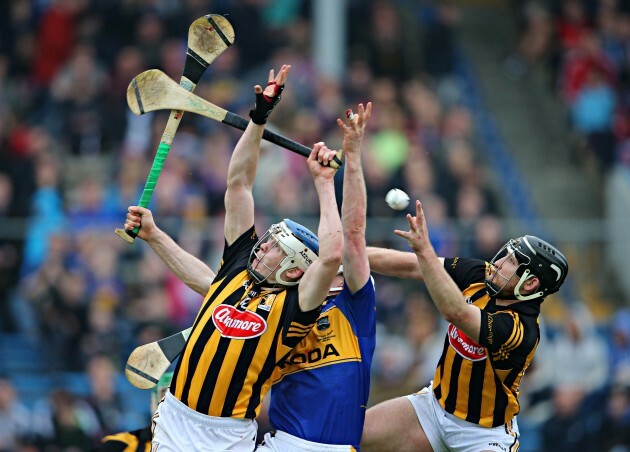 Cathal Noonan / INPHO Cathal Noonan / INPHO / INPHO
Kevin O'Brien
It's hard to look past Richie Hogan. Dominant in Kilkenny's engine room since his switch from the forward line, Hogan will face a stern test against Tipperary's midfield duo of James Woodlock and Shane McGrath, who ran the show against Cork. Cody's teams have a tendency to attack the strengths of their opponents in big games. Hogan will be central to that.
Sean Farrell
Richie Hogan. Kilkenny will win this game by dominating midfield and so starving Callanan of chances. Hogan has been in sensational form and that will continue on Sunday.
Adrian Russell
I can't say Barry Kelly right? Richie Hogan has been class all year and will need to be so once more.
Paul Fennessy
It has to be Richie Hogan, doesn't it? His reinvention as a midfielder has been arguably the most significant factor in driving this Kilkenny team on.
4. A key factor this afternoon will be…
Will Slattery
Not the most crucial factor but what will Kilkenny get from Henry Shefflin? The King is going for his tenth title, and I'm sure when he comes off the bench, he will make a big impact.
Fintan O'Toole
The involvement of Henry Shefflin. Whether he starts, comes on, is taken off, plays brilliantly or is subdued, there is going to be a sharp focus placed on Shefflin's involvement. The bumper crowd will be watching him closely and whatever Shefflin does will have a psychological impact on the players and supporters alike.
Niall Kelly
The midfield battle. Cork's tactics played straight into the hands of Shane McGrath and James Woodlock in the semi-final but Kilkenny will provide Tipp with a much sterner test. If they can't get clean ball into Callanan and O'Dwyer, they will struggle to put up scores.
Eamon Donoghue
Goals. Tipp desperately need to score them, but at the other end they can't afford to concede too many. It really is that simple, goals win games.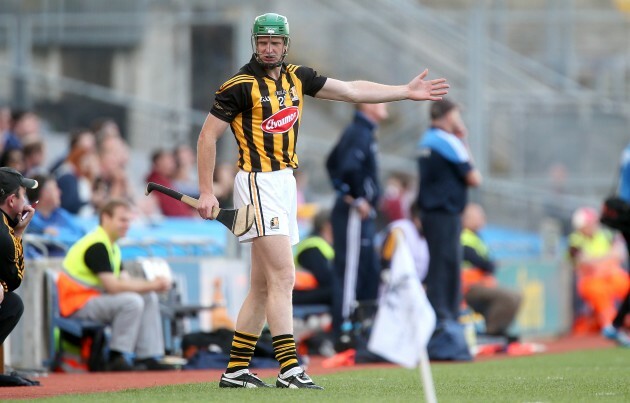 Ryan Byrne / INPHO Ryan Byrne / INPHO / INPHO
Kevin O'Brien
The puck-out battle. Cork allowed Darren Gleeson pick out short puck-outs at his ease in the semi-final, handing Tipp a platform to launch ball onto the edge of the square. Kilkenny won't give them the space to do the same and they will hope to gain a foothold in midfield by swarming bodies underneath the breaks. The game could hinge on who comes up with the most ball.
Sean Farrell
Whether Tipperary can find a way around Hogan and give Callanan space in and around the square.
Adrian Russell
Cork allowed Tipperary the freedom of Dublin the last day and Tipp took advantage with their puck out strategy. As Donal Óg Cusack said in his Examiner column on Friday, it'll be a lot harder today.
"If you go for a targeted puck-out strategy, and it breaks down," he wrote, "Kilkenny will more often than not go for a goal from the possession they gain. They know there is nothing worse than a short puck out gone wrong and punished with a goal. Cold as assassins."
Paul Fennessy
Psychology – we saw it with the Dublin footballers last week, any side can put in a flat performance if their preparation for a big game is in anyway off.
5. What's been your favourite hurling moment of the summer?
Will Slattery
Kilkenny vs Limerick in the downpour. Such a physical game that was swung on a few moments of magic from the Cats. It gets extra marks for featuring the most cynical challenge in the history of hurling to not be awarded a red card!
Fintan O'Toole
Pitch invasions. Limerick supporters in Semple Stadium in June, Wexford supporters in Wexford Park  in July and Cork supporters in Páirc Uí Chaoimh in July were all delirious as they ran across the grass and that reflected the size of their respective achievements.
Niall Kelly
The last five minutes of normal time in Clare v Wexford's first drawn game. It was already a brilliant contest but that late drama kicked it into overdrive before we ever had a hint of what would follow in extra time and a week later.
Eamon Donoghue
Kilkenny v Limerick in the rain, was just such an honest battle and a pleasure to watch.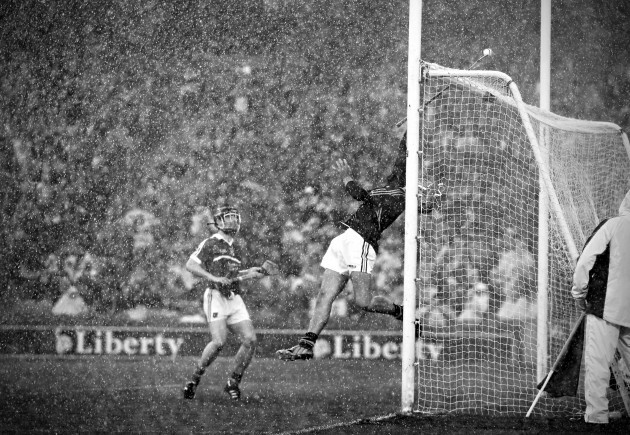 Cathal Noonan / INPHO Cathal Noonan / INPHO / INPHO
Kevin O'Brien
Galway's late comeback against Kilkenny in the drawn game. Scoring three late goals against Kilkenny is virtually unheard of, and then Henry Shefflin and Joe Canning swapped dramatic scores at the death.
Sean Farrell
That crazy Tipp-Galway game. Woof.
Adrian Russell
Bringing down the curtain on Páirc Uí Chaoimh with a Munster final win for Cork was pretty cool (as a Corkman) especially with the likes of JBM on the line and fans on the pitch.
Paul Fennessy
Both the similarly epic Clare-Wexford clashes stand out in the memory for me.
6. Who will lift the Liam MacCarthy Cup?
Will Slattery
Draw in the first game and Kilkenny in the second. The Limerick game showed us that they can win a close dogfight as well as play nice hurling.
Fintan O'Toole
Tipperary. The upward curve on their form graph since the Limerick defeat as been striking, they've plenty motivation to avenge recent defeats to Kilkenny and the recent scoring form of Seamus Callanan and John O'Dwyer has been hugely impressive.
Niall Kelly
Kilkenny by two points. Expect them to shade enough of the individual battles to make it a perfect 10 for Cody and Shefflin.
Eamon Donoghue
Kilkenny – I just think that they have a mental edge over Tipperary.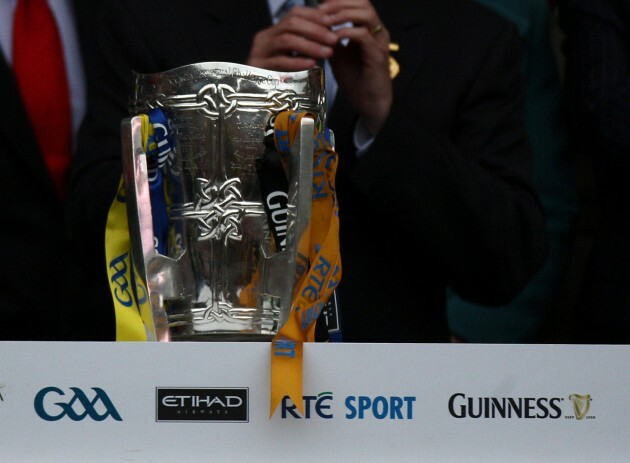 Billy Stickland / INPHO Billy Stickland / INPHO / INPHO
Kevin O'Brien
I'm going with Kilkenny. Any year they've failed to make the All-Ireland final in the Cody era, they've come back to win it the following September. Five championship wins in six against Tipp means they know how to beat them. Shefflin to finish his career in style.
Sean Farrell
Kilkenny. Because they'll score more goals.
Adrian Russell
I'm gonna go for the draw tomorrow. Come back to me next week.
Paul Fennessy
Kilkenny are back to something like their imperious best this year, so I can't see anything other than a victory for Brian Cody's men.