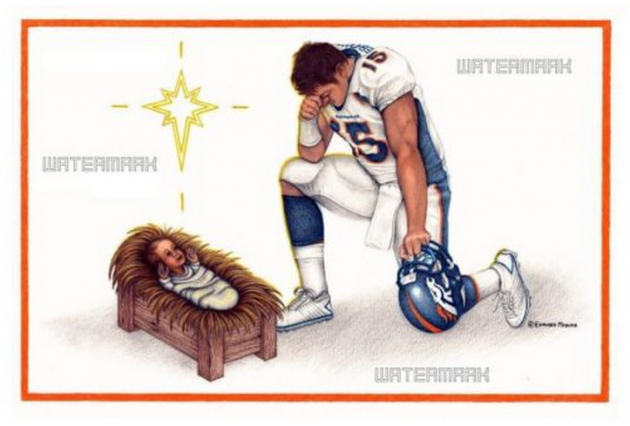 THANKS TO OUR friends over at BusinessInsider for bringing this beauty to our attention:
Looking for that unique gift idea for the Denver Broncos fan in your life, but have no clue as to what to get them? Your worries are over my friend, now that these Tim Tebow Tebowing Christmas cards are available for purchase on eBay.

Where else can you find a drawing of baby Jesus and his full-grown, NFL quarterbacking equivalent on the same piece of paper?

For a mere $15 you get five of these glorious creations from an unknown Colorado artist, out of the 1000 that were produced.

If you ask me, without sounding sacrilegious, I'm pretty sure God is the artist in question who designed and created these one-of-a-kind X-mas cards. Hey, even the big man in the sky could use a little extra cash for the holiday season.
Our countdown to Christmas continues tomorrow. If there's something that you'd like to see behind the windows of our Advent calendar, pop us an e-mail and let us know.