Liveblog
A busy weekend of GAA action throws in this afternoon with this intriguing meeting of Tipp and Tyrone at Semple Stadium.
We'll be going minute-by-minute from 3pm but get in contact in the usual ways: leave a comment below, email adrian@the42.ie or tweet @the42_ie. Let's do this.
In case you'd forgotten, Tyrone won that one by a point at Parnell Park in Dublin but the fallout was extreme. Fergal Logan, the winning Tyrone boss, was denied access to the Tipperary dressing room for the traditional post-match words of consolation.

Tipp were angry at some of the treatment dished out to their players out on the pitch and put up the shutters. Tipp alleged that their players were sledged but Tyrone pointed to a stamping incident that went unpunished.
Jackie Cahill on the backstory to today's meeting in Thurles. Worth a read before throw-in.
We're getting a full Kanye-soundtracked intro to this one from Sky Sports.
James Horan and Senan Connell are beside Rachel Wyse for their double header.
Premier boss, Peter Creedon has been speaking to Sky:
"We're going to have to match their pace and energy levels. The more we play the likes of Kerry and Tyrone we see it's their work rate that's superior to ours so that's the big challenge. It's something we haven't done in the past against the top teams."
Jackie Cahill's in Thurles for us and will have a match report on the whistle as usual. Here's his view from the press box:
Looks a grand day.
Here's how Tipp will line out with dual star Colin O'Riordan the main man after a busy week: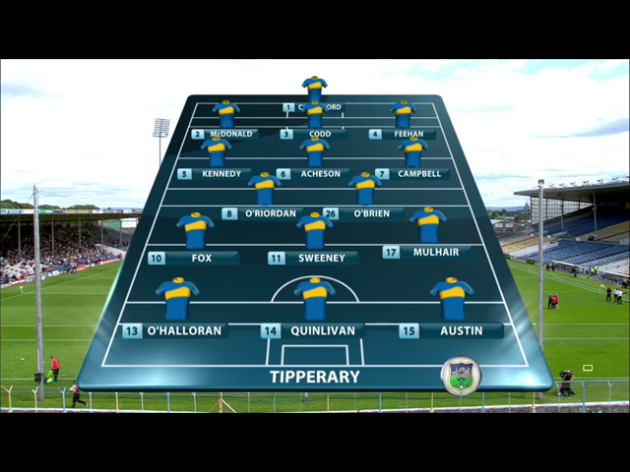 The teams are currently standing for the anthem and we're almost ready for road? How do you see this one going? Here's how our readers saw it yesterday: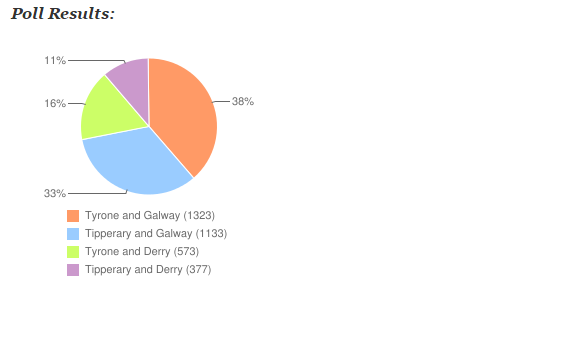 The Tyrone team that will hope to win their first championship meeting with Tipp: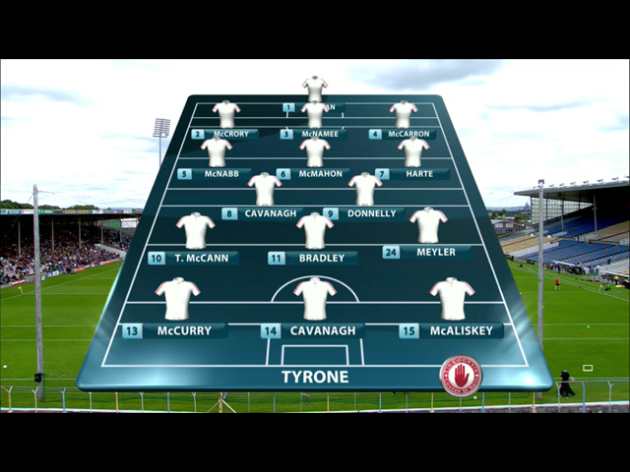 Connor McAliskey opens the scoring for the visitors with an early converted free.
Tyrone 0-2 Tipperary 0-0 Sean Cavanagh with a serious score from the wing.
Quinlivan kicks another wide for Tipp moments after Colin O'Riordan seemed to be caught high but the ref wasn't interested.
Tyrone 0-3 Tipp 0-0 Peter Harte shows great pace to burst down the middle but goes to ground and is awarded a generous free. Darren McCurry tacks on the point as expected.
Tyrone 0-4 Tipp 0-1 McCurry makes it a three-point game after the Premier opened their account at last through a Kevin O'Halloran free. The hosts look very nervy according to Darragh Ó Sé.
Tyrone 0-4 Tipp 0-2 Kevin O'Halloran has added another point to his and Tipp's tally with a lovely 45 that sailed over the bar. They seem to be settling down and finding some rhythm.
Tyrone 0-4 Tipp 0-3 And suddenly it's a one-point game. Quinlivan fists over a great point.
Tyrone 0-4 Tipp 0-4 Draw game. That's three points on the hop from the hosts with Robbie Kiely adding the score of the game so far to level it up. Sean Cavanagh hits a free up the other end much to the crowd's delight.
Tyrone 0-5 Tipp 0-4 Peter Harte kicks a monster point from way out and it was badly needed from a Red Hand point of view.
Tyrone 0-6 Tipp 0-4 There was lots of patient build-up from Tyrone until the ball was in Sean Cavanagh's hands and he dispatched it over the bar predictably.
Tyrone 0-7 Tipp 0-4 Peter Harte has moved to left half forward and he's scored two points now since going there. Three points on the bounce for the visitors from the north.
Tyrone 0-7 Tipp 0-5 Kevin O'Halloran lofted over another placed kick to take his tally to three for the afternoon.
Tyrone 0-7 Tipp 0-6 O'Halloran with a tough free-kick; you know the rest. It's a one-point game after a period of nip and tuck there for a few minutes.
There's a bit of a dust-up here on the line involving a dozen or so players in the wake of a perceived bad tackle from Tipp. The Premier aren't taking a backwards step here though.
The ref is going to have to do something here…
Yellows for Joe McMahon, Cathal McCarron, Stephen O'Brien, Peter Acheson. And the teams continue their robust debate as they head for the dressing-rooms.
We're up and running in Thurles.
Tyrone 0-8 Tipp 0-6 Connor McAliskey gets the first point of the second half after doing some great work and then converting from a tight angle.
Tyrone 0-9 Tipp 0-6 Darren McCurry makes it a three-point tie again with a point from close in. They seem to have shifted a gear here.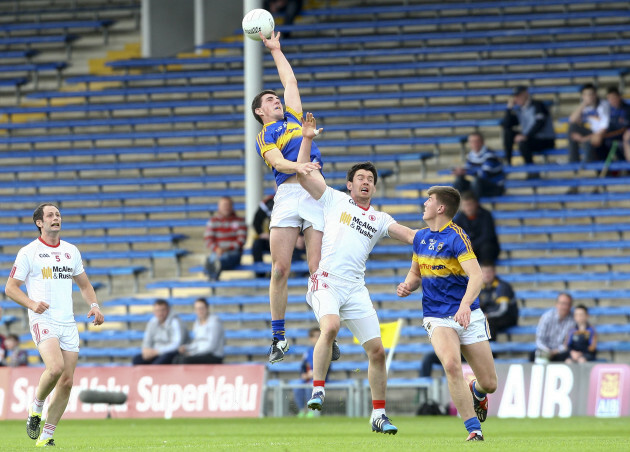 Colin O'Riordan in full flight. Source: Ken Sutton/INPHO
Tyrone 0-10 Tipp 0-6 Darren McCurry tacks on another point and the Premier are all at sea. They've yet to score in the second half.
Tyrone 0-11 Tipp 0-6 The Red Hand are hammering the hammer, to borrow a phrase from Tomás Ó Sé. Conor McAliskey adds to his personal telly with an outside-the-boot effort.
Peter Creedon will need to stem this pretty quickly.
Tyrone 0-12 Tipp 0-6 Darren McCurry gets sight of the goal after a pass from Sean Cavanagh but his effort fizzes over the bar. Tipp need to wake up soon.
McCurry is substituted moments later.
Tyrone 0-13 Tipp 0-6 Mattie Donnelly carves out an opportunity for himself and then hits the score of the match, according to Darragh Ó Sé. Stephen O'Brien is replaced by Liam Casey, meanwhile.
RED CARD Tipperary's Liam Casey sent off for stamping.
So this game is all but over. Tyrone are seven points up, completely in control and facing 14 men.
Casey was barely on the pitch two minutes but he clearly stamped and deserved the line.
Tyrone 0-14 Tipp 0-6 McAliskey adds to his stats with another point.
Tyrone 0-15 Tipp 0-6 Connor McAliskey chips over another free that was generously awarded after a shoulder-to-shoulder challenge, if you ask us. In any case, it's a nine-point margin now.
Tyrone 0-16 Tipp 0-6 Mattie Donnelly scores his second point of the afternoon and it's all too easy now.
Colin O'Riordan has been called ashoted after 65 minutes of his third championship game in a week.
Connor McAliskey is awarded Sky's man-of-the-match. Good shout.
Tyrone 0-19 Tipp 0-7 Conail McCann hits his first point of his championship career for Tyrone. Tipp went to sleep and he gratefully received a quick restart before knocking over. Sean Cavanagh quickly adds another.
The officials say there'll be four minutes of added time which seems cruel at this point.
Full-time: Tyrone 0-19 Tipperary 0-7
That, really was, a game of two halves.
Tipp really stood up to the visitors in the first period but the game completely got away from them after that shemozzle and the interval.
What did you make of that?
Contribute to this story: