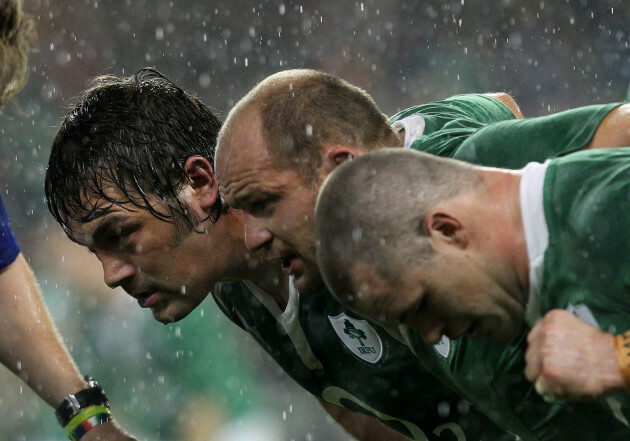 Billy Stickland / INPHO Tony Buckley, Rory Best and Cian Healy preparing for a scrum during Ireland's defeat to South Africa in 2010. Billy Stickland / INPHO / INPHO
THERE ISN'T A shortage of fond memories for Tony Buckley to recall when he looks back on his playing days.
"One thing I enjoy remembering was a game against South Africa and during it Bakkies Botha was trying to wind me up," says the former Ireland prop. "He was trying to goad me into hitting him off the ball, basically. 'Come on, Mushy, I've got you, I'll take you'… all this sort of thing.
"I ignored him and just said to myself that I'd wait for my chance to get the fucker. Later on anyway when he went into a ruck, he looked back and I just tore into him with a shoulder that put him flat on his back.
"I looked down and said to him: 'Well, Bakkies… who's got who now?' He was one of the biggest names in world rugby, someone I admired a lot. It's a small thing, but that's something I can look back on and smile about."
Four years since his career at the highest level came to an end, Buckley is still dealing with the consequences of over a decade of professional rugby. Surgery has eased his shoulder issues, but his back remains problematic. Recently it forced him to take a month off from his job at Johnson & Johnson in Limerick, where he's tasked with running and maintaining automated production lines.
"With the game the way it is now, pain is a constant," says the 37-year-old father of three. "You can't take that many hits and not be in pain. I'm still plagued. My body is destroyed. I was at a neurologist yesterday because of a herniated disc. I'm used to it all by now."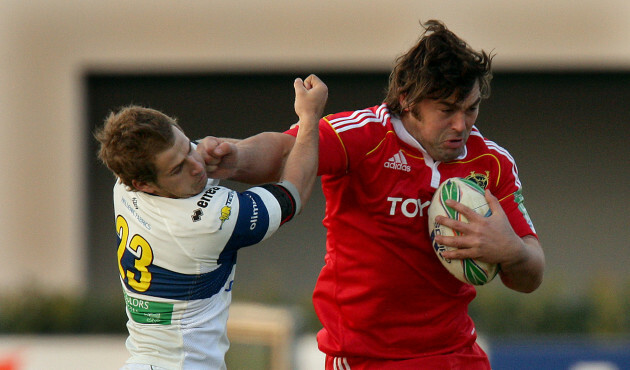 Morgan Treacy / INPHO Buckley fends off a challenge from Tobias Botes of Benetton Treviso while playing for Munster in 2010. Morgan Treacy / INPHO / INPHO
Buckley can handle the physical pain, he insists. As for the psychological wounds, they're not so easy to ignore.
Meeting the former Ireland international was originally intended as an opportunity to reflect on Munster's last European Cup triumph, the 10-year anniversary of which is this Thursday. The fond memories may be plentiful, but revisiting them can be a complicated process.
"It's a European medal so it was obviously the pinnacle of my career," says Buckley, who replaced Marcus Horan for the final 17 minutes of Munster's 16-13 victory over Toulouse in the 2008 Heineken Cup final at Cardiff's Millennium Stadium.
"It was a crazy atmosphere and it was amazing to be involved in that with such a great team — the best team in Europe at the time. But you move on. I find it hard to spend too much time looking back. It's something I'd struggle with, to be honest.
"I know I achieved a lot and I can be proud of that. I just try not to look back too much because there's a lot of negative stuff in the past as well. I know that winning the Heineken Cup was a positive thing, but if I think about that then there's a lot of other stuff back there too that wasn't so positive."
With the benefit of hindsight, Buckley can trace the difficulties he has encountered with his mental health back as far as 2007, just two years after he first joined Munster following a season with Connacht.
Billy Stickland / INPHO Buckley (far right) with Brian Carney, Frankie Sheahan and Mick O'Driscoll after the 2008 Heineken Cup final. Billy Stickland / INPHO / INPHO
He was an 18-stone second-row forward when he first linked up with Shannon after completing his secondary education at Newbridge College. Having undergone surgery on a shoulder problem, he moved home to Newmarket in North Cork to recover. Six months of mammy's cooking and no exercise pushed his weight up to 23 stone.
"There was no way anyone would have been able to lift me in a lineout at that stage."
When he returned to Shannon after recovering from the injury, Buckley was convinced to move into the front row, where he remained until his professional career ended at Sale Sharks in 2014.
He won 25 caps for Ireland, the last of which he marked with a try against Russia at the 2011 World Cup. With Munster he was a Heineken Cup and Magners League winner. Nevertheless, his career is often remembered as one of unfulfilled potential. It's an assessment he can understand, yet there was much more to it than meets the eye.
Playing rugby for Munster and Ireland gave Buckley a buzz like nothing else could, but regular encounters with illness and injury took a physical and mental toll. A pelvic problem left him weeks away from enforced retirement in 2006. Bouts of glandular fever and pneumonia were among the many other setbacks that hampered his progress.
The positional switches were also burdensome. While his ability in the loose was almost unparalleled for a prop, he was generally playing catch-up in the scrums following his late introduction to life as a front-row forward.
"I had a few consistent, uninterrupted runs at prop during which I felt I did well," he says. "But there was always another stumbling block ahead to try and get over. It was fairly tough trying to get through all those to try and play at that level.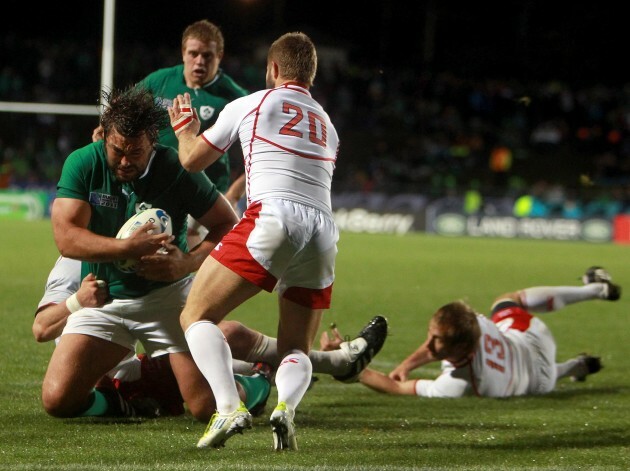 Dan Sheridan / INPHO Buckley scores a try for Ireland against Russia at the 2011 World Cup. Dan Sheridan / INPHO / INPHO
"As for playing prop, it can take a lot from your game because you lose so much energy from scrummaging. If your technique isn't as good as it should be — which mine wasn't — then you end up losing even more energy than you should. When you're so tired, trying to function around the field is really hard. It changes your game completely.
"I think I was 20 when I moved to prop, which was quite late to be doing it. Then you're also going from tighthead to loosehead. I lost a lot of years getting turned inside out. I could definitely have done with more hands-on coaching. Greg Feek [Ireland scrum coach] was brilliant and it would have been good to work with him a bit more."
He adds: "People talking about unfulfilled potential, that's why I try not to go into the past. People who believe that, they haven't walked any steps in my shoes. When you have so many injuries and illnesses, pains and aches, and you're trying to play every week… I loved playing, I'd be buzzing… but those negatives just take from the love of it. You end up being swallowed up by the negativity.
"That's why I try not to look back, because I don't want to go down the route of wondering about what I should have done or could have done. Of course there are things that could have happened differently but you have to live with those decisions."
A decisive moment for Buckley occurred in December 2010, when Munster suffered a 19-15 defeat away to Ospreys which contributed to their failure to reach the knockout stages of the Heineken Cup for the first time in 12 years.
"I was down with the flu all week but I played anyway and made an absolute tit of myself, even though I scored a try," Buckley explains. "I was exhausted and made a bollocks of the scrums. After that game, just before Christmas, the IRFU pulled their offer of a new contract."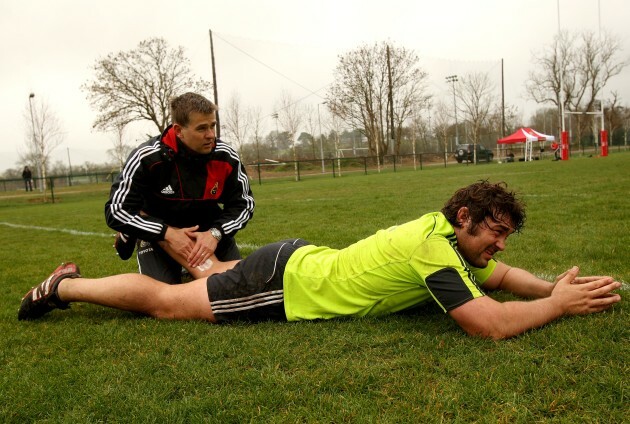 James Crombie / INPHO There was always another stumbling block ahead to try and get over. James Crombie / INPHO / INPHO
Buckley had been on the verge of leaving in the past. Four years earlier, he agreed to join Bath before Munster improved his terms to keep him at home. But this time he was off. There were some attractive offers on the table from abroad, one of which stood out at a time when Buckley's wife — former Ireland international Elaine Collins — was unwell.
Although initially there was frustration over his contract situation with the IRFU, there was a bigger picture to Buckley's decision to sign a three-year deal with Sale Sharks.
He explains: "My wife was very ill. I had options for clubs, but we went with Sale because it was close to the Christie Hospital in Manchester. There was new research going on there with her treatment so she was in the door early for that. She had an unreal response to it. The rugby didn't go well at Sale but the main reason we went there was so that she could have treatment. The rugby was secondary."
Buckley made 59 appearances during his three-year spell with the English Premiership club. The final season proved to be particularly challenging as he spent the majority of it on the sidelines due to a broken leg.
A long and lonely period of recovery and rehabilitation did little for his state of mind. By the time his contract expired in the summer of 2014, Buckley — a few months shy of his 34th birthday — ignored offers from France and elsewhere in England to move home.
"I found that last year really, really tough. I was delighted to get back home after it," says Buckley, who later played a few games of amateur rugby for Kanturk and Shannon before bringing an end to his playing career.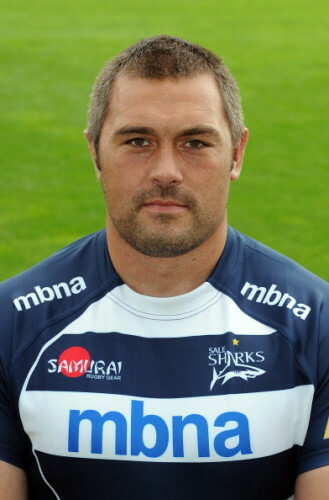 Getty Images With Sale Sharks in 2013. Getty Images
"That [leg] injury finished me eventually but I should have retired anyway. I was in absolute agony. I used to be in the gym every day at 6am, working hard until about 3pm or 4pm. That went on for months. It weighs heavily on the mind then.
"The grá was gone at that stage. Retiring wasn't a big worry for me either. I didn't turn professional until I was nearly 25 so I knew what working life was like from before that. I had worked on sites and stuff. It didn't scare or intimidate me at all. That part of the transition wasn't a problem.
"The overall adjustment was tough. When you're playing professionally, there's a squad of 35 players, a backroom staff, all that support around you. You're in a bubble and everything is taken care of. It takes over your life and controls everything.
"Then when you finish it's just gone completely. The phone stops ringing. This literally happens overnight. You realise fairly quickly that half the friends you had weren't your friends at all. They were just using you for tickets. Half the people I considered friends then haven't spoken to me since I retired. That's the downside of it. That's difficult."
Buckley underwent counselling to help him tackle the tough times in Sale. There were occasions when he suffered anxiety attacks during games which reduced him to tears on the pitch.
Publicly discussing his battle with depression isn't something he has done before. He doesn't have anything to hide. Media attention just isn't something he's programmed to court. In this instance it came to him with a view to reminiscing about the good old days of the past. Doing so isn't possible for Tony Buckley without acknowledging the difficult days of the present.
James Crombie Buckley played his final game for Munster in their 2011 Challenge Cup semi-final loss to Harlequins. James Crombie
Having been diagnosed with major depression, panic disorder and anxiety attacks, Buckley has been receiving weekly treatment for the past year which is gradually bringing him to a better place. He's confident that it will eventually allow recollections of his involvement in World Cups and European Cup finals to flow more easily.
"It's tough, but I'm doing well," he says. "This is my first time putting it out there. Depression is something that you don't realise what it is until you have it. It's been going on for years. It's why reminiscing can bring me into a negative spiral of thought. It can be shocking.
"I suppose it's a hard thing to admit to as well. The difficult thing in a lot of ways is that people don't realise what's wrong with them until it goes too far and then it's out of control. It's a scary place to be.
"Mental health services in this country are severely underfunded. Millions of euro is pumped into road safety campaigns but only a fraction of that is spent on mental health. It doesn't seem to be a priority for the government, but the staff in the public sector are brilliant in spite of that.
"The biggest thing is that you have to ask for help, and you have to be careful about who you ask. You have to talk to a professional, not someone who'll just say 'toughen up, you'll be grand'.
"Go to your GP. For players, there's a massive support network there now. They have psychologists and psychiatrists on board with the players' union so they're well in touch there. For other people, tell your GP your story, let that be your starting point.
"Don't just hold it inside, because it won't pass, it will only get worse. It will take over, you'll go to a very dark place and once you're down there it's hard to get out. Speak to someone before you find yourself down there, and remember that it's a lot more common than people think."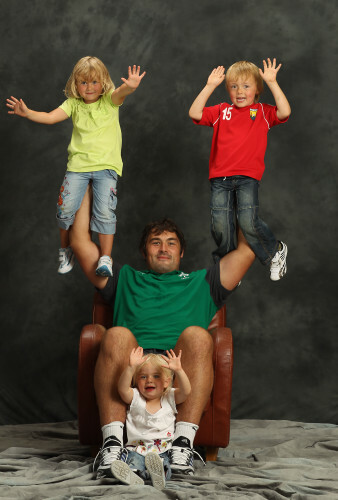 Billy Stickland / INPHO Buckley with his children Ella, Aidan and Alice before the 2011 World Cup. Billy Stickland / INPHO / INPHO
A few hours after our conversation in a Cork cafe, my phone rings. Tony Buckley is on the other end.
"I just wanted to add a couple of things," he says. "I don't want people to think that I didn't enjoy my career at all. That's not what I'm getting at. I have so much good stuff that I can look back on and appreciate.
"I also don't want people to think I have some agenda here. I'm not speaking about this because I'm trying to raise my profile or anything like that. I'll be slipping back into anonymity after this. I didn't come into the interview planning to address this. I just thought I'd raise it while I have the platform, which I'll probably never have again.
"If one person reads this and feels it helps them, that'd be a good thing. That'd be brilliant. That's what it's about. I just wanted to make that clear."
If you need to talk, contact:
Pieta House 1800 247 247 or email mary@pieta.ie (suicide, self-harm)
Samaritans 116 123 or email jo@samaritans.org
Aware 1800 80 48 48 (depression, anxiety)
Teen-Line Ireland 1800 833 634 (for ages 13 to 19)
Childline 1800 66 66 66 (for under 18s)