EDDIE O'SULLIVAN'S BIARRITZ have the joint-largest provisional budget in the Pro D2 this season, according to figures released by the Ligue Nationale de Rugby, who organise the French professional leagues.
With €11.07million, the Basque club lead the way in terms of finance, alongside Perpignan – who were also relegated from the Top 14 last season. Pau, where Simon Mannix and James Coughlan have arrived from Munster, are third with €9.66 million.
Denis Fogarty's Agen, who have signed Rupeni Caucaunibuca on a one-year deal, are fourth with a budget of €8.4million. Meanwhile, Jeremy Davidson's Aurillac are once again well down the list with a figure of €4.36million.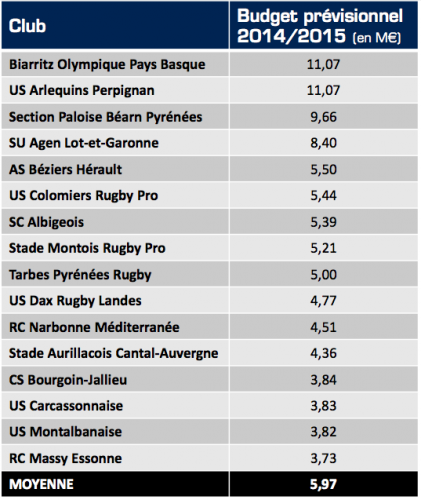 LNR LNR
On average, the Pro D2 clubs are operating with a budget of €5.97million.
In the Top 14, it is Toulouse who once again top the list of provisional budgets heading into the new season. The Guy Noves-coached club have registered a €35.02million total, meaning Clermont sit in second on €27.9million.
It is worth underlining the fact that these stated figures do not include the entire sums some clubs actually spend, explaining why Toulon are third on the Top 14 list with a budget of €25.37million.
With the top tier operating under a €10million salary cap per season, Toulon president Mourad Boudjellal has admitted to channeling some of his expenditure on players through separate companies, thereby reducing Toulon's budget.
The Top 14′s average budget is €21.16million for the 2014/15 season.
LNR LNR
That said, the figures do underline the sheer level of financial backing French clubs are currently enjoying.
As a rough comparison, the IRFU stated an expenditure of €31.8million on 'Professional game costs' in 2013/14, which includes the national team and four provinces. A further €3.6million was put into 'Elite player development', taking into account the Wolfhounds, Emerging Ireland, academies and U20s.