TIME IS OF the essence for any athlete.
For Aileen Morrison, though, every second appears to count double.
The lilting Derry tone that frames every sentence belies a fierce competitor.
A world class triathlete capable of racking up the air-miles of a part time pilot as she traverses the globe for her craft.
Most of her year will be spent in her Lisburn training base with coach, Chris Jones. The rest is consumed by competition. Races which take in all corners of the globe.
St Patricks' weekend past, Morrison was thrilled at the opportunity to return home. A chance to spend some rare hours catching up on lost time with family and celebrating her father's birthday.
However, one stone must see off more than just one bird. A charity 5K here served as the quick reminder that there is no such thing as a day off: only days less hectic than normal.
All that hard work is paying dividend. Morrison has already achieved a guaranteed place at the London Olympics. Well, practically guaranteed, as the 29-year-old explains:
"Well, to be truthful the qualification period doesn't end until June. But because at the end of last year I was ranked 11th and the top 55 get to go, I'm pretty damn certain I'm not going to be overtaken by 35 people."
Olympic qualification for the grueling three-pronged event is based on high and consistent performance over a two year period. For Morrison to have achieved her goal within 18 months is testament to her absolute application.
Confident
The pinnacle of the calendar will not be ranked like that. The Olympic triathlon will all come down to just three events. A stroke of luck, favourable conditions; any bizarre twist of faith could turn her five year plan to dust, or to gold.
The Derry native is modest in her aspirations. Medals are barely in her thoughts. Instead Morrison's focus is trained on the processes involved in success and a ball-park goal for her final placing.
Yet that assured confidence in her voice is absolutely unwavering.
"There is no way I can't realistically finish inside the top 15. I'd really like a top 10 finish that would be really good. Now in saying that, I have medals on the World Series – which shows that I can compete when I'm at my best."
"But everyone's gonna be at their best on the fourth of August" she added, reciting the date like a boxing promoter, as if embedded in her every motion.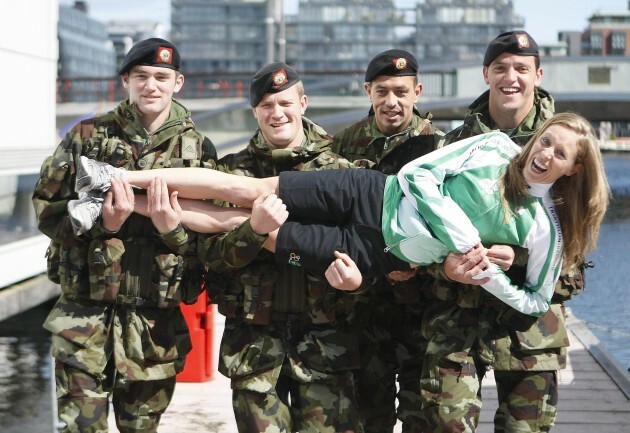 Soldiers from 6th Battalion, Custom Barracks Athlone hold up Aileen Morrison. Niall Carson/PA Archive/Press Association Images

The life of the athlete is hugely punishing, for an endurance racer and a triathlete, that punishment is manifold.
On top of the unforgiving training, the recovery sessions and the grueling races themselves, there are those dreaded long-haul flights.
In a six week period last year Morrison boarded and disembarked 14 planes whilst making her way to events in China, Japan, Mexico and Korea.
'It's all good'
The Algarve is the venue of her race today. In two weeks she will switch hemispheres once again with races in Sydney and Japan. After that her calander for May and June is filled with another handful of events to take her the length and breadth of Europe. All will be fiercely competitive, yet it's all just preparation for the big one. The girl is a glutton for punishment.
"You have to remind yourself that you're very lucky to be doing this. So, it's all good."
Many would balk at the aviation side of the job alone. Morrison is loathe to allow any sympathy come her way. Her blog can become a frostbitten rant of scathing self-criticism. On one occasion she cursed herself for being 'a coward on the bike'.
"Ah well I was that day." she replied to TheScore.ie when her candid appraisal was repeated back, "That was awful. I was a disgrace that day."
Undoubtedly, Aileen Morrison is hard on herself.
"I think you have to be! What if you were a big softy and said, 'uh, I don't wanna go to work today'? You know, this

is my

work and if I didn't wanna get up in the morning at 4:55 to go swimming then I wouldn't do my training.

"If Every time you had a sore head or a sore little finger – some little excuse not to go training – you wouldn't do anything. You really do just have to be the sort of person that just gets on with things, that sees the positive in every negative."
It's the sort of attitude that would be invaluable should she ever revert to her first profession as a PE teacher. Though it's easy to imagine plenty of sullen teenagers pouting and complaining that 'life's not fair' after Ms. Morrison pleads for a little bit of added enthusiasm.
It was only in 2007 when Jones spotted the potential of a trainee teacher and talked her onto the path of a full-time athlete. As a consequence, the body has considerably fewer miles on the clock than many of her peers.
'Totally up for doing Rio'
A landmark birthday will come and go before the looming August D-day comes around, though the Derrywoman is showing no sign of letting up. Not when the knowledge bank of race know-how, results and fitness is constantly improving. Not when Morrison is enjoying herself this much.
Teaching will always be there as a back-up option, but this non-stop life of an elite athlete could easily continue on for another Olympic cycle.
"I should be at my peak by the time we get to Glasgow for 2014 – the Commonwealth Games - after that, Rio is only two years later in 2016."
"As long as I am still enjoying my sport and I'm not injured, I'll totally be up for doing Rio."
Time is on her side.