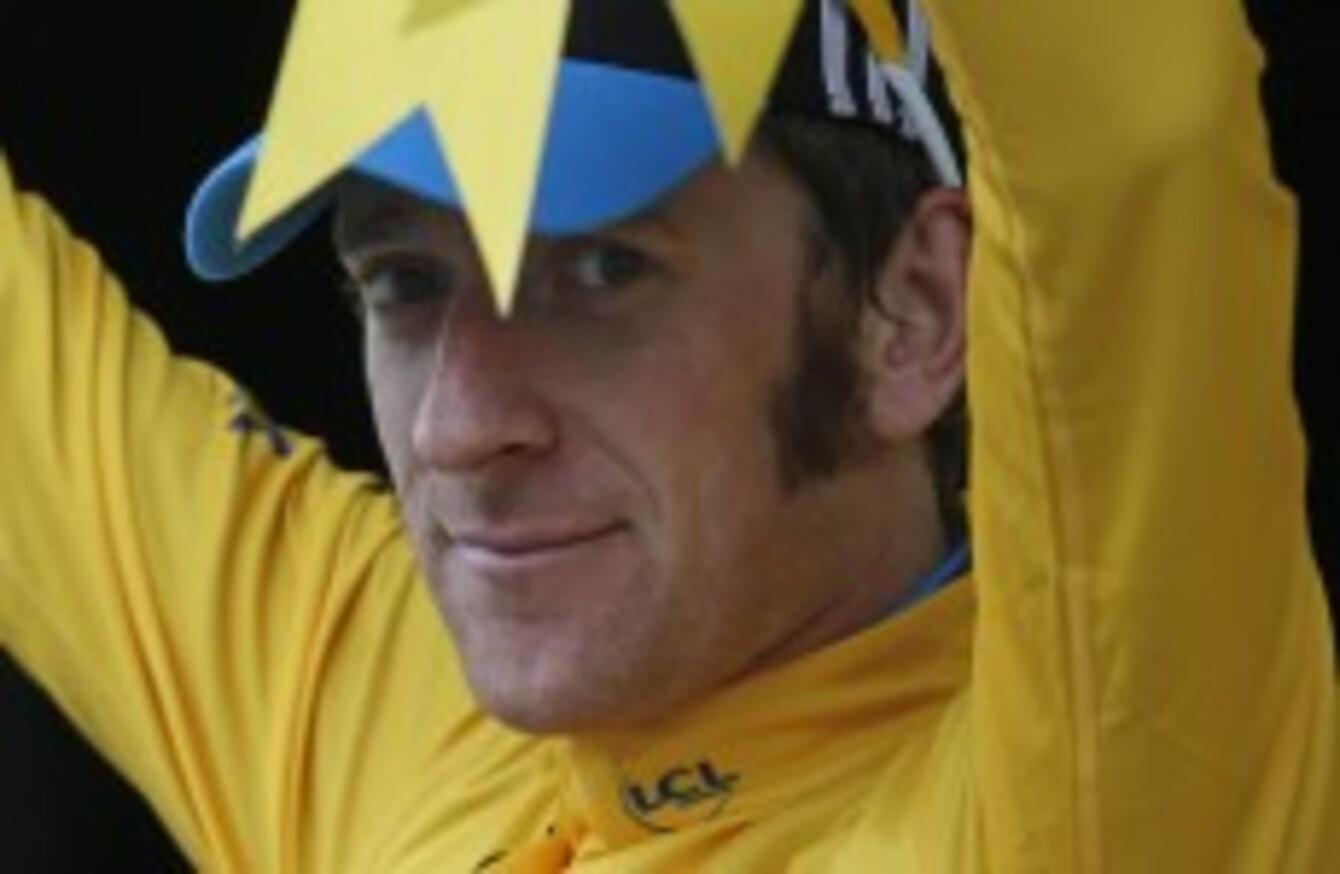 Bradley Wiggins of Britain, wearing the overall leader's yellow jersey, celebrates on the podium of the 17th stage of the Tour de France.
Bradley Wiggins of Britain, wearing the overall leader's yellow jersey, celebrates on the podium of the 17th stage of the Tour de France.
BRADLEY WIGGINS STRUGGLED to keep his emotions in check on the final big climb of the Tour de France on Thursday as his historic yellow jersey success moved a step closer.
But the Englishman finally admitted what most of the experts have believed for days — that only catastrophe can stop him becoming Britain's first ever winner of the world's biggest bicycle race.
Wiggins came over the finish line of the 143.5km stage between Bagneres-de-Luchon and Peyragudes on the wheel of impressive Sky team-mate Chris Froome and just 19sec behind stage winner Alejandro Valverde of Spain.
The pair had led a frantic chase of Valverde on the fifth and last climb but despite missing out on the stage win, their day's work was not without reward.
The attacks that were expected from Italian rival Vincenzo Nibali, who started the day 2min 23sec behind, failed to materialise. Indeed, Nibali lost 18sec to Wiggins after an attack by Belgian rival Jurgen Van den Broeck.
It left Wiggins with a lead of 2:05 on second-placed Froome and 2:41 on Nibali.
With several tricky climbs to negotiate and a finale that barely had a piece of flat terrain, there was always a chance that Wiggins could come unstuck.
But the strategy that his Sky team have used to such good effect since the start of the race in Liege nearly three weeks ago remained unchanged.
Wiggins, who took the lead on stage seven — when Froome won his maiden stage at La Planche des Belles Filles — admitted he can finally see himself as the winner in Paris on Sunday.
"The moment we crossed the Peyresourde, I allowed myself to drift and that was the first time I thought, 'Maybe I've won the Tour today,'" said Wiggins, who finished fourth in the race in 2009.

"Once we saw Nibali had cracked on the top of the Peyresourde, we knew we weren't going to have the danger of him attacking in the final.

"At that point I knew it was pretty much over."
Nibali's Liquigas team had tried in vain to turn the screw on Wiggins and Froome on the way up the Peyresourde, the penultimate of the day's five climbs.
But once a select group of riders began to tackle the climb to Peyragudes with a two-and-a-half-minute deficit to Valverde, they never appeared to be under threat.
Van den Broeck pulled away on two occasions, forcing a split that ultimately proved costly to defending champion Cadel Evans. Having dropped to 8:06 behind Wiggins on Wednesday, he is now 9:57 adrift.
The Belgian tried again with 3.5km to climb, but Froome confidently moved in front, a move which managed to leave Nibali behind.
With Valverde's advantage closing steadily, Froome was itching to go on the attack — both to win the stage and take more time from Sky's rivals.
After discussions between the pair, Froome pulled a few metres ahead of Wiggins on at least one occasion, leaving his team leader apparently in trouble.
Wiggins later explained: "Chris said he wanted to go for the stage and I said yes. We weren't too sure of the time gaps.
"All the way up that last climb, my concentration had gone, everything about performance had gone. Chris was egging me on to take more time and I was in another world, really."
It was arguably Wiggins' loss of concentration and perception of events that cost Froome a possible stage victory.
But the 27-year-old Froome — born in Nairobi to British parents and raised in Nairobi until he was 14 — did not make any complaints.
"The priority has always been to support Bradley, and to defend the yellow jersey," he said.