DUBLIN, NOVEMBER 2011: As Status Quo's classic 'Rocking all over the World' blared over the PA, the Republic of Ireland squad soaked up a lap of honour in front of a delighted Aviva Stadium.
At the end of a gruelling Euro 2012 qualifying campaign, a 5-1 aggregate win over Estonia meant that, for the first time since the drama of Saipan and Suwon at World Cup 2002, the Boys in Green were heading to a major tournament. Without delay, fans started planning the trip of a lifetime to Poland.
In their own words, this is their story.
JP Lonergan: We made the decision to go to Poland long before we had qualified. Naturally we still made a bobbins of the preparations.
Killian Phair: There was a group of eight of us. We had talked about it before, but once Ireland beat Estonia, it was definite then. I was living in London before Christmas and I moved back here to get work; there was another one of the lads living in Canada. We both arrived home for Christmas and just set about getting a plan together. Piece by piece, it came together.
For Fulham FC physios David Cosgrave and Liam Holmes, plans of how they would make their mark on Ireland's return to the big stage were a lot more intricate.
David Cosgrave: When they qualified, we said for a laugh that we'd buy an ice cream van and drive it across as a giant tricolour. I used to work at Stoke so I got the Irish lads at Stoke, Wolves, and Fulham to sponsor it. A few of the others at Fulham — Clint Dempsey, Brede Hangeland, Aaron Hughes — and at QPR chipped in too.
We bought the van for £430. It had 130,000 miles on it and we had to put a new engine in it. It had no windows, a dodgy MOT probably, bald tires, no equipment — it was basically a shell.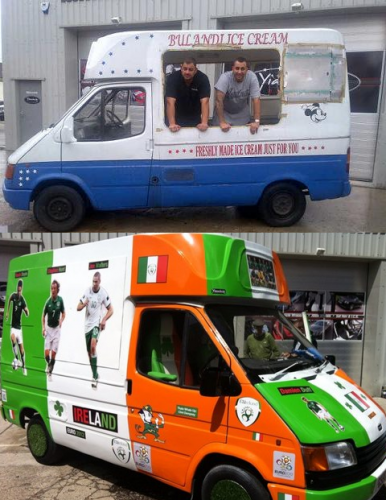 We gave it to a guy in London called Yianni Mize who pimps out Bentleys and Ferraris and Lamborghinis. He put a plasma in it, a DVD, speakers, woofers, two coolboxes, Astroturf, a sofa, leather seats — it was like something  out of MTV. Bobby Zamora and Andy Johnson [ex-Fulham, now QPR] sponsored all that.
Growing up watching The Van, I just thought 'This will be folklore if we can pull it off.'
Three Dubliners — Derek Noonan, David Carberry and Brian Leahy – concentrated instead on letting their clothes do the talking.
Derek Noonan: We were sitting in a pub in Dublin one day thinking what we could do. I was away in February travelling around Vietnam and Cambodia and I knew that you could get cheap suits.
We wanted to get tricolour suits made but that proved a little bit difficult when we got out there because they didn't really have the materials. We found a shade of green down the back of the shop; I don't think any of that roll had ever been cut before. And I'd say the same for the orange;  I think it was the same orange they used for the Dumb and Dumber suits.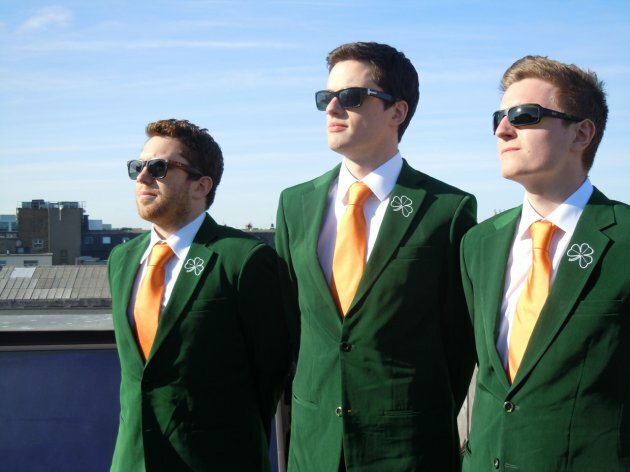 For others, the most important part of their pre-Poland preparation was designing a flag to bring with them. Eoin Cantwell and friends couldn't have imagined the reaction they would get.
Eoin Cantwell: Only the week before we went we decided to make a flag. We had seen a couple of flags and we just thought it would be great if we could come up with something witty – purely with the idea of it being funny if one of our friends spotted us in the crowd, but it got a lot bigger than that.
We're all from different areas of the country so we couldn't exactly put "Thurles boys on tour." We were going to put "Enda Kenny thinks we're at work," but then we said we might as well put the woman who pays the bills on the front of the flag.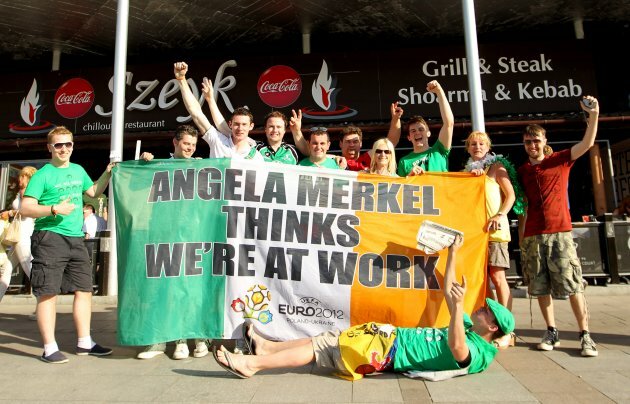 ©INPHO/James Crombie
After what seemed like an eternity of planning, June finally arrived. The road to Poland was a rocky one for one fan, Damien Coughlan from Knocklyon, who left his match tickets in Champion Sports in Dublin Airport.
Damien Coughlan: I was in the cafe at the train station in Poland. The brother rang me to ask "Where are the tickets?" I searched my bag and took it apart and said "Oh no."
There was a thing on the RTÉ news at one o'clock in my dad's name. I knew they were mine then.
Coughlan was eventually reunited with his match tickets, while others picked up cars and campervans and began the drive from London, Amsterdam, Berlin, Bremen and Prague to Poznan for Ireland's opening game against Croatia on 10 June.
David Cosgrave: It took us 20, 22 hours of straight driving to get from London to Berlin. The next morning I woke up and drove three hours north on the ring road instead of going east. The SatNav didn't recognise Germany; it just stopped working. Germany didn't exist. It took us about eight hours to get to Poznan because of my detour.
Derek Noonan: Being the geniuses that we are, we'd thought about everything down to the fine details of the piping on the inside of our suits. But we got to the Polish border and we realized that we'd no Polish money whatsoever.
So we parked the camper at the side of the Autobahn and sent David out to stop cars before they passed through and try to get them to exchange euro for zloty with us. In the end, a guy just came out and let us through.
Some ex-pats like author Damien Moran, who now lives in Warsaw, didn't have far to travel to the party.
Damien Moran: My brother came over from Philadelphia on the 8th and we went drinking into the early hours of the morning before getting the train from Warsaw to Poznan. There were throngs of fans there when we arrived.
Killian Phair: The centre of Poznan was just an unbelievable atmosphere. All you could see was green. We didn't see too many red and white chequered flags or shirts.
Poznan's main square, 10 June (YouTube Credit: franknoc)
JP Lonergan: We went to the Dubliner pub where it was promised that they would have Cork v Kerry in the Munster Championship. And they did – on the radio. I was damned if I was going all the way to Poland to listen to the GAA on the wireless, so I enjoyed the outdoors and got the result off a fellow Rebel later on. We won – but it was not a feeling I got to get used to.
With kick-off at 8.45pm local time, both sets of fans slowly began to make their way from Poznan's main square to the ground, mainly via tram. 4FM DJ Declan Pierce was among them.
Declan Pierce: It was absolutely jammed beyond belief. It's the one thing I think Poznan wasn't ready for; the amount of fans that headed for these trams.
The atmosphere was serious craic. The Croatian fans were singing these particularly aggressive heavy chants and we tried to sing back the usual stuff but got shouted down.
One of the lads beside me started the song from 'Home and Away' and around 20 fellas joined in so I took my phone out and videoed it.
(YouTube credit: declanpierce)
I thought it was very funny and told my girlfriend about it the next day. My da was away in Spain, so I put it up on YouTube because it'd be easier than emailing the whole file to him. I thought it would get about five views but I think it's at about 90,000 at the minute.
Also at the Croatia game was Corkman Conor Cunningham, who made headlines when he dressed in an Estonian tracksuit to blag his way into the first leg of Ireland's crucial play-off.
Conor Cunningham: I've been to tonnes of football matches and even a Champions League final but this was ten times better than anything I had seen before. We were in the thick of the chanting and, at one stage I remember 100 lads nearly stripped naked after all clothing that was taken off "for the Boys in Green."
Killian Phair: After just two minutes the realisation came that this might not be plain sailing as some had hoped.
Eoin Cantwell: You'd spend a couple of hours in a downbeat mood, but after a few hours it would pick up again. We'd go back to the square and just hang up the flag and the craic  would be mighty with people coming over, chatting and taking pictures. We were disappointed with the results, but there was no point in wallowing.
The @teamtrapp girls — Claire Courtney, Elaine Kellegher and Caoimhe Duffy — with the Irish team's translator Manuela Spinelli.
Dreams of the quarter-finals were dealt a serious blow in a 3-1 defeat, but hope lingered as the party headed to Gdansk for Ireland's second game against Spain. For David and Liam — now joined in the ice cream van by Jamie Duff, Damien's brother — the trip north was anything but straightforward.
David Cosgrave: On the way to Gdansk, we had a rear tyre blowout so we crashed twice. We went over onto the other side of the road, we nearly got hit by a car and a lorry, and then I chucked it into a ditch.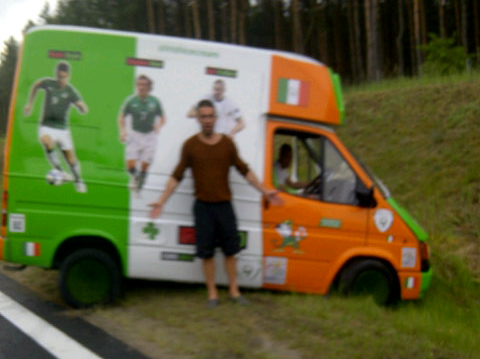 A convoy of Irish campervans stopped — there must have been about 10 lads — and they all got out to push us back onto the road and then drove in a convoy for five miles with us in the middle in case something serious had happened. Then this geezer put us in the back of his van and drove 140km to Gdansk with the ice cream van on the back of his pickup.
Our exhaust fell off as well so we had three mechanicals in the one day. It was like something out of Final Destination. The Evening Herald met us and they put it on the front page: DUFF'S BROTHER CHEATS DEATH. He was asleep in the back, he didn't even know we'd crashed twice.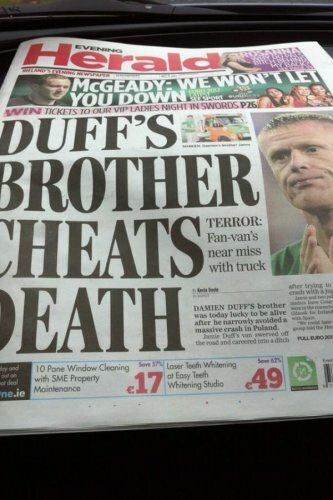 Back on the pitch, the disappointment continued as Ireland lost 4-0 against Spain and became the first team eliminated from Euro 2012. But the next day, all the talk was of the fans who wowed Europe with a defiant chorus of The Fields of Athenry — and stirred an angry reaction from Roy Keane.
David Cosgrave: Romanticism in the shadow of realism is a really hard thing to take. Everyone was being romantic about it but you have to be realistic. There was no chance that Ireland were getting a point without something amazing happening.
Eoin Cantwell: It was a very spontaneous act and I think it just showed… we were resigned to it then. We knew we were going out and we recognised that we had just been outclassed and there was nothing else we could do.  I understand what [Roy Keane] is saying, but from our point of view there was no point booing the team off the pitch.
(YouTube credit: dankerins)
Ger Keville (You Boys In Green supporters group): You are always going to get a couple of first-timers away for a jolly-up but many seasoned fans who have been travelling to away games for years have said it was one of their stand out moments. Roy Keane said we have to get real and not just go for the sing-song but we were well aware we were beaten. You support your team no matter what.
Damien Moran: I didn't really sing the Fields of Athenry for the lads on the pitch. It was for all those Irish who have emigrated around the world and were there on the night to support their country heading back to the US, Australia or wherever else they travelled from.
For Killian Phair, who bought his match ticket from a Spanish fan that afternoon and was sitting behind Iker Casillas's goal, the game ended with a "one-in-a-million" piece of luck.
Killian Phair: We were three rows from the pitch next to one of the corner flags. When the game ended, he turned and threw his gloves in behind the goals where there was another section of Spanish fans were.
When we saw that happening, one of the lads beside me went down with the crowd to the hoardings. I just said to myself, "Ah, there's no chance of catching it, I don't want to get trampled on as well."
So I kind of took a step to the side and he threw the jersey straight into my hand.
As soon as I got it, I sat straight down in the seat and stuffed it up the jumper. I was expecting the Spanish fans to be ripping and tearing at it and two of the lads stood either side of me to act as bodyguard, but all anyone wanted to do was shake my hand.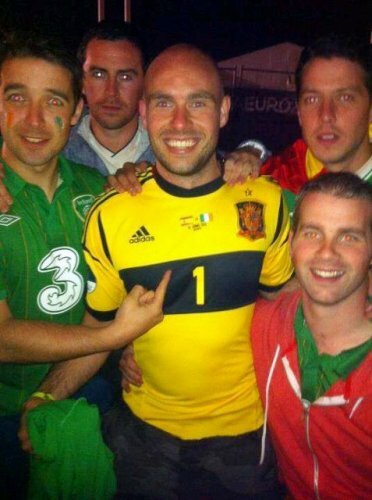 JP Lonergan: That night we found a pub where lads were buying full bottles of vodka and leaving half or so behind, so we found homes for the mistreated grog. I planted the Ireland hat — that I'd stolen anyway — on the head of a Polish girl working in the campsite, and gave her the peck on the cheek from a tricolour-faced Corkman that every Gdansk lass dreams of.
Jamie Duff plays Rattlin Bog on the Euro guitar (YouTube credit: podgemckenna)
And so Ireland's party came to a premature end that night in Gdansk, but there was still time for one last hurrah before the final game against Italy in Poznan.
Eoin Cantwell: We had gotten the flag signed by the team and that had added a bit of value. But then we had it hung up in town and we looked around and there was a woman with her marker out ready to add her name to it. She thought it was all fans who had signed it so there was a bit of a long 'noooo' and dive moment trying to catch the marker off her.
Conor Cunningham: After the whole Estonia thing, I decided to try my luck at the Ireland team's hotel. My brother had arrived and I said we'll go into the reception and see if we spot any of the players.
So we wandered in and jumped into the lift — who then gets in but none other than John O'Shea and Kevin Doyle.
We met a couple of other lads and Stephen Hunt was even trying to take the credit for getting me onto the pitch in Tallinn.
Killian Phair: When I was walking around Poznan I found a match ticket on the ground. There was an Irish name on it so we took it up to the 2FM Roadcaster the next day to see if we could find the owner. They broadcast it over the air but nobody ever came to accept it.
On the tram out to the game there was a Polish girl in amongst this carriage rammed full of Irish fans. She was just on her way home from work, so I just said to her if she wanted to go to the game, here's the ticket.
Ireland's campaign ended the way it had begun: in disappointing defeat. Italy won 2-0, the party was over and for Trap's Army, it was time to go home.
David Cosgrave: That night we went back to the team hotel and brought our Euro guitar. We'd a jamming session in the back of the van. All the players signed the inside of the van with a little message.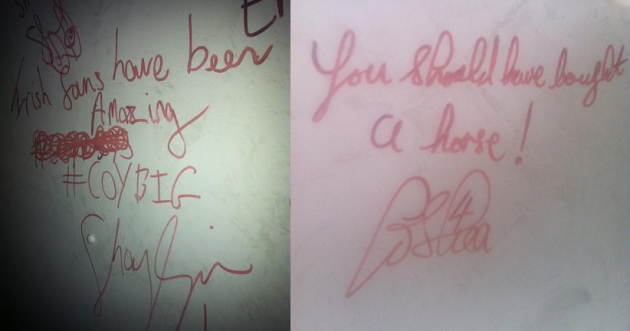 That was the end. It was good to see all the lads and have a drink because they're our friends and it was over for them.
We got all the players to sign the guitar and we put some stickers on it. The players had a jamming session with it so we decided we'd auction it for Temple Street Children's Hospital. Hector had an auction and we got €1600 for it.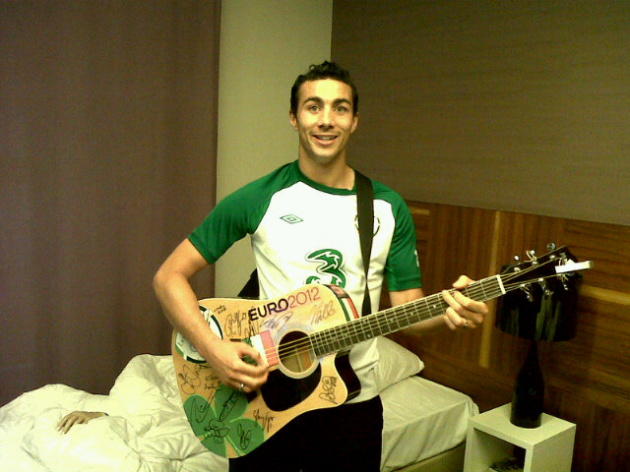 Derek Noonan: We came out of this place at about five o'clock in the morning and we were confronted by this wall of Polish skinheads outside. One of them came over to a lad who was travelling with us, James, and reefed the Polish scarf from around his neck and went back to his group twirling it and singing away. Then the main guy in the gang stepped up to him and yelled in his face.
Very quickly, the guy turns on his heels, gets the Poland scarf and puts it back on James without saying a word and walks away.
Killian Phair: There were eight of us there together. Eight lads who grew up together had played football together and it's just great to have some of those memories for the rest of our lives
David Cosgrave: I don't think I can ever do anything bigger than this. You can't top it.
JP Lonergan: We all got home to find out that the finalists had already played each other – before we even gave away the ball for the first time against Croatia. None of it mattered, but I'd do it all again tomorrow.
– As told to Adrian Russell, Ben Blake, Hugh O'Connell, Niall Kelly, Sean Farrell and Tony Cuddihy. This piece was first published on TheScore last summer.