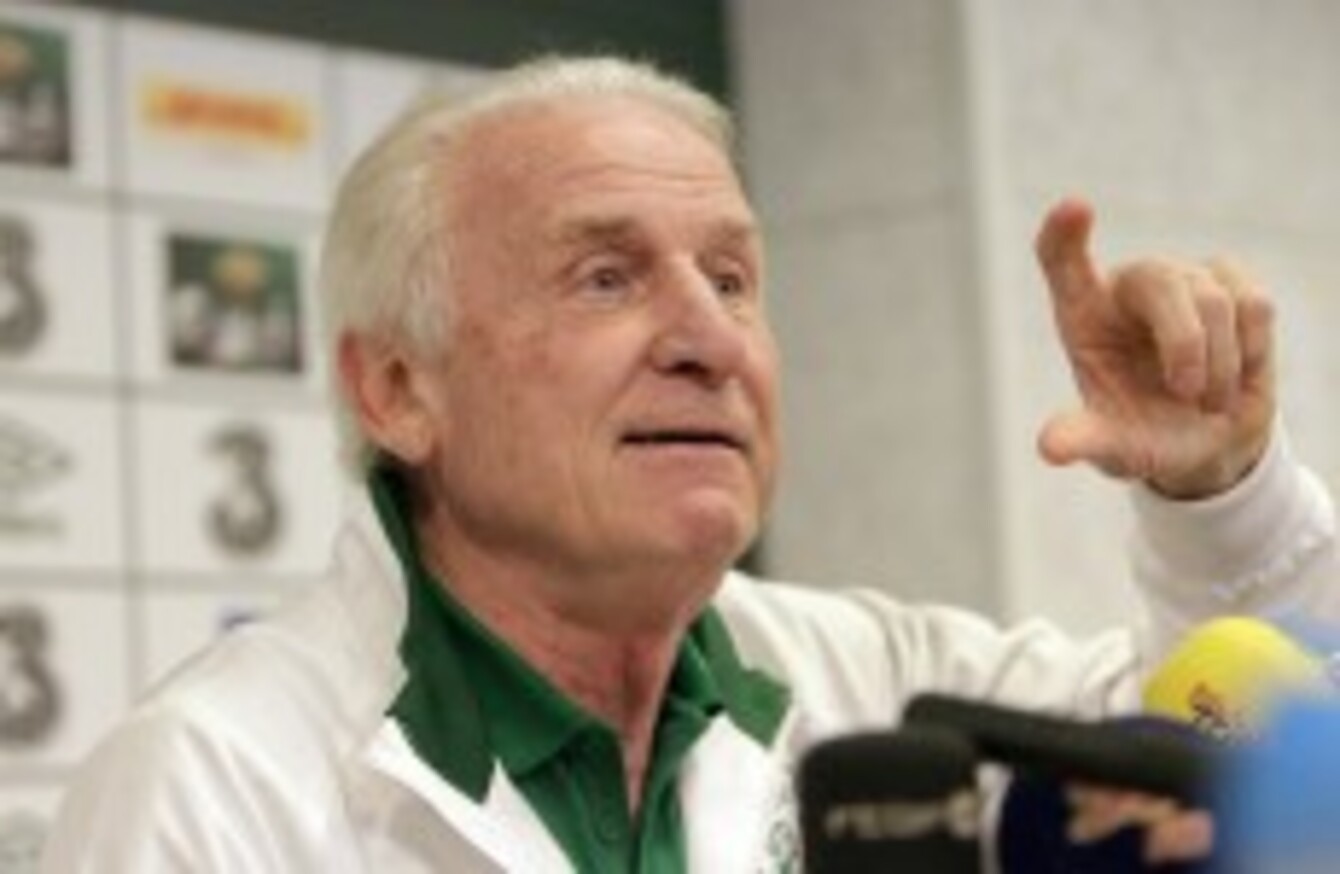 Ireland manager Giovanni Trapattoni in Gdynia today.
Image: INPHO/Donall Farmer
Ireland manager Giovanni Trapattoni in Gdynia today.
Image: INPHO/Donall Farmer
GIOVANNI TRAPATTONI PREACHED positivity at Ireland's training camp today — but doesn't appear to be even considering the proactive change so many of the country seem to want him to make: James McClean.
While insisting that the Croatia performance was, on reflection, much more positive than he initially thought, the manager said he had to think about any changes for Thursday against Spain but that McClean remains too inexperienced to cope with such a situation.
On a similar note, Trapattoni also explained that he put Simon Cox on ahead of both McClean and Stephen Hunt against Croatia because he felt the improvised winger was more likely to score.
"This morning, I watched our game with more calmness and came to the conclusion that we played good, of not the same level [as previous games].
"Obviously, the performance of Croatia was superior to us but our performance was more than positive, because this detail, the first goal, was a mistake and we also had the opportunity to achieve the draw. We deserved [the draw]. The second goal, I remain of the same opinion: offside. And the second half, there was a also a penalty against Robbie Keane.
"This [first] goal [by Mario Mandzukic] was very heavy psychologically. Maybe our confidence, after 14 games without defeat… we were disappointed about what happened. We went down psychologically at this moment."
And, although Trapattoni said that he must "think about" his team, he did insist faith must still be kept in the framework that got Ireland this far, despite Sunday's reality check.
"A manager must be concerned about the psychology of the players. I have to think about confidence, trust, belief. I must understand."
Trapattoni, however, still can't seem to understand the clamour for McClean. When asked by an English journalist whether the Sunderland winger was under consideration, he merely responded "are you his friend?"
"In this situation, we need experienced players. You can understand when the young come, there is more tension. It's important to give them a quiet opportunity, not when we need a performance, under pressure.
"It's a heavy weight on his shoulders.
Forward thinking
As for Cox's introduction on Sunday, Trapattoni cleared up some of confusion.
"I waited for this question. Remember when you asked why I take five strikers, I say Cox can play on the wing.
"Our wingers do not score many goals. How many goals have [Aiden] McGeady and [Damien] Duff scored? They are wingers. You need another level. In this moment, I thought Cox was more likely to score.
"I needed to recover the goal, so I put Cox on the wing."
Finally, Trapattoni was asked how he sees Spain lining up.
"I think, after I saw this game, maybe they will play with [Fernando] Torres but, because Italy has good defence he played with these players, small. He changed when he understood, in this moment, the necessity to put in front a striker.
"I don't know which team he will play against us. We know their quality."
Trapattoni also refused to many issue of the heavy Gdansk pitch which the Spanish players so complained about.
"You only know if it's an advantage if you win," he added.