THE BELFIELD TRACK in UCD was an integral part of the history of Irish athletics.
For years, it was not only a favoured area for the Irish athletics community to regularly congregate, but also a place where world records were broken, where some of Ireland greatest ever athletes such as Eamon Coghlan and Ray Flynn trained, and which firmly established UCD as the place to be for the country's top emerging stars in the sport.
Ever since the mid-2000s, there had been continual talk of UCD moving the track away from its location at the time and closer to the college's Clonskeagh entrance.
However, suddenly, in November 2011, the track was shut down with little warning. "Health and safety" grounds was the official reason cited for the decision, with talk of an additional car park being planned to take its place in the university.
Less than 24 hours after the announcement, a construction crew moved in on the track and dug trenches in its hallowed ground, thereby preventing any possibility of it being used in the near future.
The athletics community subsequently protested such behaviour, setting up a 'Save Our Track' campaign that raised awareness of the situation. This uproar prompted Brian Mullins, head of UCD sport, to issue an apology in an interview with RTÉ Radio One for the way in which the track's closure was handled.
A working group, which included one of the most vocal critics of UCD's behaviour at the time — Senator Eamon Coghlan — was established by the university with a view towards addressing the issues that had been raised and attempting to alleviate some of the concerns surrounding it.
However, with almost two and a half years passing since the track's closure, not much has changed. The working group has achieved little and there is no sign of the long-promised new track, estimated to prospectively cost around €1.5 million, with UCD's reputation as Ireland's premier athletics university damaged considerably as a result.
The college's athletes are now required to travel the significant distance to Irishtown in order to train, a serious inconvenience for the recent top-class athletes that they continue to produce including Sarah Lavin, Mark English and Ciara Everard.
Unlike several smaller college's equivalent teams, UCD AC — the most successful club in third-level history – no longer has a local base with adequate training facilities.
GOAL Humanitarian Organisation / YouTube
Protests at the university's failure to satisfy the concerns of the athletics community continued sporadically. Last year, the journalist Lindie Naughton wrote a blog mourning the track's destruction and condemning those who implemented it. In it, she wrote:
"Now riddle me this: in what particular universe does it make economic sense to build a new track at an estimated cost of €1.5m when refurbishing the old one would cost as little as €100,000?
"Athletics Ireland: why did you stand by and let this happen? With the Irishtown track, already vastly over-used, about to shut down for repairs,  Dublin southside clubs have nowhere to go.
"Young athletes, their parents and coaches now have to drive to Tallaght, Santry or Greystones if they are to train. Hammer throwers, who were the most regular of regulars at Belfield, have the choice of Santry or Greystones.
'They cut off my right arm when they shut down that track,' said one of our most distinguished throws coaches to me recently."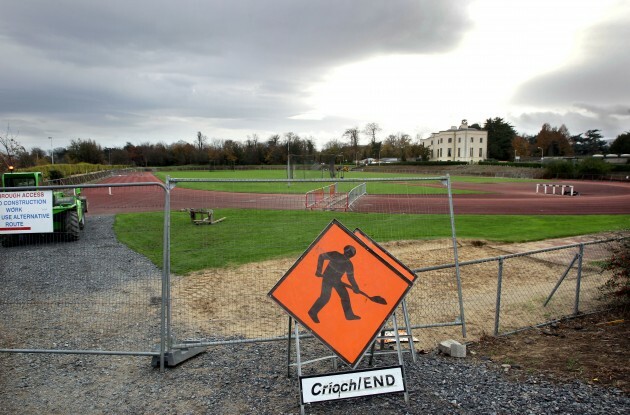 Cathal Noonan The UCD athletic track pictured after its closure in November 2011. Cathal Noonan
TheScore.ie attempted to contact both UCD authorities and one of the members of the working group to respond to the issues raised by Naughton and several other critics, but multiple emails went unanswered.
However, Jamie Davis, Chairman of UCD Athletics, was willing to speak with us about the track. And unsurprisingly, given that he was one of those who helped establish the 'Save Our Track' campaign, he echoes much of the frustration expressed by the rest of those affected by this debacle.
"There's a lot of history to the track, so myself and a couple of others decided to get together and set up a table in the main Arts building in UCD and we just started getting signatures," he says.
"We got a petition going and there was a buzz created on Twitter at the time. The likes of Paula Radcliffe and Sonia O'Sullivan were tweeting about it."
Nonetheless, while a track remains unavailable to this day, Davis insists that the campaign was not a failure.
"The campaign was about creating awareness of the situation and how it was handled. I don't think the track was ever going to be saved. When an organisation like UCD makes a decision like that, it takes a hell of a lot to change it."
Davis, while acknowledging that the track is a huge loss, is somewhat less vehement in expressing his disapproval compared with certain other critics.
"This wasn't a decision made by UCD Sport — this was higher up in UCD," he explains. "To be fair to UCD Sport, they could see where we were coming from. If they were to make the decisions, they wouldn't have closed the track.
"They [initially] supplied buses and paid for them, and they still pay for bookings in Irishtown. At the time, it was an inconvenience, but incoming students don't mind carpooling out.
"There hasn't been competition on the Belfield track in a long time, so they don't know much about the Belfield track."
Davis also plays down the suggestion that UCD's athletes' performances have been significantly affected owing to recent developments, but agrees that the college may no longer be as enticing a proposition as it once was for young athletes.
"We had two UCD athletes running in the World Indoor Championships. A lot of people have come on in the last few years. So I wouldn't take that as fact that performances have suffered as a result of the loss of the track.
"I will say that UCD probably isn't as attractive as it was for a track-and-field scholarship. The first time I was in UCD was on a track-and-field scholarship. Even though I was based on the Northside, I thought: 'Well there's a track in UCD, so I can do a few sessions'.
"A lot of students now, coming up from the country, they did have the track to train on, but not anymore. It might affect a lot of athletes in making their CAO choices."
However, Davis still feels that the college can ultimately attract top talent despite this one inconvenient caveat, maintaining that UCD remains "the best sports campus in the country".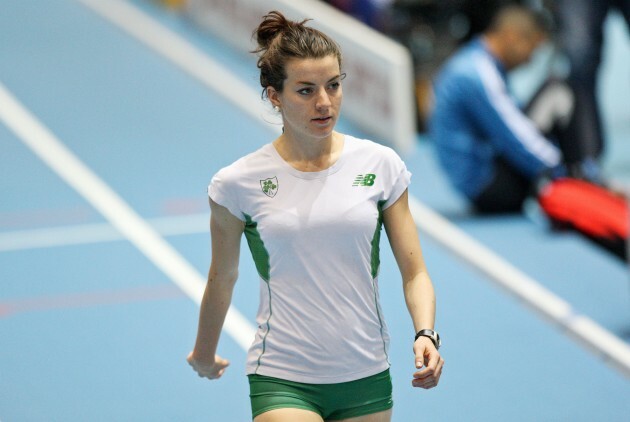 Adam Jastrzebowski / Foto Olimpik Ciara Everard is one of the college's top athletes who has been obliged to train at Irishtown Adam Jastrzebowski / Foto Olimpik / Foto Olimpik
"I've had questions from a couple asking what do I think about going to UCD," he says. "And I've said there's no track there on campus and that you'll have to travel to either Santry or Irishtown.
"But you'll still get a lot of people applying to UCD, because there's a damn good coaching structure there under James Nolan — an Olympian and medalist at the European Indoor Championships. I'd be confident of the future, but a track would solidify that future. I'd have no worries at all if there was a track there. But the way athletes are, they'll find anywhere to train."
He continues: "I think the issue of the track is still important to highlight. It's not like we've forgotten it in UCD. It's not like we kick up a fuss in two weeks just because we're students.
"It's sad. I'm sure the GAA community wouldn't like to see Parnell Park shut down, or Tolka Park in football. These are historic places — there's a lot to be said for revamping them and putting the money into them rather than putting a fence up and sticking a lock and chain around them."