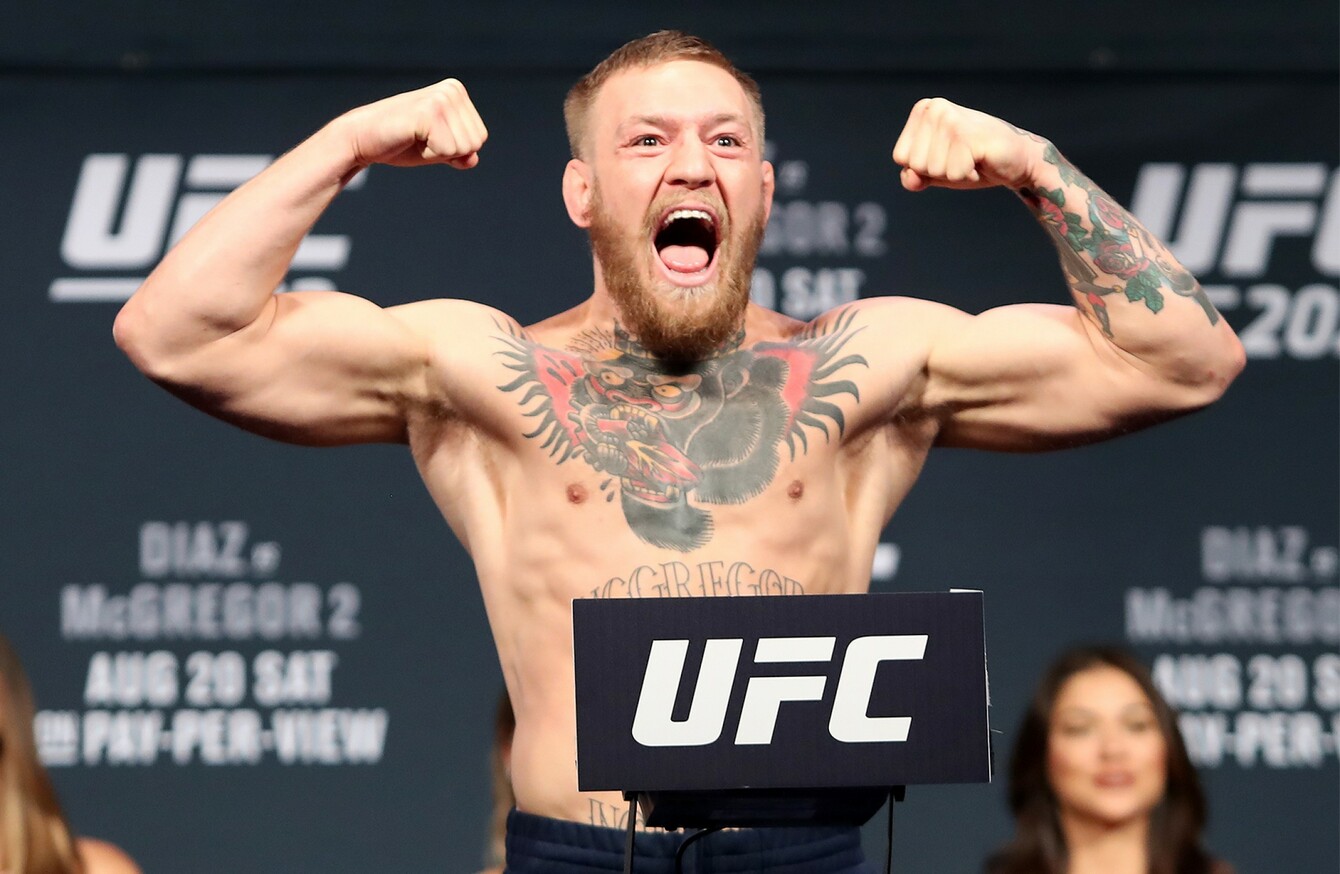 UFC featherweight champion Conor McGregor.
Image: Tom Hogan/INPHO
UFC featherweight champion Conor McGregor.
Image: Tom Hogan/INPHO
THE SHOW IS now just over seven weeks away, but the UFC's New York City debut is still without a main event.
In recent weeks, the signs have been pointing to a lightweight title bout between defending champion Eddie Alvarez and featherweight title-holder Conor McGregor headlining the bill for UFC 205 at Madison Square Garden on 12 November.
Veteran MMAFighting.com reporter Ariel Helwani said earlier this month that the fight is in the works, while UFC commentator Joe Rogan added fuel to the fire on his podcast over the weekend: "I know a little something that I wish I could tell. It's an interesting fight… if it happens — allegedly at Madison Square Garden, allegedly in a couple of months."
John Kavanagh, McGregor's coach, told The42 last month that a shot at the lightweight title is something he's also keen on: "My own preference would be a lightweight title bout against reigning champion Eddie Alvarez next."
With the clock ticking and the UFC eager to reveal the main attraction before putting tickets on sale, an announcement seemed imminent. But the plot thickened overnight when Alvarez took to Twitter to send a message to McGregor: "Let's do this. I'm ready."
Many interpreted Alvarez's tweet as confirmation that the fight was set to go ahead. However, UFC president Dana White then used Twitter to dismiss that possibility. According to White, Alvarez — who dethroned Rafael dos Anjos in July — will make his first title defence against Khabib Nurmagomedov, the undefeated Dagestani wrestling ace who's ranked as the number one contender in the 155lbs division.
Nurmagomedov thanked White for a "very generous birthday gift" and urged Alvarez to take the fight, claiming that the only stumbling block is the champion's hesitancy in signing the contract: "You don't have much time. Let's do this."
McGregor's fans will hope that the current situation regarding his next fight won't end up resembling the dispute that saw his rematch with Nate Diaz postponed earlier this year.
When the Dubliner refused to travel to Las Vegas for media duties, the UFC retorted by pulling the bout from July's landmark UFC 200 card. The fight eventually took place last month at UFC 202.
If McGregor and the UFC haven't yet been able to agree terms in their negotiations for his involvement at UFC 205, the Irish fighter's reluctance to relinquish the featherweight title he won last December is likely to be a key issue.
McGregor appeared to offer a typically cryptic take on the situation this morning…