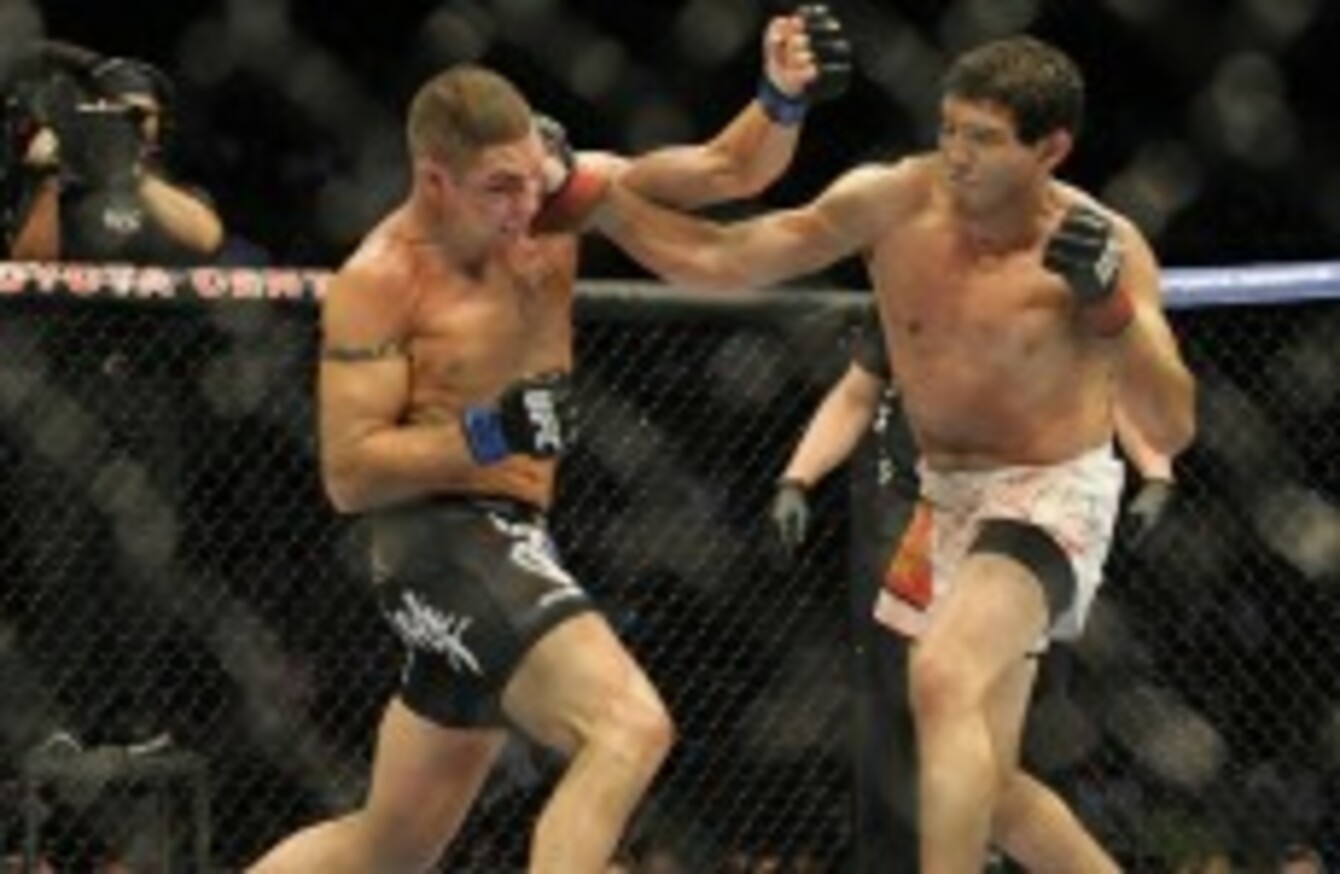 Gilbert Melendez, right, and Diego Sanchez during UFC 166.
Image: AP/Press Association Images
Gilbert Melendez, right, and Diego Sanchez during UFC 166.
Image: AP/Press Association Images
WORDS SUCH AS 'fair', 'earned' and 'deserved' have been bandied about with increasing frequency in UFC circles as of late.
No more so than when discussing a certain Conor McGregor, and the legitimacy of his claim to a shot at the featherweight title.
The UFC, at least publicly, has always presented itself as a meritocracy — that the single greatest imperative to a fighter's success is his or her performances inside the Octagon. However, the evidence to the contrary is quite compelling.
Had McGregor been named the No 1 contender after his victory over Dustin Poirier, the Dubliner would by no means have been the first beneficiary of some of the promotion's more dubious match-making.
The two most obvious examples in recent times are those of Chael Sonnen and Nick Diaz. In Sonnen's case, the entire debacle was truly laughable. Light-heavyweight champion Jon Jones was scheduled to defend his title against Dan Henderson at UFC 151, but the challenger was forced to withdraw due to injury. Sonnen, then a middleweight who had lost a title bout to Anderson Silva in his most recent outing, offered to fight Jones on eight days' notice. Jones refused, the UFC were forced to cancel an event for the first time ever and Dana White went ballistic.
True to form, Sonnen launched an extensive attack on Jones via social media. Lyoto Machida was unwilling to take another fight with Jones, so the brass gave Sonnen his title shot, as well as a coaching stint on TUF 17, opposite Jones.
So, to be clear, a middleweight coming off a loss, with no wins at 205lbs, was matched with the world's greatest fighter. Why? Because between what a practiced polemic such as Sonnen was likely to say during eight weeks of reality TV and in the lead up to the fight, the UFC had themselves a must-see freak show. It would take Jones a little over four minutes to pound Sonnen into dust at UFC 159.
Source: 2013soortsstar/YouTube
The case of Nick Diaz was a little easier to stomach, though barely. In 2011, Diaz vacated his Strikeforce welterweight title and made his second return to the UFC. He was granted an immediate crack at Georges St Pierre's crown, which was then taken from him after he failed to meet media obligations. His shot was given to Carlos Condit, and Diaz was paired with BJ Penn.
An injury to GSP meant his bout with Condit was cancelled, so Diaz and Penn headlined UFC 137. Diaz battered a brave, but often hapless Penn for three rounds. In his post-fight interview, he claimed St Pierre was faking the injury, which irked the champion so much that he demanded he face Diaz next. The fight was announced at the subsequent press conference
However, when GSP then suffered a torn ACL, Diaz and Condit squared off at UFC 143 for the interim belt, with the latter winning by unanimous decision. Diaz then tested positive for marijuana metabolites and was suspended from competition for a year. Yet, after he had served his ban, his next bout was against GSP.
SEE SPORT
DIFFERENTLY
Get closer to the stories that matter with exclusive analysis, insight and debate in The42 Membership.
Become a Member
Source: Madmaz23/YouTube
Again, clarification feels necessary. Diaz was 1-1 since returning to the UFC, his lone victory was against a natural lightweight whose best years were long behind him and he had recently been found guilty of the misuse of drugs. The UFC, in their infinite wisdom, knew that Diaz's surly demeanour, particularly in contrast with GSP's all-round good guy image, made for marketing gold. The fact that there were a number of fighters more deserving than Diaz, appeared to be of little relevance. St Pierre defeated Diaz via unanimous decision at UFC 158.
Which brings us to Gilbert Melendez, who will look to usurp lightweight champion Anthony Pettis at UFC 181. Unlike Diaz and Sonnen, he is not a manufactured antagonist spuriously jettisoned into a favourable position because the UFC require him to generate popcorn sub-plots to distract the punters from a shoddy card. That said, Melendez has roughly the same entitlement to his title shot as Diaz and Sonnen had to theirs.
Saturday night will mark Melendez's third appearance inside the Octagon and his second title fight under the UFC banner. He came to the promotion early last year, having enjoyed the longest reign of any other Strikeforce lightweight champion. He was widely considered the best 155-pounder plying his trade outside of the UFC.
In his first bout, Melendez took on then champion Benson Henderson at UFC on Fox 10 – marginally losing via split-decision. Next, at UFC 166, he fought and beat Diego Sanchez in one of the most over-rated fights of 2013. Sanchez was considerably outside the division's top 10, but his willingness to offer up his head to opponents for target practice, always makes for interesting fare.
Early this year, Melendez began contract re-negotiations with the UFC, which initially led to an impasse. Dana White told Melendez he could consider other offers, and he signed a preliminary contract with Bellator, which the UFC were entitled to match. Conveniently for Melendez, these developments became public knowledge.
Source: UFC - Ultimate Fighting Championship/YouTube
This put the UFC in somewhat of a quandary. If Melendez left, they faced the ignominy of losing a top fighter to a rival promotion, albeit an inferior one. However, they risked setting an unsavoury precedent by meeting his demands. Other employees might take it as a sign of weakness and use similar tactics when looking for a new deal.
Surprisingly, not only did the promotion at least match Bellator's offer, they also made Melendez the No 1 contender and a coach — opposite Pettis — on the still-airing TUF 20. The move put the lightweight division in a state of limbo.
Melendez penned the deal in March, when it was still unclear at which time Anthony Pettis would return from injury. Thus, for the past nine months, the weight class has been on hold and its occupants have been unable to make tangible progress.
To be clear, Melendez is blameless in all this, as were Sonnen and Diaz. They have every right to maximise their earning capacity in any way they see fit. The problem is that the UFC is masquerading as something it's not. Claiming that the trajectory of a fighter's career path is solely based on fights won or lost is to perpetuate a bare-faced fallacy.
Granted, they too are perfectly entitled to run their business in a manner that will yield them the largest possible profit margin. But it's high-time to stop treating the rest of us as if we were born yesterday.