As always, we'd love you to get in contact, so send us your thoughts by emailing paul@thescore.ie, via Twitter@thescore_ie, find us on Facebook, or leave a comment below.
You may need to refresh to see videos and images.
Ulster 9-10 Northampton (FT)
Hello, and welcome to the liveblog for today's game between Ulster and Northampton. Here are the teams:
Ulster: J Payne; T Bowe, D Cave, P Wallace, A Trimble; P Jackson, R Pienaar; T Court, R Best, J Afoa; I Henderson, D Tuohy; N Williams, C Henry (capt), R Wilson.

Replacements: N Brady, C Black, R Lutton, N McComb, R Diack, P Marshall, L Marshall, C Gilroy.

Northampton: B Foden; K Pisi, G Pisi, T May, J Elliott; S Myler, L Dickson; S Tonga'uiha, M Haywood, P Doran-Jones; S Manoa, C Clark, T Wood, P Dowson, G-J van Velze

Replacements: R McMillan, A Waller, B Mujati, M Sorensen, C Lawes, M Roberts, R Lamb, L Burrell.
Working for Sky, and no doubt disappointed with what happened earlier, Brian O'Driscoll says Ulster have improved considerably since last year.
He compares Jared Payne favourably to Isa Nacewa.
Northampton coach Jim Mallinder says his side want to "put things right" and suggests that they need stop Ulster's "defensive system from working".
The Ulster side have arrived onto the field to rapturous applause and the familiar sounds of 'Stand up, for the Ulster men'.
It's a promising start for Northampton, who are deep in opposition territory already.
They're evidently keen to make up for last week's sub-par performance.
More pressure from Northampton in the Ulster 22, however an attack becomes overly elaborate and it's ultimately passed out of play.
Shortly thereafter, Ulster concede a penalty in front of the posts.
Ulster 0-3 Northampton: Myler makes no mistake with the aforementioned penalty, after a spell of heavy pressure from the English side (6 mins).
If there were any doubts before, Ulster now know they're in a game.
Good response from Ulster, who have now enjoyed their own period in opposition territory.
Nevertheless, Andrew Trimble eventually knocks on with the try line only a few yards ahead of him, bringing the home side's promising move to a halt.
Much to the crowd's disgust, Ulster are adjudged to have conceded a penalty, affording Northampton an opportunity to clear their lines.
Northampton have a "Rocky Balboa mentality," according to the Sky commentator.
Ulster 0-10 Northampton: Van Velze uses all his strength to power over the line, with Trimble trying and failing to stop him. Myler kicks the conversion from a difficult angle in impressive fashion (19 mins).
It's no more than the English side deserve, in what has been an inauspicious start for Ulster, who look like they're believing their own hype at the moment.
Ulster haven't really started yet.
Each rare attack they've had has been abruptly ended by a knock-on, or some other basic error.
Ulster 3-10 Northampton: A Northampton player is penalised for breaking his bind, as Ulster's pressure finally tells.
Paddy Jackson, in contrast with much of last week's game, delivers an assured kick to bring his side to within seven points of their opponents (31 mins).
Jared Payne hasn't quite reached the level he consistently played at last week.
The New Zealander knocks on a routine pass, as another threatening Ulster attack goes awry.
Penalty awarded against Northampton, but this time, Paddy Jackson kicks his attempt well wide.
It's looking as if his kicking will need to be better than last week if Ulster are to get anything from this game.
Ulster 6-10 Northampton: This time, Jackson makes no mistake with the relatively straightforward penalty in front of the posts (38 mins).
Ulster are looking decidedly better now, in comparison with how they started this game.
HALF-TIME: ULSTER 6-10 NORTHAMPTON
So half-time, and it's been a little underwhelming as far as Ulster are concerned.
They started particularly poorly, with Northampton taking a deserved lead.
Ulster, however, showed good character to fight their way back into the game, and looked like the better side in the closing stages of the half.
Mark Anscombe's men still need to be more ruthless in attack for the second period, with too many basic mistakes creeping into their play at crucial moments.
Brian O'Driscoll believes Ulster have been guilty of "trying to force that final pass".
Can't say we disagree on that point.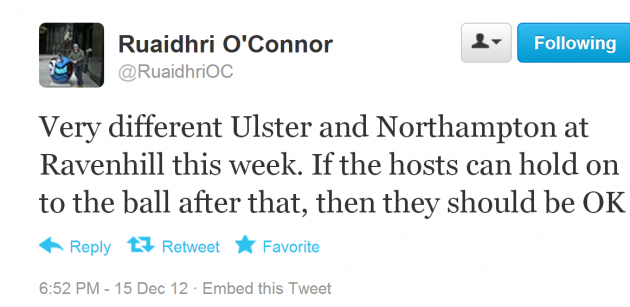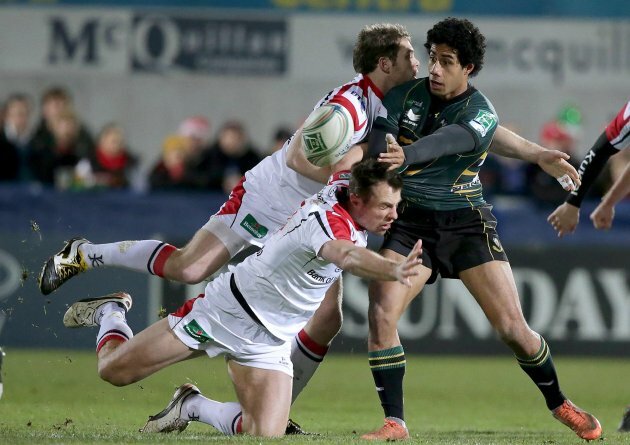 (Ulster's Tommy Bowe and Darren Cave with Ken Pisi of Northampton Saints - INPHO/Morgan Treacy)
The second half is underway…
Ulster 9-10 Northampton: Ulster have started this second half in a purposeful manner, and they are amply rewarded for their positive approach, as Paddy Jackson slots another penalty over (42 mins).
He's been far more consistent this evening, much to Ulster's relief undoubtedly.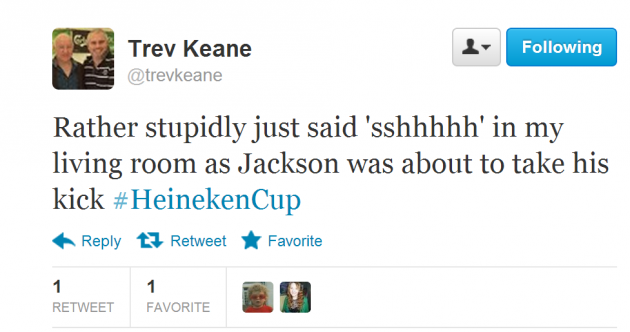 Ulster have a lucky escape, as Samu Manoa is penalised for a double movement with the try line at his mercy.
That's a reminder that they need to maintain the intensity with which they started this half, or else they'll be punished by one of Northampton's vast array of talented players.
Myler produces a lovely kick behind the Ulster defence.
The onrushing Tom May is favourite to get there first, yet as he does, he fails to collect the ball adequately, knocking on dismally as he crosses the try line.
Much better from Northampton though, who have been persistently knocking at the door in these last few minutes.
Craig Gilroy has replaced Andrew Trimble, with the Ulster fans palpably excited as a result.
Meanwhile, Pienaar has just attempted an optimistic kick from near the halfway line that falls well short of the posts.
Another knock-on from Ulster and this time, Rory Best is the culprit, much the crowd's audible annoyance.
Meanwhile, Paul Marshall has come on for Paddy Jackson, with Pienaar now going to 10.
Referee goes to the TMO after a coterie of Ulster players barge towards the try line.
The try is ruled out, but the hosts do have a five-metre scrum as consolation.
It could be a key moment to look back on come the final whistle, as Ulster's scrum fails them at the pivotal moment.
Northampton thus win a penalty, and consequently have an opportunity to clear.
Nick Williams knocks on following a protracted Ulster attack.
The hosts simply haven't been good enough with ball in hand today.
Meanwhile, Luke Marshall has come on for Paddy Wallace.
Remarkably, given both sides' customary attacking prowess, it's been almost half an hour since points were put on the board.
Though Ulster are on the attack now…
Wonderful try-saving tackle from Jamie Elliott, to prevent the onrushing Marshall running in under the posts.
If the English side emerge triumphant ultimately, it will be thanks to no shortage of heart.
Seven minutes remain…
Brilliant break from Marshall, who passes to Bowe, who is well tackled and loses his balance as a result.
However, a subsequent knock on from Foden hands Ulster a penalty.
Bowe looks badly injured unfortunately.
There is a long break in play while Bowe is being attended to.
This can't be doing much to ease the tension that Pienaar is obviously feeling right now.
Disaster for Ulster!
Pienaar drags his penalty wide, and that could be the end of their unbeaten record, with two minutes remaining.
Samu Manoa has been named as Sky's Man of the Match…
Seconds remain…
FULL-TIME: ULSTER 9-10 NORTHAMPTON
So it's the first time Ulster have been beaten at Ravenhill in the Heineken Cup since 2008.
It also brings their much-discussed 13-match unbeaten run to an end.
So a deserved victory for Northampton, who showed great resolve to produce such a dogged display, following last week's disastrous showing.
Ulster, on the other hand, were very disappointing, and were perhaps a little overly confident in light of last week's win.
They didn't do enough to win the game, rarely showing they type of composed, flowing rugby of which they're capable.
They remain well in control of Pool 4, but will need to up their game and cut out the frequent avoidable errors in future, if they aspire to go much further in this competition.
Moreover, the bad-looking injury suffered by Tommy Bowe in the dying stages creates an additional concern.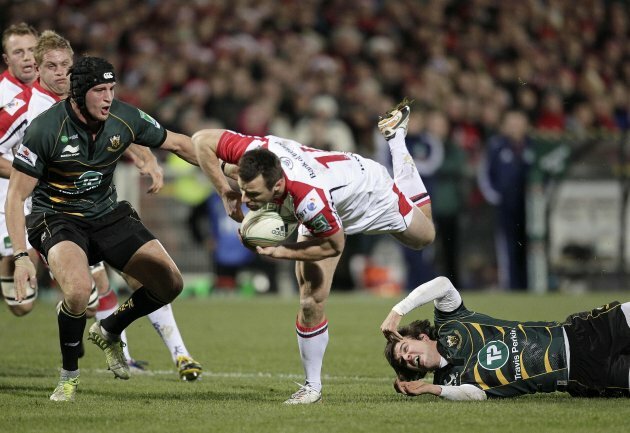 (Ulster's Tommy Bowe with Northampton's Tom Wood and Lee Dickson – INPHO/Presseye/William Cherry)
It's not looking good for Tommy Bowe…
Right, that's all from me.
Thanks for reading and commenting, and enjoy the rest of your weekends.