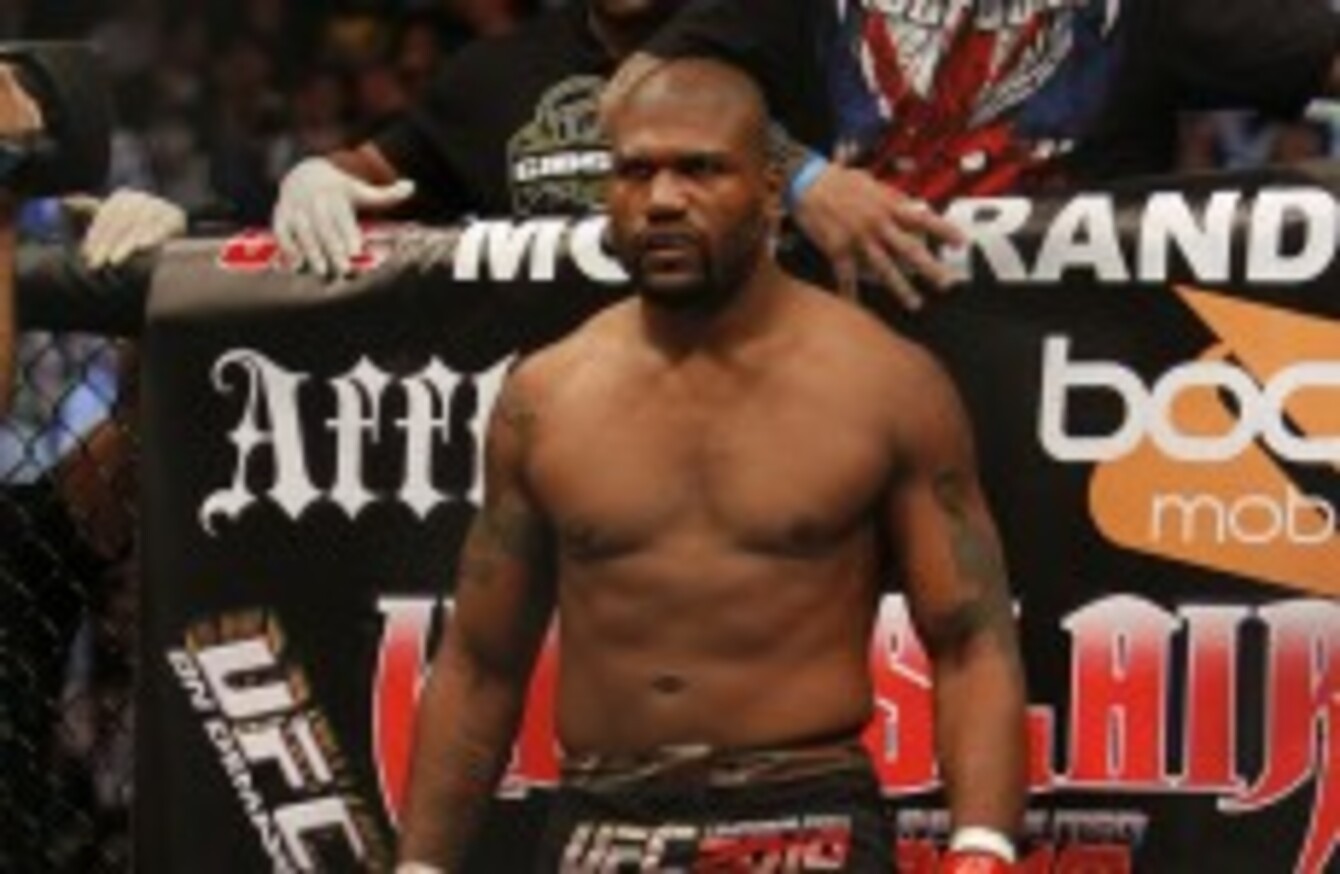 Image: PA
Image: PA
They say a week is a long time in football, but when it comes to MMA things happen so quickly that you have to check to see if what you've just written still applies. With UFC 127 in Sydney a week away, it gives us plenty of opportunity to try and keep up to date with all the comings and goings that have occurred recently.
The surprise news that Quinton "Rampage" Jackson has been signed up to fight Matt "The Hammer" Hamill in May, has left both fans and indeed the fighters slightly underwhelmed. Many fans were hoping to hear of the confirmation of the Rampage-Rashad Evans bout, rumours of which surfaced last week.
After news of their alleged nightclub altercation broke, both fighters publicly stated that they would be happy for the fight to happen. But as always with the UFC, there are no certainties, and the news of the Hamill booking was all but confirmed by Jackson's management after some negotiation.
It is thought that Rampage was hoping for a fight with either Evans or TUF season one runner-up Stephan Bonnar as he felt both had disrespected him in the past. When the Hamill bout was originally discussed Jackson wasn't keen on the fight as "The Hammer" isn't generally viewed as an exciting fighter as he tends to grind out results.
But after learning Hamill turned down other fighters to have a go at him it wasn't long before Jackson changed his tune. His manager explained, "Matt's strategically aiming at Quinton [by saying] if he takes out the ex-champ then he's in the mix for a shot. Those are brave words considering Rampage just beat [Lyoto] Machida. So the fight is set for May 28th – Rampage doesn't take lightly to being called out."
The end of Fedor?
While the UFC headed off to Australia to get ready for Penn versus Fitch, the week's other big MMA news happened away from the UFC. MMA, like boxing, has different organisations that put on events and while the UFC is the most popular and mainstream, there are other opportunities to see different fighters from alternative promotions.
Strikeforce is one such organisation and it held the first round of its Heavyweight Grand Prix tournament in New Jersey last weekend. The event is reminiscent of very early UFC competitions, with eight fighters facing off in quarter- and semi-finals structure. Instead of taking place over one night however, the tournament is set over a number of months.
Perhaps the most feared and respected fighter outside the UFC, Fedor Emelianenko, took on 6ft 4in Antonio "Bigfoot" Silva and former UFC Heavyweight title holder Andrei Arlovski fought the Russian Sergei Kharitonov on a night when the underdogs reigned.
Before his shock loss to Fabricio Werdum via first round triangle last June, Fedor was regarded as one of the top pound for pound fighters in the world. Many fans fancied him to restore his reputation with a win over Silva however "Bigfoot" upset the odds with a resounding win over Fedor with the doctor stopping Emelianenko from coming out for the third round due to a severely damaged eye.
Coming off the back of two devastating defeats inevitably lead to talk of retirement and this was put to Fedor who said that maybe it was "God's will" that he hangs up his gloves. That talk was dampened later in the week however as Strikeforce CEO Scott Coker claimed that Fedor could still be regarded as an alternate for the tournament, if another fighter pulls out with an injury.
In the other quarter-final Sergei Kahritonov knocked out Andrei Arlovski with a barrage of punches midway through the first round. This was Arlovski's fourth straight defeat and with three of them coming by way of knockout, fans are left wondering if they will see him compete again.
The tournament continues on April 9 when Alistair Overeem takes on Fabricio Werdum and Josh Barnett faces Brett Rogers.