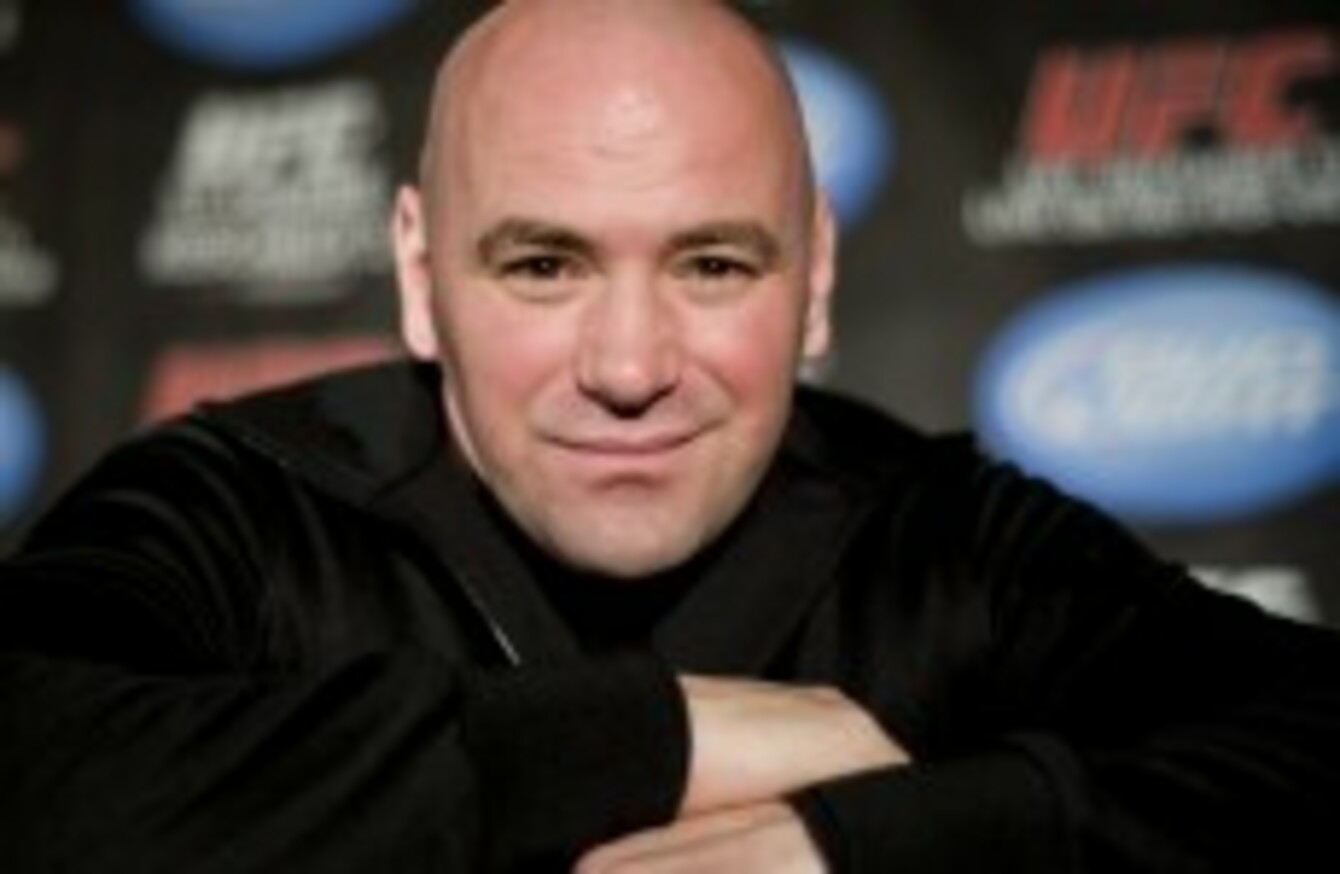 UFC president Dana White has plenty on his plate this week.
UFC president Dana White has plenty on his plate this week.
AS WE ARE in between events again it gives a chance to look over the overall goings on in the MMA world as re-match confirmations and drug enhancement confessions as well as fighter retirements make the headlines this week.
UFC fighter Thiago Silva is in the news for all the wrong reasons after the Nevada State Athletic Commission issued a statement claiming the urine sample taken after his unanimous decision victory over Brandon Vera was "inconsistent with humane urine".
He has since issued his own statement admitting to using banned substances and tampering with his sample. Although his quick confession is somewhat admirable, his actions outside the Octagon are absolutely disgraceful and he fully deserves the backlash from the fans that he is currently receiving.
The issue of doping in American sport is very relevant as baseball star Barry Bonds stands trial on charges of perjury and obstruction of justice after previously testifying that he never knowingly took any illegal substances.
Chael Sonnen tested positive for elevated testosterone levels after his impressive performance over Anderson Silva at UFC 117, and although that since tainted his career, the six-month ban handed down obviously hasn't done enough to deter other fighters from following the same path.  There needs to more clarity and stronger punishments handed down to completely eradicate the dark side of this sport.
Old scores looked to be settled
"Re-match" seems to be this week's buzzword as the long-awaited title fight between Urijah Faber and Dominick Cruz was announced this week. It is scheduled to take place at UFC 132 in July as the UFC Bantamweight Champion looks to overturn the only defeat on his record. Faber submitted Cruz just 98 seconds into their fight three years ago. This match fills the void left by Jon Fitch and BJ Penn as Fitch was forced to pull out of this matchup due to a shoulder injury picked up in training.
Last week on UFC Fight Night 24 Chan Sung Jung once again took on Leonard Garcia in a re-match of their first bout which Joe Rogan labelled "Fight of the Century." The Korean Zombie was on the wrong end of a controversial split decision last time out in an all action toe to toe slobberknocker that will live long in MMA folklore.  It was always going to be difficult to live up to their previous bout but this fight will be remembered in an equally special way as it was the Korean Zombie submitted the Bad Boy via "The Twister", the first time we've seen the move utilised successfully in the UFC.

Last week's Bellator promotion also saw a memorable submission take place.
Elsewhere, Dan Hardy and Anthony Johnson failed to excite in the co-main event of the Fight Night series as Johnson outwrestled Hardy and condemned him to his third straight defeat.  "Rumble" Johnson was glad to be in the ring after an 18 month layoff while Hardy wasted no time in calling out Chris Lytle after the fight. Lytle responded quickly and positively and that fight should happen in the near future.
A possible opponent for the new Light Heavyweight Champion Jon Jones took on seasoned veteran Antonio Rogerio Nogueira on short notice as Phil "Mr Wonderful" Davis grinded out a decision victory over "Lil Nog". Looking to defend his unbeaten record Davis optimised his wrestling to stuff Nogueira's obvious advantage on his feet and completed his fifth straight UFC win in solid fashion. Davis would need to improve his stand-up if he is to have any chance against Jones if that fight were to get the go ahead.
And finally Ricardo Almeida has announced his retirement from MMA as he can no longer juggle full-time fighting and looking after his autistic son.  He was one of a handful of fighters to compete at three different weight classes and has wins over Nate Marquardt and Matt Brown on his record.  One man who is looking to avoid retiring straight after a loss is Mirko Cro Cop. Despite rumours surfacing that Dana White had dropped him after his KO defeat to Brandon Schaub, Cro Cop issued this battle cry:
"There's one fight left on my UFC contract. I will have this fight, regardless of what the reporters think. However, there's a possibility that the UFC will insist on not allowing me to fight. I will accept their decision. It's time to retire, despite the fact that I want to continue. Next year, it will be 20 years since my first fight… I had a great career, and I don't regret anything. But I don't want to finish it defeated," he said.