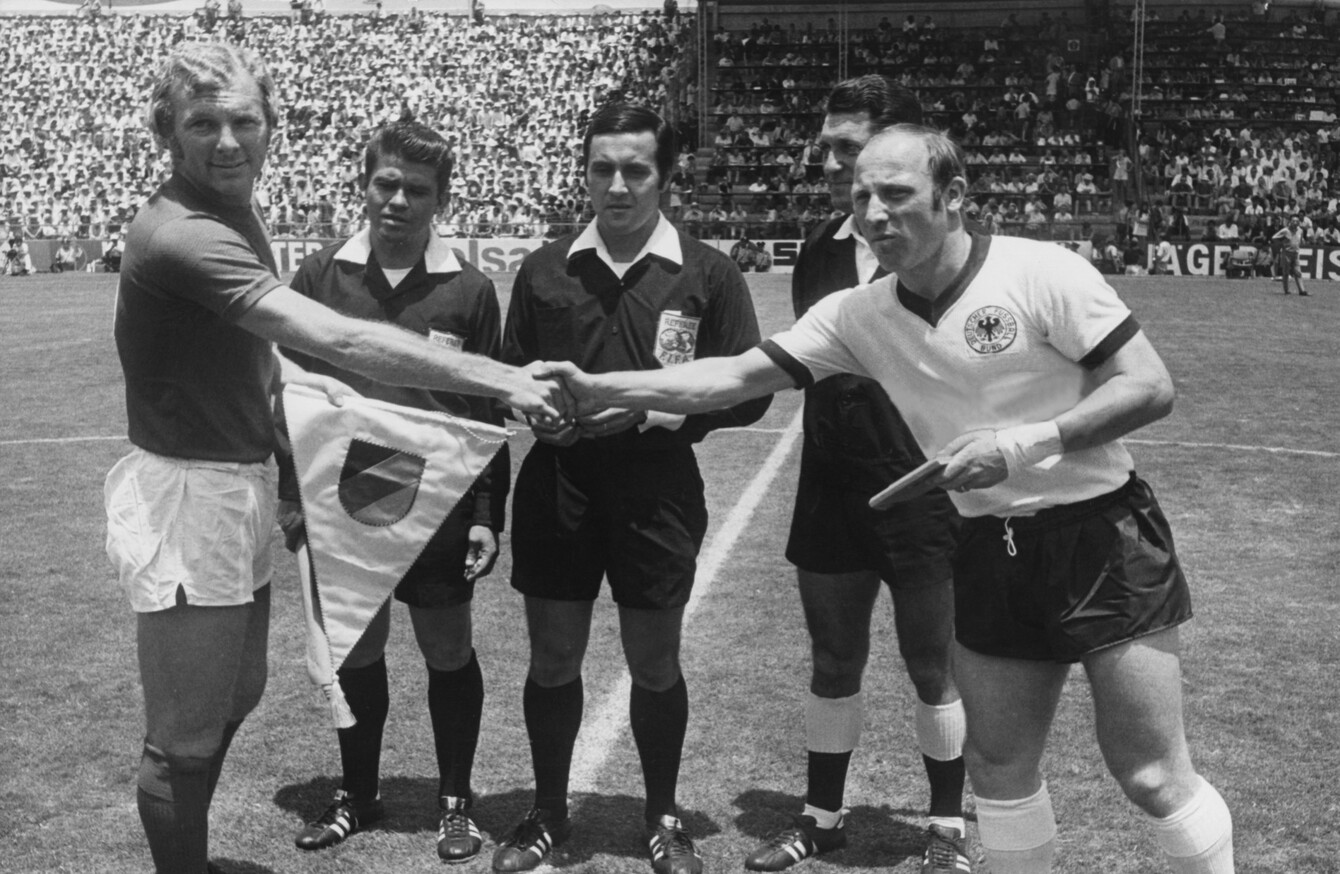 Bobby Moore alongside Germany captain Uwe Seeler.
Image: DPA/PA Images
Bobby Moore alongside Germany captain Uwe Seeler.
Image: DPA/PA Images
AFTER 18 YEARS wearing kits supplied by a range of different manufacturers, Cork City will once again sport the famous three stripes of adidas as they aim to defend their SSE Airtricity League title in 2018.
There have been countless euphoric memories bookmarked in faded photographs of famous nights wearing adidas tops between 1984 and 1999 — the club's first Premier Division title in 1993, three League Cups and the side's first FAI Cup in 1998.
That, on top of more iconic shirts associated with famous nights in European competition; the pick of the lot of course being Dave Barry's goal which earned Cork a famous 1-1 draw with Bayern Munich in the UEFA Cup at Musgrave Park in 1991.
But it was for a different and somewhat perplexing reason which saw adidas play a central role in bringing another German icon to Leeside for an altogether different reason — instead of being the opposition, this time they would be an accomplice wearing the Cork shirt.
Uwe Seeler was born in Hamburg in 1936 and followed his father in playing for his local club. Jump forward seven decades later and a gigantic bronze statue of the striker's foot sits outside the 57,000 seater Volksparkstadion as a mark of respect to the club's greatest servant.
The statue is a carbon copy of a foot which, allocating for headers and weak-footed efforts on his left peg, scored over 500 goals for the club which yielded just a single German championship title in 1960 and a German Cup three years later (he scored all three in a 3-0 win against Borussia Dortmund).
It is a very modern debate as to whether or not players should receive awards such as the Ballon d'Or based on their own individual records, performances and statistics, or on reflection of their team's trophy cabinet in a given season.
With limited success in the trophy cabinet during a period where Hamburg were the forever hard-luck story of domestic German football, Seeler stood firmly in the category of shining individual brilliance — himself coming third in the 1960 Ballon d'Or poll behind Ferenc Puskás and Spain's Luis Suárez.
Seeler had the opportunity to move abroad on numerous occasions. Despite turning down offers from clubs such as Inter Milan, his legacy remains to be remembered as one of football's greatest ever players and without conceivable doubt one of Germany's favourite sons.
Seeler's statistics are nothing short of phenomenal — 507 goals scored for Hamburg and 43 for his country in 72 appearances, where he captained West Germany all the way to the World Cup final in 1966, only to be beaten by Bobby Moore's England in front of 96,000 fans at Wembley.
His father Erwin, himself a footballer, enrolled the young Uwe in Hamburg's academy when he was just 10-years-old, with that burgening loyalty never faltering at the offers of lucrative deals across the continent. Helenio Herrera was said to have offered the forward a staggering annual salary of 155,000 Deutsche Mark on top of a signing-on bonus of 500,000 if he joined Inter Milan in 1961.
With broad shoulders, a receding hairline and a short height but ox-like frame, even from a very young age Seeler looked like an old-fashioned player. He played like one, too.
"Uwe Seeler was deceptive," wrote Uli Hesse in his book Tor! The Story of German Football.
"One look at him and you knew he was probably good in the air, difficult to separate from the ball and possessive of a fearsome fighting spirit. Yet you would also maybe think he was pretty slow and lacked intricate ball skills.
"Well, you would quickly find out that he could explode over the crucial first yards and perform scissors and bicycle kicks without batting an eyelid. But then it would be too late."
The reason Seeler didn't end up joining Inter, who would go on to lift the European Cup just three years after Herrera's offer, was largely because of his unwavering, humble loyalty to Hamburg.
But also curiously because of a job West Germany manager Helmut Schön had managed to organise with an up-and-coming sports manufacturer — adidas — which paid handsomely.
"Well-paid, of course, is a relative term," writes Hesse on Seeler's job as an adidas representative. "But knowing Seeler it seems certain he would have stayed anyway, as there has seldom been a more down-to-earth and straightforward football star in this country."
It was that job at adidas which paved the way for a piece of League of Ireland folklore some 1,500km away at Turner's Cross.
Seeler hung up his boots to retire in 1972 as a one-club legend of Hamburg. However an offer in 1978 arose to play a final match — an exhibition game alongside former Hamburg team-mate and fellow adidas rep Franz-Josef Hönig for Cork Celtic.
Then aged 41, Seeler agreed under the impression that it was a game which would, owing to his star name, attract a huge crowd as a fundraiser to save a financially unstable Cork Celtic from going out of business.
What he didn't know, and in fact didn't find out until afterwards, was that the game against Shamrock Rovers was an official League of Ireland fixture. Regardless, Seeler bagged a brace in the 6-2 defeat — one of which a stupefying overhead kick — as the result bled into a year of more lows than highs for a club which would go out of business just a year later in 1979.
"It had something to do with my job," Seeler said of the one-off game in late April 1978 speaking a number of years later.
"The adidas representative in Ireland (Michael O'Connell) asked me to do a guest performance. I did not know that in Ireland they were allowed to enroll guest performers, who back then played in normal league games, and so I came.
"I lost, but scored two goals and the club wanted to keep me straight. I was already too old, but it was still a nice experience."
Some squad lists even named Seeler as a member of the 1977/78 Celtic squad, with an offer on the table from the club to keep him there permanently. Even the reports of the emphatic Rovers win, featuring a 32-year-old Eamon Dunphy in midfield for the Hoops, ignored John Giles's side in favour of the star attraction.
"Shamrock Rovers outclassed Cork Celtic in the league at Turner's Cross yesterday, but some outstanding football from them did not overshadow Celtic's guest player Uwe Seeler," wrote the Irish Times.
"The legendary West German former World Cup star scored two of the best goals of the season in a two minute period of the second half to give the small attendance a unique look at his famous talents.
"He showed devastating shooting power with a right foot volley that beat goalkeeper Alan O'Neill from 18 yards after 57 minutes and within two minutes he scored again with an acrobatic bicycle kick from the edge of the penalty area."
The report continued: "Seeler had undertaken to play just once for Celtic in an arrangement with his employer, the giant West german sports manufacturer adidas, but his impact in the game was such that Celtic must have regretted he was not in a position to help them earlier in the field."
It was nothing more than a cameo and such was the game's insignificance to Seeler he mentions the experience as nothing more than a footnote in his autobiography 'Danke Fußball': 'Thank you, football'.
Perhaps the now 81-year-old reflects bitterly over being coaxed into a professional league game when he came under the nobel intentions of helping a struggling football club in Ireland from the brink of extinction; his reward being the fact that he can, technically, never be referred to as a one-club man to his one true love Hamburg.
Although it may seem inconsequential to a player who scored 500 goals, was named German Footballer of the Year three times, featured in four World Cups and captained his nation to the 1966 final at Wembley, Seeler's evening's work at Turner's Cross will forever be immortalised in folklore and oral history by those who deem the League of Ireland the Greatest League in the World.
Because back in decades past, seeing star players don the crests of Cork Celtic, Waterford United, Sligo Rovers, Shelbourne and St Patrick's Athletic was an all-too common thing for legends such as George Best, Bobby Charlton, Dixie Dean, Jimmy Johnstone, Geoff Hurst and Gordon Banks.
As the new season kicks into gear in a few short weeks with Cork City once again donning the three stripes of adidas, they will know the significant and sometimes bizarre history that comes with it.
They will realise the importance of making new memories for new generations as they go about defending their first ever league and cup double, but also of keeping alive the memory of the club's unique past.
One which no less featured a 41-year-old World Cup captain scoring a bicycle kick down at the Cross in front of less than a thousand supporters lucky enough to be present the day Uwe Seeler's boots sparked magic for the very last time.
"The genius of Uwe Seeler transcended all else in this Bass League game at Turner's Cross," noted the Cork Examiner in their prophetic match report on Monday 24 April 1978.
"Shamrock Rovers played some excellent football, clinched a place in the Top Four, outplayed Celtic without three of their first team regulars… but Seeler's two breathtaking goals will live long in the memory when all else has faded."
The42 has just published its first book, Behind The Lines, a collection of some of the year's best sports stories. Pick up your copy in Eason's, or order it here today (€10):