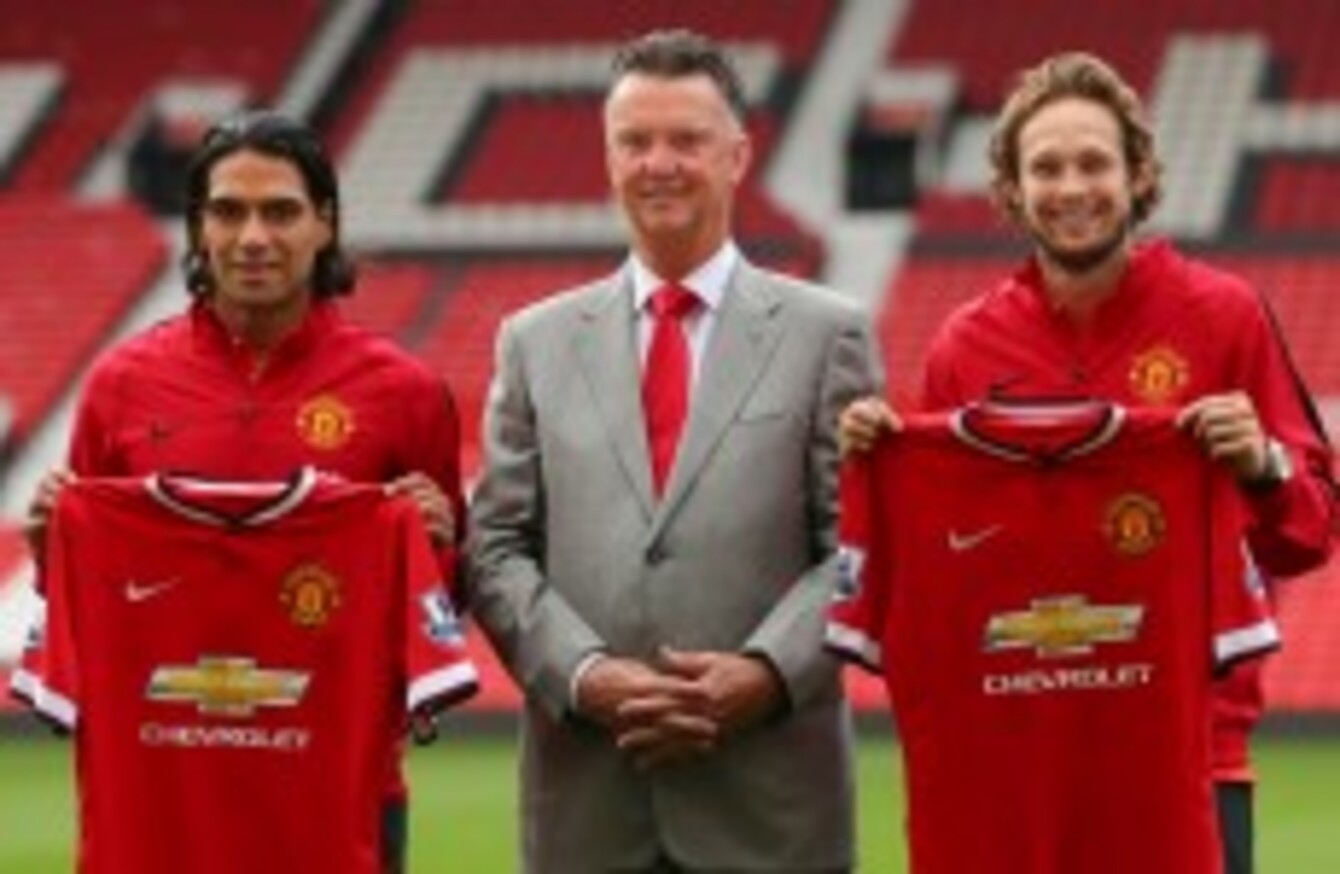 Manchester United manager Louis van Gaal (centre) with his new signings Radamel Falcao (left) and Daley Blind during a photocall at Old Trafford today.
Manchester United manager Louis van Gaal (centre) with his new signings Radamel Falcao (left) and Daley Blind during a photocall at Old Trafford today.
MANCHESTER UNITED MANAGER Louis van Gaal admits the chance to sign Colombia striker Radamel Falcao made the less prolific Danny Welbeck surplus to requirements at Old Trafford.
Welbeck's move to Arsenal in a £16 million deal on transfer deadline day raised a few eyebrows, with former United defender Gary Neville among those to question the wisdom of allowing the 23-year-old to sign for a potential competitor for a Champions League place.
Welbeck, who came through the youth ranks at United, scored both of England's goals in their 2-0 European Championship qualifying win over Switzerland last Monday and looks set to lead Arsenal's attack for the next few months in the absence of the injured Olivier Giroud.
But van Gaal revealed that he had made up his mind to allow Welbeck and Javier Hernandez to leave to allow other young players, such as teenage striker James Wilson, to have further opportunities, but also because he was not convinced that Welbeck was good enough for United.
Either side of a loan spell at Sunderland in 2010-11, Welbeck scored just 29 goals in 142 games for the club.
"I have given all the players a chance to convince me of their qualities," said van Gaal on Thursday.
"Danny Welbeck was here since he was nine. After Sunderland he played three seasons for Manchester United but he doesn't have the record of Van Persie or Rooney and that is the standard.
"That is why we let him go, because of Falcao but also the youngsters who can fit in and I repeat, that is the policy and that is what I am here to do."
- Unbelievable record -
By comparison Falcao's record is remarkable, with 200 goals in 305 club games in a career which has seen the Colombia international play at River Plate, Porto, Atletico Madrid and Monaco in the past five years.
"When you can hire or buy a player like Falcao I don't have doubts because he is for me one of the best strikers in the world and when you see his record it is unbelievable," added van Gaal.
"Today in training he got one ball and it was in the goal. He confirmed it in his first training session with me but when I say this I put too much pressure on him.
"I know it is very difficult to come from another club to Manchester United in a new process. We let go 14 players and bought in six, so 20 players have a relationship with others in the dressing room.
"There is a new hierarchy in the dressing room. It is not easy. That is why I have asked for time because I knew in advance that this shall happen."
Despite a transition which has seen United fail to win a game so far this season, Falcao, who has recovered from the serious knee injury he sustained in January, insists the quality of United's players will help him settle quickly at Old Trafford.
The 28-year-old is in line to make his debut against Queens Park Rangers on Sunday at Old Trafford and is already talking about converting a loan move from Monaco until the end of the season into a permanent deal next year.
And Falcao, who hasn't played in the Champions League for five years, has set his sights on leading United back to Europe's top club competition.
Speaking when being introduced to the media alongside former Ajax defender Daley Blind, he said: "This year some new players have come and I think Manchester United will be a big team this season and in future seasons.
"Every player wants to play Champions League. This year it's not possible in Manchester but we are confident to achieve qualification for next season.
"I believe in this project. I think Manchester United is the best club for my style of play and I am sure this period in the future will be great for us."