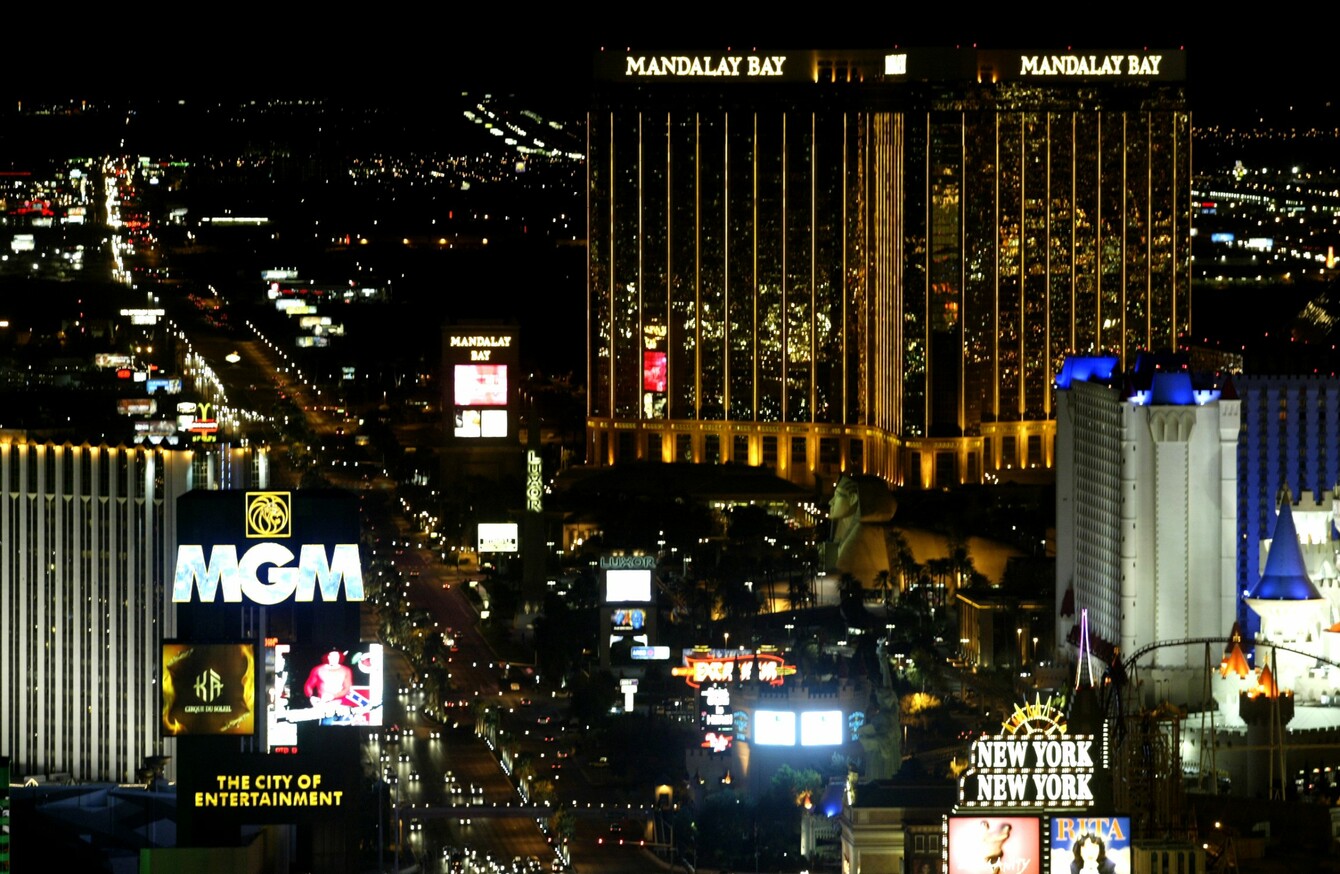 The view over the Las Vegas strip.
Image: PA Archive/Press Association Images
The view over the Las Vegas strip.
Image: PA Archive/Press Association Images
THOUSANDS OF CONOR McGregor's fans will descend on the fight capital of the world over the coming days as the Ultimate Fighting Championship prepares for a landmark week in its 22-year history.
From Thursday to Saturday, the leading organisation in mixed martial arts will embark on an unprecedented run of three events in consecutive nights in Las Vegas, culminating with McGregor's featherweight title unification bout against Jose Aldo at UFC 194.
Some of MMA's biggest names are in action this week — champions Aldo and Chris Weidman, contenders such as Luke Rockhold and Frankie Edgar, as well as rising stars like Paige VanZant and Sage Northcutt — yet there's no arguing over who the star attraction is.
Vegas was swarmed by an estimated 10,000 Irish fans back in July when McGregor accounted for Chad Mendes at UFC 189 to win the interim UFC featherweight title. With undisputed world championship honours up for grabs this time against the pound-for-pound best fighter in the sport — according to the rankings — the stakes are even higher.
UFC president Dana White has claimed that 30% of the tickets for Saturday's event at the 16,000-capacity MGM Grand Garden Arena were purchased from Ireland.
Taking into account that a significant portion of McGregor's fans who attended UFC 189 travelled from Australia, Canada and other parts of the US, while many ticketless others also made the journey, there should be an enormous Irish presence in Nevada again throughout the week.
At an otherwise quiet time of year by Vegas' standards, that's good news for the city's bars and restaurants, some of which — despite it being at the peak of their busy season — reported increases in trade of approximately 20% back in the summer when McGregor defeated Mendes via second-round TKO.
"We'll have a lot of extra staff on and it'll be a three-day period where it'll be all hands on deck right the way through," said Paul Walsh, a native of Mayfield in Cork who's been working at Rí Rá pub at the Mandalay Bay Resort & Casino — one of the main ports of call for the Irish in Vegas — for the past five years.
"Even if it's half as busy as it was for the Mendes fight we'll be rushed off our feet. We were anticipating it to be busy but it turned out to be absolutely extraordinary. The city was taken over by the Irish. When you've been living so far from home for such a long time, it was surreal to see."
When it comes to combat sports, Las Vegas has been Floyd Mayweather's town in recent years. But with the undefeated boxer now retired, Walsh says McGregor has started to muscle in on his old stomping ground.
"Since I've been here I've never seen any fighter have that kind of impact in Vegas like McGregor, even in boxing," he said. "I think the McGregor-Mendes fight generated more of a buzz and excitement than the Mayweather fights. We were much busier for that than we were for Mayweather-Pacquiao."
Initially, the expectation was that the size of McGregor's following in Vegas for this weekend's fight would be detrimentally impacted by a number of factors — for example, the close proximity to Christmas, the amount of money fans parted with just five months ago and the absence of the many students who were in the US for the summer on J1 visas.
Nevertheless, Walsh says they're expecting similar numbers to arrive in the next few days: "With Christmas looming we were wondering what kind of effect it would have, but McGregor seems to have a massive, loyal fan-base and, by the sounds of it, they've been putting their money away over the last few months so they can come out here again. We're expecting the same number of people to be over for this fight."
This weekend, the UFC are anticipating a $2 million increase in gate receipts on the $7.2 million they took in for UFC 189, which Conor McGregor is likely to remind us of at Wednesday's press conference at the MGM Grand.
McGregor is still one win away from proving that he's a bona fide world champion, but as for his status as the UFC's biggest male superstar? As the 27-year-old Dubliner would say himself: "There's not a man alive who can beat me."
– First published 06.00