DON'T YOU DARE believe these smooth-talking South Africans.
They're out to get Ireland and they're out to make hay out of our scrum.
Scrum coach Pieter De Villiers was yesterday presenting a mix of, if not damn lies, then hollow truths and statistics to flatter his hosts.
"They've got 100% scrum success for this year, so we do respect their scrum," says De Villiers.
Donall Farmer / INPHO Donall Farmer / INPHO / INPHO
We'll chalk this down as a confusion of cultures as to when exactly a season begins for northern and southern hemisphere teams. While Ireland did indeed win all 16 scrums on their own feed on the tour to Argentina, they certainly didn't come through the whole Six Nations without coughing up the ball at the primary set-piece.
Anyway, on with the respectful reverence, even though one bad day of training could end up with Joe Schmidt naming a front row without Cian Healy, his top two tightheads and his first-choice hooker.
Not to worry.
"Some of the guys coming in have also played against Argentina in June," De Villiers points out, adding:
"Ireland have got a strong scrum system; one or two players go out, two come in and it doesn't really change a lot in terms of their results. So we're prepared for a tough battle up front."
What is certainly true was a point repeated over and over by Victor Matfield; South Africa will be focusing on their own strengths and skill-sets rather than attempting to bend too much to the threat Ireland pose.
The 'Boks have hit impressive heights this summer while shifting their style of play to the more attractive running style that brought victory over New Zealand and Australia. This week, however, the camp continue to hint that they will revert to a less complicated gameplan in the wet and wind of the northern hemisphere. Matfield in particular presented this month as the opening chapter of a story that ends in Twickenham this time next year.
"Especially with this group, it's a game of decision making," says the lock.
"You have to look at the conditions, you have to look at the defence and then make decisions on how you want to play.
"A lot of the time it's not decided beforehand it's decided on the pitch depending on what's in front of you and how you want to play and what the conditions are like."
Conditions
He added: "We're looking differently at this tour. John [McFarland, assistant coach] said it when we got together – there were 365 days to the final [31 October, 2015]. So this is actually not an end of year tour for us, this is the beginning of the year we want to win the World Cup.
"This is all focused on the World Cup, we know these are the conditions we'll be playing in, so it's a great start for the year leading up to the World Cup."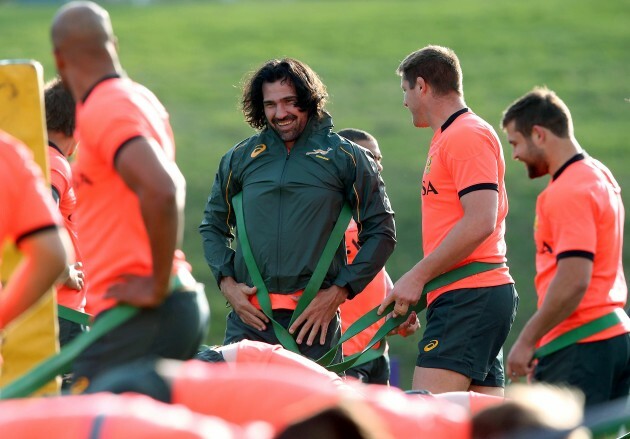 Inpho / Billy Stickland Inpho / Billy Stickland / Billy Stickland
At 37, the returned-from-retirement Matfield is not only an experienced voice within Heyneke Meyer's squad. He is also an extra coach: that rare breed of an attack coach with a speciality in the tight five. So when he's not packing down in the scrum and analysing how his opposite number manages to sack mauls, he's explaining how the 'Boks unit makes Handre Pollard – his fellow Blue Bull – look so damn good.
"When you talk about attack you can't just talk about the back-line. It's the first phase where they start and then it's forwards and backs interlinked. I think Johann van Graan has been working very hard on us getting our shape and the way we want to play – always having options in place.
"The more options there is for Handre, then the better he can play because he can make good decisions and he's always a threat himself as well, that makes a big difference.
"What helps Handre as well is that it's not very far from the way we do it at the Bulls, but he is an outstanding player. Again, he needs the guys around him to play well. it helps to have Jean De Villiers there to communicate with him the whole time. Hougie [Francois Hougaard] has been playing well, so all those things help him a lot."
They're out to get Ireland, and they've got a growing arsenal of weapons at their disposal.