HE'S AN ALL-Ireland senior hurling medal winner.
He was man-of-the-match last year in his senior championship debut in the All-Ireland final replay against Galway.
And he scored 1-3 in that clash in Croke Park.
But we wanted to know other stuff about Kilkenny hurler Walter Walsh.
Like his farming background.
His Kilkenny hurling hero growing up.
And what would he buy if he had €2.50 in a supermarket?
********
13. What was the first inter-county match you went to growing up?
"I think it was the 2000 All Ireland Senior Hurling final, Kilkenny against Offaly in Croke Park. Kilkenny scored five goals that day and I remember DJ Carey getting a few."
12. Who was your Kilkenny hurling playing hero growing up?
"It was always DJ Carey. He was so dangerous every time he got the ball. I always wanted to be as skilful as him but turned out big and awkward."
11. What's your favourite sport other than hurling and why?
"I always love watching rugby, it's a very tough game. I used to play a bit and I always had an interest."
10. What was your favourite game you played with your club?
"That has to be winning the Kilkenny county junior hurling final with my club, Tullogher-Rosbercon against Lisdowney in 2008. I was only 17 and it was first year playing at that level. We'd been beaten in the two previous county junior finals."
9. If there was a GAA transfer market, who would you like to sign for the Kilkenny panel?
"That's hard to say really. There is enough competition for positions in Kilkenny without bringing in any more players!"
8. You come from a farming background – What type of farm is it?
"I come from a Dairy farm and have always had an interest in farming."
7. Kilkenny have produced a long line of famous hurlers who have been farmers – Who was your favorite?
"I would have to pick tillage farmer Noel Hickey. He is a legend and one of the best full backs I have ever seen or played against."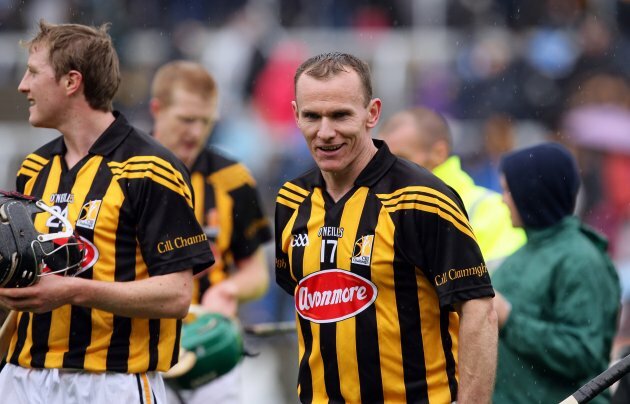 Pic: INPHO/Cathal Noonan
6. Have you ever been confused with Walter White from Breaking Bad?
"I can't say I have, I wouldn't be up to date on the TV programs."
5. What was the last film you watched?
"I watched Old School recently, anything with Will Ferrell in it is hilarious."
4. If you had €2.50 and went in to a supermarket, what would you buy?
"I'd buy the Farmers Journal to keep the housemates quiet."
3. If you could have dinner with any three celebrities alive or dead, who would they be?
"Dan Carter, Oprah and Katie Taylor."
2. Do you've any pre-match superstitions?
"No not really apart from being afraid of eating too much before the match and not being able to move."
1. Would you go in for a 50-50 challenge with former Kilkenny hurler Dick O'Hara?
"I would go in for it alright but not sure how I would come out the other side though!"
**********
Kilkenny hurler Walter Walsh pictured at the launch of Agri Aware's 'CAP Agri Ambassador' at the Family Farm at Dublin Zoo. Students involved in agri-related courses have the opportunity to compete for the dream summer job of Agri Aware's 'CAP Agri Ambassador' at the Family Farm at Dublin Zoo.
The ambassador will work at Family Farm for June, July, August and September, communicating the Common Agricultural Policy (CAP) to the hundreds of thousands who will visit the zoo over the coming months. For more information, please visit www.agriaware.ie.