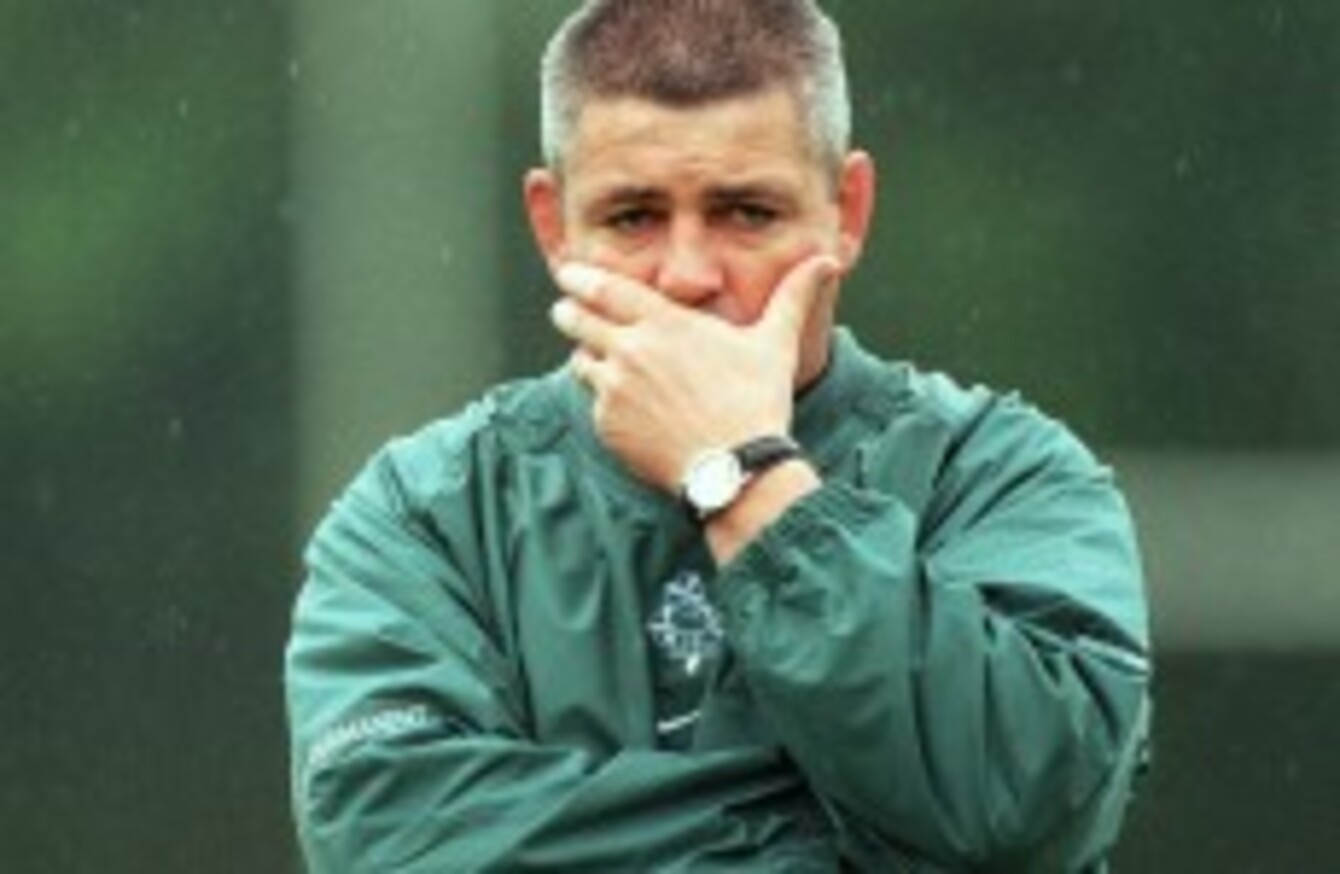 Gatland in 1999 in the green.
Gatland in 1999 in the green.
WARREN GATLAND TURNED into the formidable coach he is now thanks to his bitter-sweet experiences with the Ireland national side, former captain Keith Wood told AFP.
New Zealander Gatland, who masterminded a battered and bruised Wales' thrilling 28-25 victory over World Cup hosts England last Saturday, took charge of Ireland aged only 35 and, according to Wood, changed the country's rugby mindset.
Wood, the inaugural world player of the year in 2001, knows Gatland well. The former hooker was Ireland's captain during the Kiwi's tenure from 1998-2001, which included a disappointing quarter-final play-off loss to Argentina at the 1999 World Cup.
"Warren's arrival in Ireland changed things absolutely," said Wood, an ambassador for World Cup sponsors Mastercard. "He is an incredibly stubborn man. I say that all the time and some people take it as a criticism, but I don't mean it in that fashion.
"He gave the Irish team a consistency of selection and consistency in terms of a game-plan which we didn't have.
"He gave us huge benefits, and then a couple of years after that we got a whole host of exciting young backs and our game-plan didn't change and maybe he didn't change with it.
"The IRFU (Irish Rugby Football Union) decided not to extend his contract so he moved on."
However, Wood said the split ultimately proved beneficial to Gatland, who subsequently led English Premiership side Wasps to three domestic titles and the European Cup.
Such was his success at Wasps, Gatland was appointed Wales coach.
He has since guided Wales to three Six Nations Championship titles, including two Grand Slams — one in his first season in charge in 2008 — as well as overseeing the British and Irish Lions Test series win in Australia two years ago.
"He changed immediately afterwards," said Wood of Gatland's post-Ireland career.
"To say he saw the writing on the wall (about having to adapt) would be wrong, but he brought in particular coaches to do jobs he wanted them to do and he became incredibly strong.
"He has delivered huge success for every team wherever he has been."
Wood, who earned the affectionate nickname during his playing career of the 'Raging Potato' for his bald head and rampaging runs, said despite not always seeing eye-to-eye with Gatland, the coach earned the right to look happy last Saturday after beating England.
"I have to say we've had our differences but there is no way around the fact of his deserving to celebrate with a smile at the end of that game," said Wood. "That was an extraordinary victory with an extraordinary group of players. It was like a field hospital out there," added Wood after several Welsh players were replaced during a bruising match because of injuries.