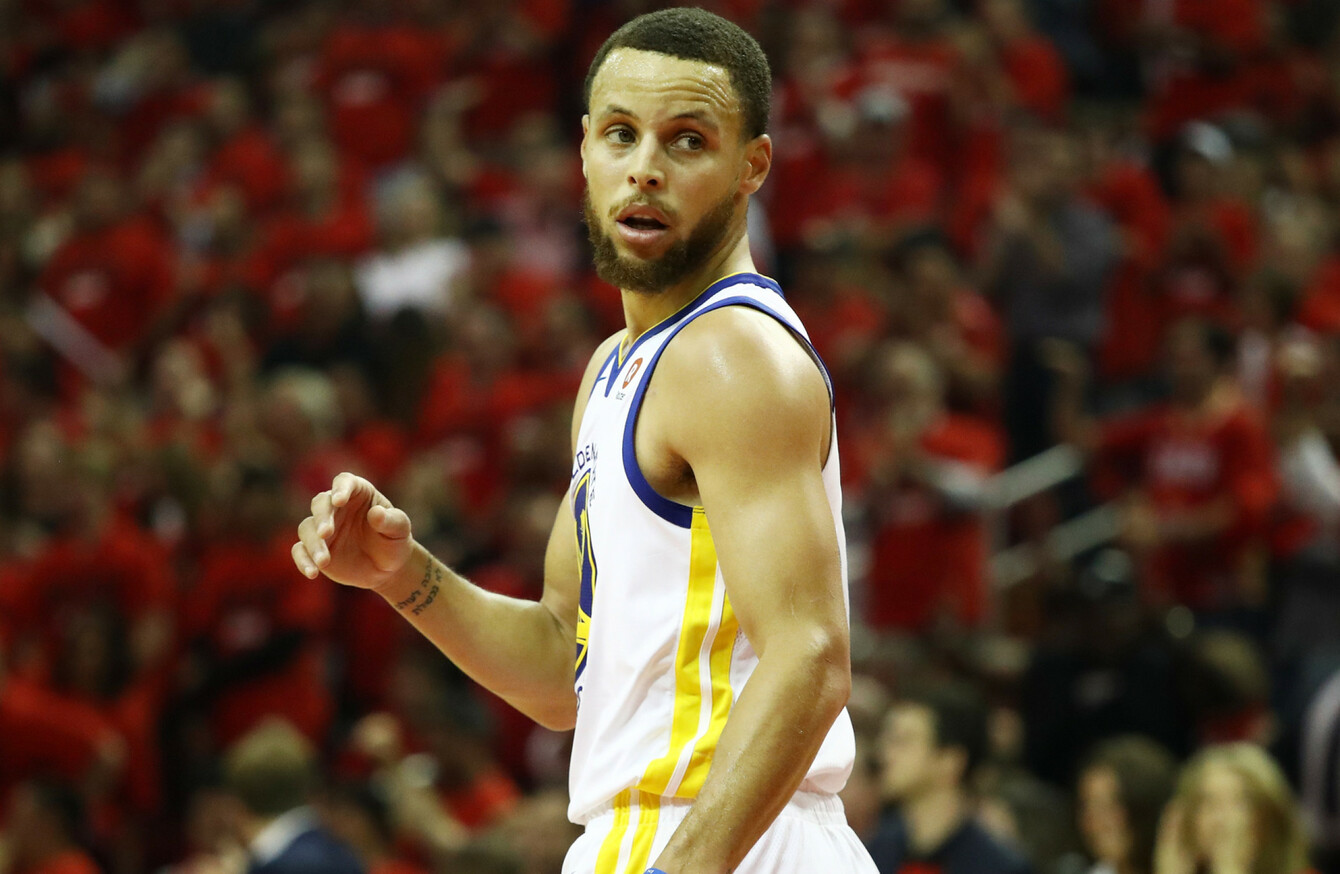 Golden State Warriors star Stephen Curry.
Image: Ronald Martinez
Golden State Warriors star Stephen Curry.
Image: Ronald Martinez
THE GOLDEN STATE Warriors avenged their game-two loss in a big way, thrashing the Houston Rockets 126-85 in the Western Conference finals overnight.
Golden State outscored Houston in every quarter, including a 38-18 rout in the fourth.
The Warriors have now won 16 straight home games in the postseason, setting an NBA record. Michael Jordan's Bulls won 15 straight in Chicago in 1990 and 1991.
The two-time defending champions earned a clutch win at Houston to start the series, providing them the chance to clinch the series at home. The Warriors looked like a team destined for a third straight Finals appearance Sunday.
Stephen Curry and Kevin Durant led the Warriors offensively, but the entire starting lineup scored in double figures.
The Warriors shot 52 per cent from the field and forced 19 Rockets turnovers, with Curry making life miserable for Houston's guards.
CURRY, DURANT STAR
Curry (35 points) and Durant (25) proved their dominance in Sunday's win. Durant started the game on fire, and Curry found his rhythm in the third quarter.
The third quarter marked Curry's 10th career postseason frame with at least 17 points. Seven of the 10 have come in the third.
POOR PAUL
Rockets point guard Chris Paul failed to make much of an impact on either end of the court. Paul scored 13 points on five-of-16 shooting (two of eight from three-point range), while failing to stop Curry on the other end. James Harden did not have his best game either, scoring 20 points with nine assists.
Source: NBA/YouTube
CELTICS AT CAVALIERS
Boston suffered a tough loss in game three, but have looked like the superior team throughout most of the series. Jaylen Brown and Jayson Tatum have emerged as stars and Al Horford continues to add production in the paint. LeBron James stepped up his defensive effort on Saturday, but he is going to need another strong team effort to earn another win at home.