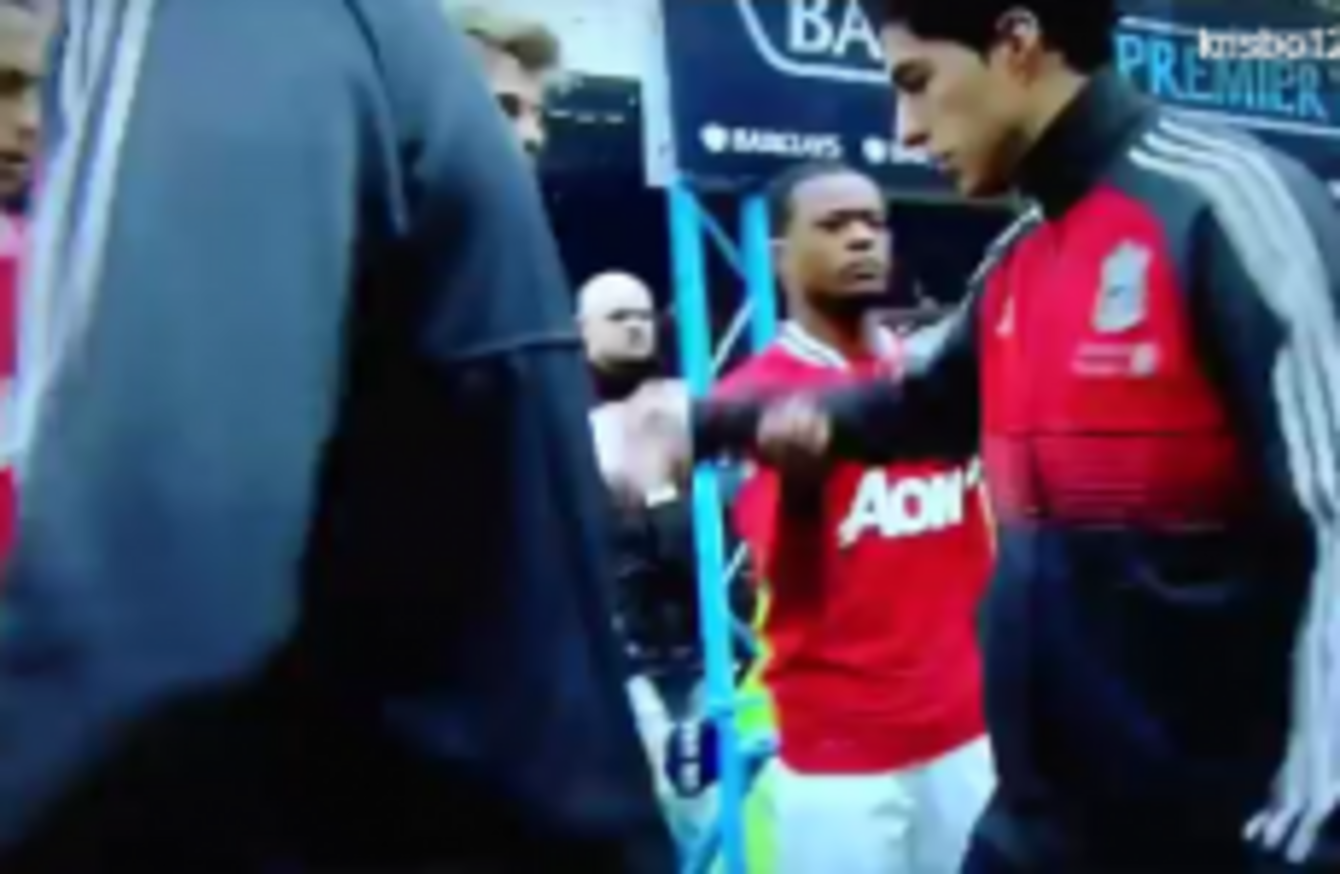 Suarez refuses to shake Evra's hand.
Suarez refuses to shake Evra's hand.
Updated at 15.30pm
IF YOU THOUGHT you'd heard the end of the Luis Suarez-Patrice Evra racism debate, think again.
The Uruguayan refused to shake Evra's hand before kick-off in today's game between Liverpool and Man United, in an incident that exacerbated the obvious tension between the two players in recent months.
In addition, there was more controversy still as Suarez kicked the ball away in anger just as the half-time whistle had blown, prompting a number of players to become embroiled in a heated argument.
And the problems spilled over into the tunnel, with The Telegraph's Henry Winter tweeting: "Problems in OT tunnel. Pushing and shoving between #lfc and #mufc players. Police and stewards involved."
Liverpool manager Kenny Dalglish previously insisted that Suarez would shake Evra's hand.
And in a post-match interview, when Sky Sports' Geoff Shreeves suggested Suarez's snub set the tone for the game, Dalglish quipped:
"You're bang out of order for blaming Suarez for anything that happened today."
He then added:
"I never knew he didn't [shake his hand]. I'll take your word for it… We'll ask him and take it from there."
Meanwhile, his counterpart Alex Ferguson launched an attack on Suarez after after the game, saying: "I'd get rid of him if I was them" and branding him a "disgrace to Liverpool FC".
And asked on whether it was appropriate for Evra to celebrate in front of Suarez after the game, Ferguson replied:
"I didn't see it but if he did, well he didn't need to do that"
The Uruguayan had also gotten his name on the score-sheet during the game, however it was not enough to prevent his side losing 2-1, allowing United to go one point ahead of Man City at the top of the table for the time being.

YouTube credit: krisbo123