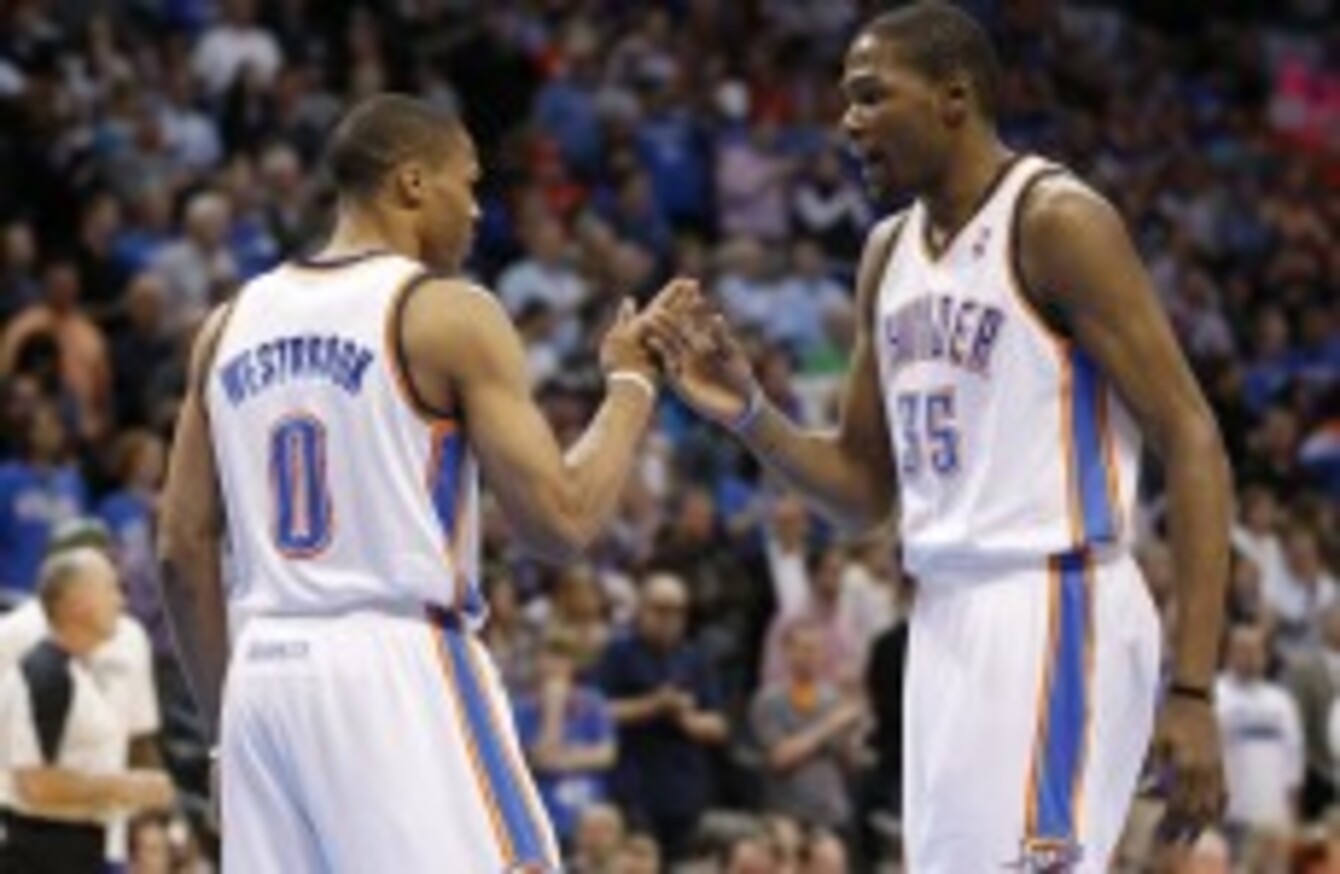 Russell Westbrook and Kevin Durant combined for a punishing alley-oop dunk
Image: Sue Ogrocki/AP/Press Association Images
Russell Westbrook and Kevin Durant combined for a punishing alley-oop dunk
Image: Sue Ogrocki/AP/Press Association Images
IT MAY HAVE taken a while for the shortened NBA season to warm-up but fans are now being treated to stunning highlights by the league's biggest names.
Carmelo Anthony is dropping overtime winners, Derrick Rose is driving the Chicago Bulls challenge, LeBron James is mercilessly hunting his first crown and Blake Griffin is continuing where he left off last season – putting hapless opponents on posters after devastating dunks.
Over in Oklahoma, Kevin Durant is having a season that has deservedly

pushed his name

to the top of most Most Valuable Player discussions across the league.
On Friday night at Chesapeake Energy Arena, Durant contributed 29 points in a winning effort but his stand-out moment came when he put up an alley-oop for Russell Westbrook to feat on.
Westbrook, in transit, had to reach his arm backwards to find Durant's pass before slamming it home with authority.
Durant teased his teammate after the 115-89 win over Sacramento, remarking that his great pass was the key to the dunk. However, he added:
No, that was one of the most athletic plays I've ever seen. I think it was probably the dunk of the year.
Judge for yourself but Blake, LeBron, 'Melo and Rose may have something to say about Durant's claims.

YouTube credit:
outsidethenba