Liveblog
It's a grand day for hurling in Thurles and we're in for a great afternoon of action.
First up, league champions Waterford take on TJ Ryan's Limerick for a place in the decider.
Throw-in's at 2pm with the mouth-watering Clare v Kilkenny slated for 4pm.
So how'd you see these games playing out? Here's what this morning's poll has thrown up. Good day for the south-east if you lads have your way.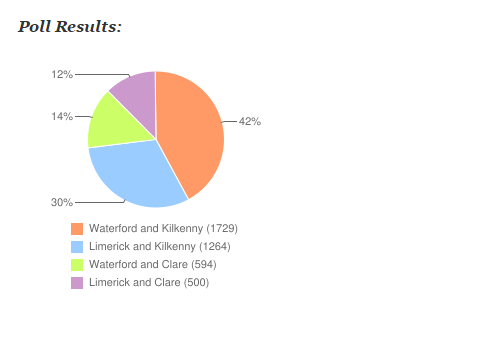 TG4 have just reminded of us of a 1998 league clash between these counties in which the respective managers lined out. Classic.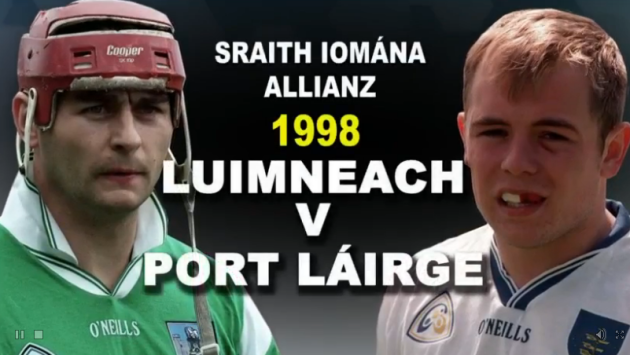 Paraphrasing the managers, who've just chatted to TG4:
TJ Ryan: "Pleased with performance the last day but look today presents a different challenge. It will be tougher here in Thurles. It's very important today, it's a national competition, so big game for us. "
Derek McGrath: "Our policy was to stabilise and progress from last year and we feel we've done that."
Right, here are your teams:
Waterford: Stephen O'Keeffe; Shane Fives, Barry Coughlan, Noel Connors; Tadhg de Burca, Austin Gleeson, Philip Mahony; Jamie Barron, Darragh Fives; Kevin Moran, Shane Bennett, Michael Walsh; Patrick Curran, Jake Dillon, Colin Dunford.
Limerick: Nickie Quaid; Seanie O Brien, Richie McCarthy, Richie English, Paudie O'Brien; Diarmaid Byrnes, Ronan Lynch; Gavin O Mahony, Paul Browne; Gearóid Hegarty, James Ryan, Cian Lynch; Barry Nash, Kevin Downes, Tom Morrissey.
And Barry Kelly gets us up and running.
Waterford 0-2 Limerick 0-1 Colin Dunford looks in the mood. He's just lofted over his and his side's second from the right wing. Great stuff.
Limerick 0-1 Waterford 0-1  James Ryan opens the scoring in Thurles before Colin Dunford equalises for the Déise.  Bright start.
Limerick 0-2 Waterford 0-2 Barry Nash slots over to put the sides level again. Almost five minutes gone.
Flag
Yellow card for Jamie Barron and he'll ahve to be careful for the rest of his afternoon in Thurles. The subsequent free is dragged wide.
Limerick 0-4 Waterford 0-3  First Tadhg de Burca scores a great point before moments later Limerick hit two quick-fire points. Darragh Fives was tackled as he charged out of defence and Tom Morrisssey put it over. Costly.
Limerick 0-5 Waterford 0-4 It's hotting up now. Patrick Curran brings the side level once again with a straight-forward free before Limerick work the ball back to Morrissey, who points again. 10 minutes gone now.
Waterford 0-6 Limerick 0-5  It's really nip and tuck stuff isn't it? Curran makes no mistake with another free to level it and then Shane Bennett nails a great effort to put Derek McGrath's side ahead.
Waterford 0-6 Limerick 0-6 Ronan Lynch scores from a free to level it up after 16 minutes or so. Austin Gleeson has a go at a sideline cut but he's unlucky.
Waterford 0-7 Limerick 0-7 Gleeson is fouled in midfield and Curran puts over another fee. Paul Browne then scores from play to.. you guessed it.. equalise.
End -to-end stuff, Ger.
Nickie Quaid picks the sliothar from out of the sky in front of the black spot and clears well. 22 minutes or so on the clock.
Waterford 0-8 Limerick 0-7  Gleeson – my shout for hurler of the year, for what it's worth — launches over a huge free. Frantic stuff now.
Waterford 0-8 Limerick 0-8 Ronan Lynch scores from another free and in the meantime I think Darragh Fives had his name noted by Barry Kelly.
Limerick 0-10 Waterford 0-8 Tom Morrissey is on the end of a good move to give the Treaty some daylight. Two points up now with 28 minutes on the clock.
Limerick 0-9 Waterford 0-8 TJ Ryan sees his side go ahead in this very evenly-matched tie thanks to another unerring from from Lynch.
Flag
Limerick 0-10 Waterford 0-10 James Ryan is booked for some wrestling i lár na páirce and then Austin Gleeson levels it.
Limerick 0-11 Waterford 0-10 Ronan Lynch puts over yet another free with half an hour elapsed. De Burca is booked for his foul.
Limerick 0-12 Waterford 0-10 The gap is two points for the second time. Great long-range point on the run off his right from Diarmaid Byrnes.
Limerick 0-12 Waterford 0-11 Curran claws back another point with a free.
Half-time, Limerick 0-12 Waterford 0-11  Barry Kelly blows it up for half-time. What did you make of that?
Flag
We've had the cup of tea and we're back under way at Semple.
Limerick 0-12 Waterford 0-11 The Shannonsiders start as they mean to go on with a perfectly-struck free from Ronan Lynch.
Limerick 0-13 Waterford 0-12 Great save from from a diving Nickie Quaid. Austin Gleeson ploughed forwards and shot low but it was turned around the post. The subsequent 65 is put over by Curran.
Limerick 0-13 Waterford 0-13 The Déise are level thanks to a lovely Kevin Moran point on the run from the sideline almost.
Waterford 0-15 Limerick 0-13 The Déise are enjoying a nice spell here. Darragh Fives puts over a great score to put them ahead and then Patrick Curran adds a real quality point under pressure. 41 minutes gone.
Flag
GOAL! Waterford 1-15 Limerick 0-13 Richie McCarthy takes down Shane Bennett who was steaming goalwards.
The Ballysaggart star took the penalty himself and made no mistake. Great goal.
Flag
Waterford 0-16 Limerick 0-14 Seanie O'Brien is yellow carded and Patrick Curran taps over the free before Ronan Lynch earns a much-needed score for Limerick.
Waterford 1-17 Limerick 0-14 Patrick Curran slots a 65 with his usual efficiency. 50 minutes on the clock so plenty of time but Limerick need to get going again.
Waterford 1-17 Limerick 0-16 Good turnover for Limerick in midfield and ultimately substitute Tom Condon launches a fine long-range point.
Waterford 1-17 Limerick 0-17 We're back to a one-score game thanks to Barry Nash.
Waterford 1-19 Limerick 0-17 Patrick Curran puts over a free. Again.
And then Brian O'Halloran makes the most of a poor Limerick puck-out to make it a five-point game again.  58 minutes or so elapsed.
Flag
Waterford 2-21 Limerick 0-17 With an hour on the clock, that looks to be it as a contest. Michael Walsh played in Patrick Curran and he swept home.
Gavin O'Mahony has been booked. 
Waterford 2-22 Limerick 0-17  Shane Bennett tacks on a great point and this looks all over. Pauric Mahony is introduced to a huge ovation. Michael Walsh is called ashore.
Waterford 2-23 Limerick 0-18 Austin Gleeson tears up the field to get in on the scoring action. Shane Dowling then converts a free for Limerick though he went for the goal. 68 minutes on the clock.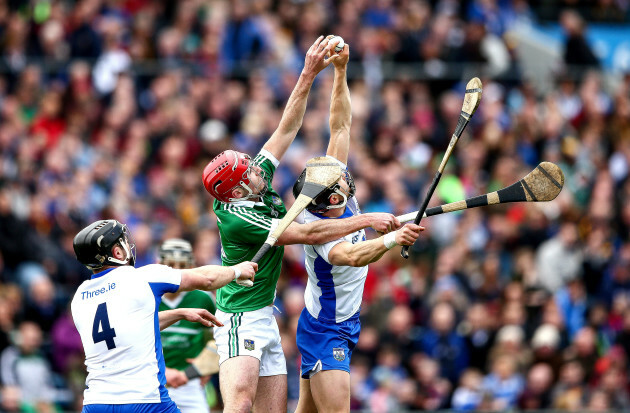 Source: James Crombie/INPHO
Flag
RED CARD  Waterford's Patrick Curran gets the line as he picks up his second yellow. He has to jog past an unimpressed Dan Shanahan. We're into injury time.
Flag
GOAL! Waterford 2-23 Limerick 1-18 Shane Dowling has a sighter earlier but he sent this free into the net. 'Rasper ansin' says the commentator on TG4.
GOAL! Waterford 3-23 Limerick 1-18 The Déise go up the other end and bungle home through Tom Devine.
Barry Kelly calls a halt to the first semi-final in Thurles. Waterford will wait to see who they face in the decider as they bid to defend their league title.
Limerick looked good in the first period but the Déise went through the gears impressively after the break. What did you make of it?
Flag
FULL-TIME Waterford 3-23 Limerick 1-18 
Contribute to this story: